Have you been searching for a good salon? Do not worry; we have listed the top salons in Bangalore specifically for you. They'll make sure you receive an exceptional makeover and are completely pampered.
After all, your cosmetics and haircut have the power to make or break your appearance. Therefore, it is essential to schedule an appointment at one of these top salons in Bangalore as soon as possible. Listed below are some of the reputable salons with excellent stylists who still give us the lush locks we adore despite the fact that hair types, products, colours, and fashionable styles differ from city to city. Keep reading! 
Why Visit a Hair Salon?
Many of us don't visit the salon as frequently as we should, despite the fact that most girls like pampering themselves to a day there. Your hair and salon appointments could get repeatedly postponed due to packed schedules, tight budgets, and other distractions. You might be losing out on a lot of advantages of going to some of the top hair salons in Bangalore frequently, though. 
1.Healthy Hair 
The obvious reason to visit the salon frequently is to maintain the health of your hair, perhaps. Regular haircuts at the salon maintain your hair healthy and may even encourage additional hair growth. The experts at the salon can give your hair a deep conditioning treatment or another service to keep it looking as young as possible. Who doesn't desire healthy, moisturised, lustrous hair, after all? Depending on what your stylist advises, scheduling regular sessions every 6 to 8 weeks is crucial for maintaining healthy hair! 
2.Feel Refreshed and Rejuvenated 
A day at the salon is probably one of every girl's favourite activities! It's a terrific opportunity to have a few hours to oneself without any interruptions and decompress after a stressful week. Salon environments encourage healing and renewal, not just for your hair but also for your mind and soul. There is no better feeling than leaving the salon comfortable and renewed, regardless of the service you have received. 
3.When it's Time for a Change 
Are you seeking a change in your life? Want something fresh? You might benefit from a new hairstyle! Making a change from long, luscious locks to a sassy short hairstyle or trying a new trendy haircut like a blonde balayage may make a world of difference! Don't be scared to be daring while choosing your hairstyles; express yourself and let your personality come through! 
4.Boost your Confidence
The adage "Look good, feel good!" is one that we've all heard, and it may have more truth than you'd imagine. It has an impact on how you carry yourself throughout the day when you feel good about yourself and your appearance. Every area of your life, including your career, relationships, communication abilities, and other areas, is impacted by your level of confidence. Trying a new hairdo can increase your sense of self-worth and make you feel and look your best! You'll be anxious to step outside of your comfort zone and realise your potential as a result of your restored self-confidence!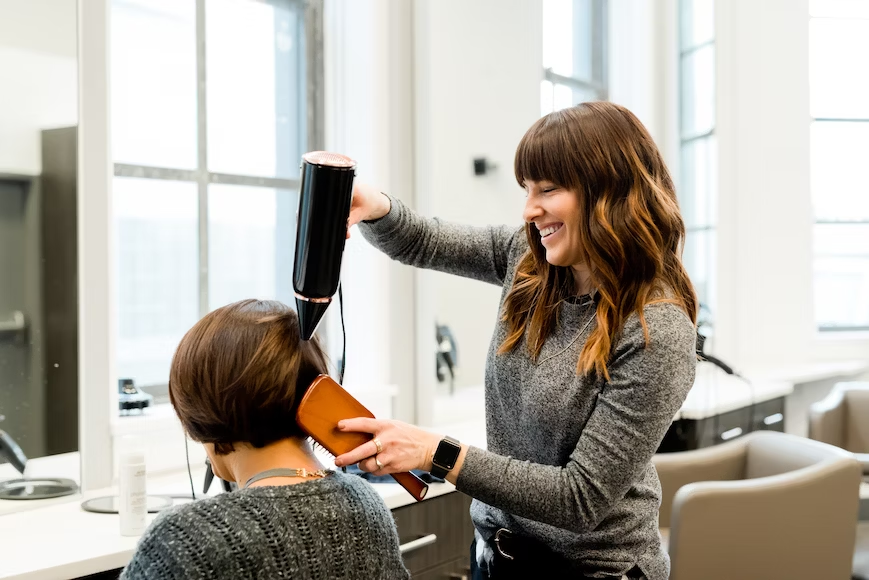 How to Choose the Right Salon in Bangalore?
When thinking about which might be the best salon in Bangalore for you to visit is, you need to consider a few pointers that make the salon the best salon for you specifically. 
1.Location 
This is definitely one of the most important points to be taken into consideration. If the salon is near your home or workplace, it makes it all the more convenient. If the salon has parking too, that's even better! 
2.Treatments offered 
Are you going to a spa, a hair salon, or both? Before making that decision, it's a good idea to look at the treatment options provided by salons. Haircuts, hair treatments, waxing, massages, intense spa treatments, manicures and pedicures, facials, and skin treatments are just a few of the many services that a decent salon would provide.  A well-known salon is likely to provide services for at-home salons as well. Selecting a therapist or the best hair stylist in Bangalore,  you can trust will be made easier for you if you are aware of the numerous therapy alternatives. 
3.Expertise 
Choosing a beauty salon with trained therapists, stylists, and experts pays off. When an expert is involved, the information, the suggestions, and the final treatments all vary greatly. You cannot, after all, entrust your body, hair, and skin to unqualified individuals. Select high-quality services above affordable ones that may give reductions but may employ professionals with limited experience and training.
4.Hygiene
Salons that don't adhere to safety and sanitary standards should be removed.  You don't want to spend a lot of time in a potentially dangerous, unclean place. A neat salon and spa are a popular choice for beauty services, including haircuts. Make sure the area is tidy and hygienic, that the tools and equipment are clean, and that the therapists adhere to a set routine. 
The Top 10 Salons in Bangalore 
1.Limelite Salon and Spa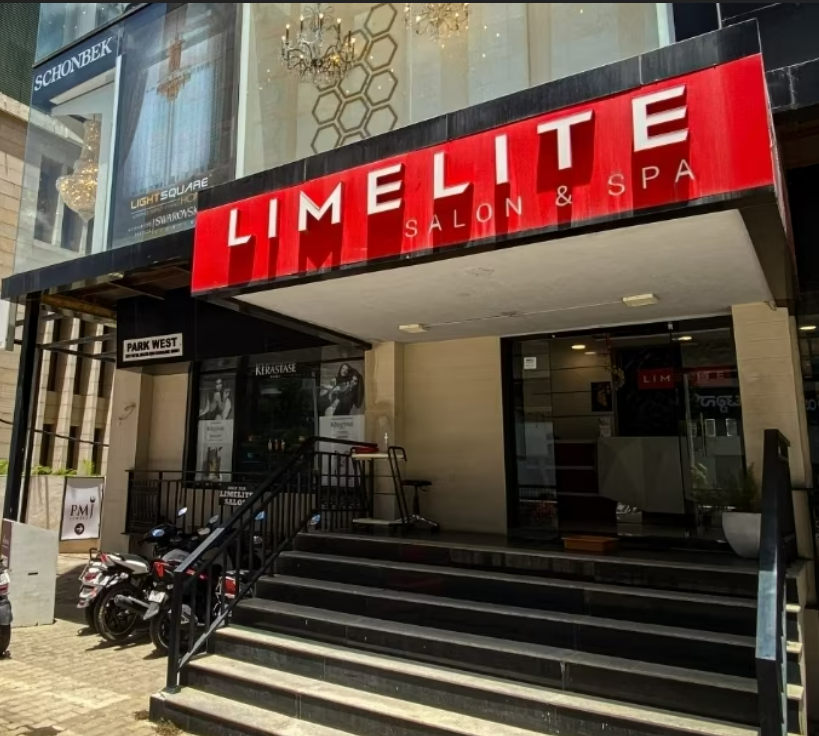 If you are looking for a unisex salon in Bangalore, then Limelite is the best salon providing professional & quality hair & skin services. Limelite provides services in hair, skin, nails and bridal. They have extensive services that include hair styling, colouring, bleaching, body massages, waxing, pedicure and more. It's your one-stop salon that caters to all your needs. The salon professionals also offer free consultation that will give you an idea of what service will be best for you and meets your expectations! The salon specialists are friendly, accommodating, gracious, and well-trained—all qualities you would expect from a great salon. 
Limelite has salons across Bangalore with salons in Vittal Mallya, Banashakari and Jayanagar. 
Vittal Mallya:
Limelite Salon and Spa, Vittal Mallaya Road
22/11 West Park, Building, Vittal Mallya Road, Bengaluru, Karnataka 560001
Phone: 080 4372 3188
Jayanagar:
Limelite Salon & Spa, JayanagarNo.126,33rd Cross Road, 11th Main Road, 4th Block, Jayanagar, BengaluruKarnataka, 560011
Phone:  080 4372 3966
Banashankari:Limelite Salon and Spa, Banashankari 591, 24th cross road, Siddana Layout Banashankari Stage II, Banashankarii Bengaluru, Karnataka, 560070
Phone:  080 4372 3327

Though the timings differ for the salons and the day, they are open from 8:30 am to 8:30 pm 
2.Bounce
If you've been looking for a makeover, Bounce is the ideal salon for you because they can offer you a gorgeous new appearance that you'll love. Book a session at Bounce for an "Oh! so stylish" session to take a break from your hectic schedule. Highlights, global colour, facials, clean-up, pedicures, manicures, and hair spa in Bangalore are all covered for you.
Locations include: Vittal Mallya, Indiranagar, JP Nagar, Whitefield Main Road, Koramangala, HRBR Layout,  ITPL Main Rd, HBCS Layout, Bellandur, Jayanagar, Sahakar Nagar, Karuna Nagar, Mahadevapura, Marathahalli, Ashok Nagar, Konanakunte, 
3.Green Trends 
This beauty salon in Bangalore. They are a chain of salons with knowledge of hair and beauty care that provide both men and women with a wide range of personalised services. They are renowned for their proficiency in even the most sophisticated procedures as well as the newest trends, from advanced cosmetics and style to manicure/pedicure, colouring, bleaching, and waxing. The best part is that they also provide fantastic packages, all at prices that are just within your means.
Locations include: Basavanagudi, Koramangala, Bannerghatta Main Rd, RT Nagar Main Road, Kadubeesanahalli, HSR Layout, Jayanagar, Basaveshwar Nagar, Banashankari, AECS Layout, BTM Layout, JP Nagar, Malleshwaram, Chandra Layout, Vijaya bank Layout, Vignan Nagar Main Road, Banashankari,  Kalyan Nagar, Whitefield Main Road, C V Raman Nagar. 
4.Bodycraft 
This is another hair salon with many outlets around the city of Bangalore. This salon is dedicated to providing its clients with the greatest possible service so that they will return time and time again. Manjul Gupta, a veteran in the beauty industry for more than 30 years, has overseen their excellent progress. Bodycraft will make sure to give you an amazing service that covers all of the pre-bridal packages and individual services you've been looking for. We want cleanliness and quality to be a top priority when choosing a beauty salon, and this one excels in both areas. Its wide range of services includes hair styling, hair cutting, manicures, pedicures, skin treatments, and facials, among others. Additionally, one can schedule an appointment over the phone or online.
Locations include: Sadashiva Nagar, Ashok Nagar, Jayanagar, JP Nagar, Koramangala, HRBR Layout, HSR Layout, Ashwath Nagar, Fraser Town, Whitefield, Indiranagar, Jayanagar, Ashok Nagar, Pulikeshi Nagar. 
5.BBlunt 
If funky hues, unconventional hairdos, pixie cuts, and undercuts are on your list of must-haves, B-Blunt has them all. This salon prides itself on offering its clients unorthodox haircuts that you simply have to wear because they look so unusual. Because B-Blunt keeps them coming back for more, their consumers vouch for them. Request Vinod; he is the welcoming top stylist here. You should always go to him for a haircut in Bangalore
Locations include: Ashok Nagar, Indiranagar, Ashwath Nagar, HSR Layout, Koramangala. 
6.Margret's Hairdressing 
Spend some time at Margaret's Hair Dressing And Beauty Parlour to rejuvenate. They are well known for having outstanding employees and a wonderful atmosphere to meet all of your demands and pamper you up until the very end. We guarantee that Margaret's will provide you with the top services you've been searching for, whether it is during the holiday season or not.
Location: Koramangala
7.YLG
YLG is committed to doing anything. Want the exact same hairstyle as someone in a picture you downloaded to your phone? Your every desire and fancy will be catered to by YLG. Their haircuts are produced just for the individual you, therefore there is never a "this won't be possible" moment. In addition, they provide a flat 10% discount every Tuesday, but the catch is that you have to specifically request one. For the greatest results, ask Vinay to do your hair at the Indiranagar location.
Locations include: Koramangala, JP Nagar, Kodihalli, Jayanagar, Ashok Nagar, Indiranagar, Bellandur, Frazer Town, BEL Road, HRBR Layout, BTM Layout, Bennigana Halli, RT Nagar, Kasturi Nagar, Electronic City, CMH Road, JP Nagar, Malleshwaram, 
8.JCB
Eight years ago, the French salon Jean-Claude Biguine established itself in India and has since been known for its exquisite hair colours and well-chosen haircuts. This is one of the best men's salon in Bangalore. They now have many hair salons across Bangalore. 
Locations include: Ashok Nagar, Indiranagar, Koramangala
9.Salon Mousse 
Want to obtain a hairdo like a celebrity? Do not be alarmed; Salon Mousse is prepared to give you the hairdo of your dreams. They've raised the bar by focusing on creating the hottest hairstyles. Along with other beauty procedures, they provide practically all kind of hair treatments and care services.
Locations include: Indiranagar
10.The Roots 
It's a terrific place to get affordable solutions for a variety of styling and grooming needs because it provides waxing and hair removal, hair cuts, manicures, pedicures, facials, and more. The well-trained and courteous crew makes sure that you receive excellent service while also being lavishly pampered.
Locations include: CPR Layout Road Harlur Main Road.
We hope you found this blog informative and helpful! Do consider dropping by at Limelite Salon and Spa! Limelite is a premium hair salon in Bangalore that aims to give you, the customer, the very best experience! Whether it's just a haircut or a keratin treatment, olaplex treatment, or our special Kerastase fusio dose – when you are at Limelite, our dedicated team of professionals will ensure that you are well taken care of! To know more about salon offers in Bangalore or to book an appointment with us, call us at the number mentioned on our website. We always have offers you wouldn't want to miss, and we would love to have you in our salon. Thank you!