Perhaps you feel intimidated by long hair. What do you do with all that extra length, for starters? In addition, how precisely do you grow out short hair? Long hair is actually quite low maintenance and adaptable, so it's no wonder it's popular. The key, if you're thinking of growing out your mane, is to pick a style that suits your hair type. If the density of the hair is between medium and thick, long hair on males looks wonderful. How you approach styling your hair can be significantly influenced by its texture,
The thing is that only some people can manage to grow their hair long. Some simply can't surpass a "genetic length", others struggle with brittleness, and sometimes, long hair can be a burden — it is literally heavy. In that case, layered cuts are the best solution! The lengthy, flowing layers in long curly hairstyles prevent them from being overly thick. Even if it's simply a fauxhawk, long Mohawks give you an edgier, more sophisticated appearance. You may practically realise any hair desire with thick, long hair.
You must be wondering, which cutting is best for long hair? There are different hairstyles for women with long hair. Keep reading to see some of the trendiest long hair style boys and women and some Indian haircuts for long hair with Limelite salon and spa.
50 of the Trendiest Long Haircuts for Women!
1.Plenty of Layers
There are several options available if you enjoy layers and long hairstyles for ladies. Consider getting layers in your hair that are varied lengths to add texture; just picture the layers bouncing along with your every movement.
2. Mid-Back Layers
This year, give your thick hair a style upgrade. To shape up those abundant tresses, just let your hairstylist trim choppy layers.
3. Feather Cut for Long Hair
This is definitely among the popular haircuts for women with long hair. Give your thick hair a style makeover this year with a feather cut for long hair Indian. Ask your stylist to clip some choppy layers into those thick tresses to style it. We love a good feather cut hairstyle for long hair!
4. Swooped Feathered Layers with Balayage
This type of feather hair cut for long hair is cutting long layers is currently the biggest long hair trend. Simply add some attractive highlights and curl the end with this layered feather cut for long hair.
5. Long Layers for Coarse Hair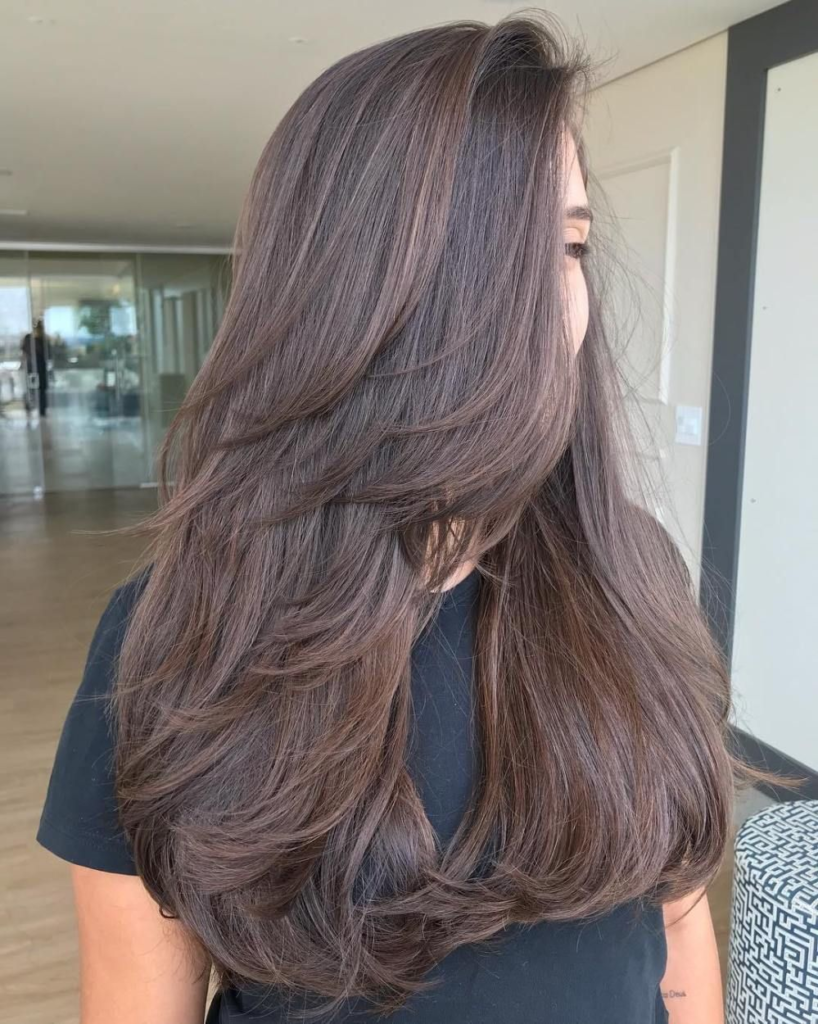 With layers, a talented hairstylist can make hair of any thickness look gorgeous. Your thick, long, layered hair will look light and dynamic if you curl the ends to add movement, depth, and volume. This front layer cut for long hair, Indian hair and coarser hair will look amazing.
6. U-Cut With Flipped Up Layers
For the true ladies seeking long, layered hairstyles, here is a very elegant and romantic hairdo. Your hair will become thicker and denser thanks to the U-cut, and everyone will drool over its gorgeous chocolate-brown hue.
7. Long Layers with Light Waves
If you're looking for haircuts for long hair women, try this! Comb your hair back and create soft waves for a sophisticated, wind-swept appearance if you want to add some volume to your hairdo for a special occasion.
8. Mid-Back Straight With Layers
When the ends are neatly cropped and the layers are precisely graduated rather than jagged, straight hair has the most wow impact. Any hair colour would look stunning with this long cut, but the blonde hair is our favourite with this mid-back length!
9. Balayage Layered Waves
This hairstyle for girls with long hair is a lengthy haircut that is elevated with balayage from cocoa brown to honey blonde. Have your stylist cut long layers to really amp up those waves if you frequently wear your hair in waves or have natural waves.
10. Trimmed Ends with Face Framing Pieces
Sometimes all long hair needs is a little trimming. An easy method to refresh your appearance without significantly altering it is to take an inch or so off the bottom (or as much as your stylist considers appropriate) and add some shorter face-framing pieces.
11. Weightless Waves
This is the best hair cut for long hair if you don't want anything too drastic. When the waves aren't heavy and stretched out, they appear better in hair with waves. The best remedy for lifeless waves is layering. See how this haircut has shorter layers? You require that for fanciful, weightless waves.
12. Blunt Ends with Long Layers
Long layers are a terrific way to lengthen your face and add volume where you need it. We adore the front large curls with a 70s vibe. This haircut is ideal for developing longer bangs!
13. Long Natural Taper
Natural hair can be managed considerably more easily and conveniently with tapered cuts. Make sure the stylist you're dealing with has the necessary skills to cut natural hair in the right way. The ends lose a lot of mass thanks to the tapered cut. 
14. Blunt Cut with Healthy Waves
On straight hair, blunt cuts stand out more, but they may also significantly bulk up the ends of wavy or curly hair. Try a blunt cut like this if you have fine or thin hair and want it to look healthier and lusher.
15. Long Bangs with Wispy Ends
This long hair cut style is only slightly broken up by long bangs that land at the chin level to keep it interesting. When you wish to keep them out of the way, they are long enough to tuck behind your ear. This long haircut has playful ends that can be achieved with ease with scissors or a razor.
16.Short Layer Cut for Long Hair
Long layers are placed more apart than small layers, which are not shorter in length. This is a popular Indian haircut for long hair. The final 3 to 4 inches of the hair are where all the layering occurs, giving the appearance of incredibly thick and luxurious hair.
17. Face Framing Layers with Waves
When getting a haircut, all you need is a quick trim to remove any split ends, a few face-framing pieces inserted, and lengthy layers all over if you're more of a "wash and air dry" woman with natural waves.
18. Balayage and Graduated Layers
To add volume and highlight any curls or waves, graduated layers are piled. This is an excellent cut to revitalise long locks when combined with a chestnut brown to warm blonde balayage.
19. Point Cut
Long hair is ideal for point cutting. In order to reduce bulk at the ends, the stylist cuts through the horizontal line of hair at an upward angle. Long hair has greater movement as a result.
20. Piece-y Style with Blunt Bangs
The waxy, piece-y styles of the early 2000s are nothing like this at all! Instead, a textured style that highlights the hair's lovely rich brown is created with point cutting and small layers at the ends. These long bangs definitely highlight those amazing cheekbones!
21. Wispy Graduated Layers
On fine or thin hair, graduated layers produce this ethereal, wispy appearance that is so feminine and lovely. To modernise long hair without losing length, pair with curtain bangs.
22. Blunt Cut
If layers don't seem to work with your mane, perhaps this should be your next haircut. Because there are no layers in this cut, the hair appears thicker and more healthy. Blunt ends give it a crisp, clean appearance.
23. Curly V Cut
The back of a V-cut is cut into a rough V-shape. This curly variation of the V-cut is fantastic! To avoid having your curl pattern messed up, make sure you're working with a stylist that specialises in cutting curls.
24. Long Layerless Cut
Avoid over-layering your hair if you're wearing it this long. The ends are thinner, so adding more layers could make them appear sickly or too wispy. When trimming hair that is about this length, keep it blunt.
25. Coily With Deep Layering
When appropriately cut to highlight the curl pattern, coily natural hair looks stunning. Deep layering lightens the hair considerably, making it more comfortable to wear. Starting at the level of the neck or shoulders, the layers should gradually increase longer.
26. Point Cut with Blunt Bangs
Point-cutting the ends gives you that worn-in, not-just-cut-off-the-rack appearance. We adore how she softened the look with a side part in her blunt bangs!
27. U Cut with Short Layers
A deep u-cut for long hair is an excellent technique to modernise lengthy hair without losing much length. It is similar to the V-cut but gentler. Short layering maintains the cut lively, light, and full of movement.
28. Long Graduated Layers
You might choose graduated layers that start a little lower down if you have extremely long hair like this lovely woman. While reducing some of the weight and bulk at the ends, this maintains plenty of volume and thickness at the top.
29. Blunt Bangs with Blunt Ends
For fine hair that you want to appear thicker, blunt ends and blunt bangs are ideal. These two techniques guarantee that hair looks full, healthy, and thick without any wispiness or jagged edges.
30. Curly Shag
Although shag cuts are usually done on shorter hair, you may also attempt this stylish long hair cut for girls with long hair! The layering in a shave is shortest at the top and progressively gets longer as it descends. It produces such a voluminous and lush appearance.
31. Straight Graduated Layering
Graduated layers are frequently used on wavy or curly hair, but they may also look fantastic on straight hair! When laid flat, the layers are hardly visible, but they give long, straight hair much more movement.
32. Fine Hair with Long Layers
To prevent making fine hair look ragged or overly thin, layers must be applied carefully and correctly. Here, it's executed flawlessly, with wispy ends that, due to the long layers, appear to float on the wind.
33. Side-Swept Bangs with Curled Ends
Soft side-swept bangs can significantly alter your appearance if you have thick, long hair without cutting any length. To add sexiness to this long haircut, use mousse for loads of body and curl the ends under.
34. Short Face Framing Layers
For thick, curly hair that might feel heavy, we adore this look. When your hair is behind your back, small front layers give the appearance of a shorter cut. Additionally, they are ideal for framing your face!
35. Midi Long with Thinned Ends
Hair that is in the middle between long and medium length. This is a fantastic option if you're prepared to give up some length in the interest of easy styling. It is longer than a lob but shorter than some of the other long haircuts we've shown.
36. Long Bob
The long bob also referred to as the "lob," is popular among fashion editors worldwide for a reason. Because the cut terminates several inches below the chin, it flatters any face shape and is incredibly elegant, sophisticated, and simple to maintain.
37. Short in the Front Long in the Back
The hairdo "short in the front, long in the rear" is another fantastic '70s-inspired look. It takes attitude to pull off, but it's a terrific editorial style. This long hair style can be right for you if you enjoy retro clothing that stands out. The front layers of this haircut are kept more distinct and distinct than the traditional shag cut
38. Long Angles
Choose this long-angled haircut from the many hairstyles available for long hair, where your long strands begin around your chest and go down to the longer sections of strands. On all facial shapes, it looks fantastic, but make sure that this cut only flatters the hair's front.
39. Clipped Ends
This is one of the fashionable long haircuts where you won't lose a lot of hair length. Choose this option if you don't really enjoy the notion of having layered hair. Get the ends of your hair softly trimmed. What it needs are minute cuts along the ends that don't give the ends a blunt cut appearance. Any face shape can wear it.
40. Subtle Strands
Trimming very delicate strands beginning at the breast is a clever way to style long hair. Carrying blunt ends with very long hair may become tiresome and burdensome. Style it with long, extremely thin, flowing layers that highlight your long, straight hair.
41. Tapered Ends
The finest option will be to maintain tapered ends for your naturally lengthy spirals. You can obtain lengthy layers with constricted ends if your long, naturally spiralling hair bothers you occasionally by billowing out. The horizontal layers, which begin at the level of the collarbone in the back and continue longer in the front, provide a very sleek and elegant appearance.
42. Two Layered Cut
You also don't need to bother too much about hair styling if you don't want to get many layers. Decide on a two-tiered haircut. The look is adorable and great on all face shapes, and it makes long, curly, or heavy hair manageable without adding much volume. It may sound classic and old-fashioned.
43. Layered Cut with Arched Bangs
Consider this lovely long hair cutting style for females, which includes arched bangs in addition to gradual layers that are neatly cut. These arching bangs are the greatest for softening harsh features if you have a square-shaped face with sharp features.
44. Sleepy and Straight Locks
The need for a blowout is virtually begging for long, luscious locks like these. It takes perseverance, effort, and patience to learn how to style hair this long. Request a blowout in the salon, then closely observe everything the stylist does. Then, make an investment in a strong hair dryer, a sizable round brush, and a straightener.
45. Descending Face Framing Layers
Long hair with layers allows you to play more daringly with length near the front of your face. For a modern Rachel Green hairdo, cut long graduated face-framing layers. Would you like to play around with colour? Take a balayage with extended roots that is modest.
46. Chunky Layers for Thick Hair
Only partial layers will help thick hair. Such a haircut softens and enhances the aesthetic appeal of the hair's natural flow.
47. Side-Parted Straight Hair
To highlight your layers, try these hair cut styles for long hair by wearing long, straight hair in a side part. Long hair with layers will have structure and volume. With this new hairdo, the locks won't appear dull!
48. Three-Tiered Long Hair
While many females desire waist-length hair, not everyone can actually accomplish it. Make layers and trim the hair occasionally to keep the locks looking great without sacrificing their length if breakage or split ends prevent one from growing their hair all the way out.
49. Long Hair with Korean Bangs
The best remedy for a round face is this. This adorable hairdo will look adorable with any clothes you pick. This is a lengthy hairstyle that looks good on baby-like faces.
50. Boho-Styled Layers 
Long hairstyles can be elegant or a hot disaster! Get lengthy layers and shape them to meet the occasion if you want a hairdo that can do both.
20 of the Trendiest Long Haircuts for Men!
1.Shag
A highly great appearance that is both attractive and trendy is the shag. Although it's one of the hairstyles for men with long hair that requires a little effort, it's excellent for thick, straight hair, and it's well worth the extra time to look fantastic. Wear it unkempt or neatly combed.
2.Long Curly Hair
Curly hair is a sure sign that your crowning glory can be your hair when it comes to long hairstyles for guys. Long curls offer structure and volume, and as long as you don't mind controlling the extra frizz, they may give guys a laid-back appearance. Get ready to confidently wear your hair long from now on.
3.Long Layered Hair
Long hair can be thinned out by layering it, or it can be given more volume and texture if it is fine and long. It's the ideal long hairstyle for men with a middle part and faces that are round or square.
4.Long Hair with Textured Waves
One of the trendy long hairstyles for guys that the successful singer has contributed to the popularity of is long with textured waves. It suits males whose hair has a natural structure and flow and enhances practically any facial shape.
5.Long Straight Hair
You'll learn that not all men's long hairstyles require a lot of effort once you've mastered the difficulty of how long it takes to grow long hair. This is a low maintenance mens long hairstyle. There are a variety of long hairstyles for men out there, from braids to middle parts, just waiting for you guys with straight hair to give them a try.
6.Long Hair with Side Part
You may be wondering how to choose which side to split your hair. Look toward the top, rear of the head for the cowlick, or spiral of hair. Part your hair to the left if the hair grows here in a clockwise direction. Right-side parting denotes growth that is counterclockwise. 2 cowlicks? You have the luxury of selecting the variation of this long hairstyle for guys that best suits you. You can definitely try this long hair style with beard.
7.Long Hair with Middle Part
A centre-part long hairstyle for guys is sleek, contemporary, and striking. This is one of those professional mens long hairstyles. It is the more refined sibling of the side part. Take a fine comb and a freshly cleaned head of hair. Draw a precise line along the middle of the head from front to back.
8.Surfer Hair
If you're fortunate enough to have naturally blonde hair, going for a surfer style is a no-brainer. This effortlessly chic long haircut for men requires little care. Allow your hair to fall just below the shoulder and texturize it with matte pomade or sea salt spray for a beachy, unkempt look.
9.Long Dreadlocks
Dreadlocks are considerably more than just long hair for men. Dreads can make a powerful message about spirituality or non-conformity. Since there are numerous ways to achieve dreadlocks, speak with a professional hairstylist about which will be most effective for your hair type.
10.Man Bun
This hairstyle for boys with long hair has long been considered the best long hairstyle for men. It's not only attractive and beautiful but also useful. A man bun is universally attractive and can be styled to complement different facial shapes.
11.Man Bun Mens Long Hair Fade Haircut
It's a proven fact that long hairstyles for males challenge traditional gender stereotypes while also exuding confidence. The man bun is appropriate for a variety of hair types and will draw attention to chiselled features. The good news is that a bun looks great with longer hair. Increase the vibe by adding a long hair fade to the back and sides, or choose a low undercut fade.
12.Long Hair with a Quiff
Long hair can become weighed down when worn in a quiff, so you'll need to use a high-heat setting to dry it. Additionally, spend money on a hair product with a firm hold to help give your quiff height and volume. But since this is one of the more evocative long hairstyles for men, take your time to get it properly.
13.Long Viking Hairstyle
With a lengthy Viking hairdo, you can bring out the warrior in you. One of the long hairstyles for men, it can be worn in a variety of ways. 
14.Ponytail with Undercut
This stylish Indian haircut for long hair is an undercut is a great method to show off your personality if you consider yourself to be edgy and non-conformist. You can do some cool hair designs for long hair with this!
15.Long Slick Back
This isn't a new long hair style for men. Elegant, sophisticated, and easy to do these long hairstyles for guys that are slick-back require less upkeep than you may imagine.
16.Long Hair with Bangs
When it comes to long hairstyles for men, bangs are one of the most adaptable options. Adding bangs may completely change the way you look. 
17.Long Tight Curls
Tight curls that resemble corkscrews are among the long hairstyles for guys that catch people's attention.
18.Mullet Cut
In the history of long hair for men's hairstyles, the mullet is a significant haircut. All hair types look great in a genuine style from the 1970s and 1980s. This is one of those funky hairstyles for long hair! 
19.Long Hair with Pompadour
A soft pompadour will offer a dapper touch to your hairdo if you're a traditional gent drawn to more traditional men's long hairstyles.
20.Curly Bob
Show off your natural hair wave if you have one. Request long layers with slightly shorter sides and a longer nape length from your hairdresser. If you have bangs, experiment with wearing them pushed back, off to the side, or forward.
How to Take Care of your Long Hair 
The first important thing is to trim your hair regularly! Split ends can be greatly reduced and hair growth can be accelerated by trimming your hair every two to three months. Additionally, you want to avoid splashing hot water on your scalp. Instead, wash your hair in lukewarm water. When rinsing off the conditioner, use cold water. Your hair will be silky after completing this quick treatment that locks in moisture. Use hair dryers as little as possible. Sit in front of a ceiling fan and allow your hair to air dry instead. This is one of the greatest hair care advice you can use to maintain healthy, long hair. Thoroughly comb through your hair before night, take out any knots, and then braid it loosely. Even your hair might be covered with a silk or satin towel.
How Much Does a Long Haircut Cost?
The price of a hair cut for long hair depends on the salon that you go to. At Limelite Salon and Spa, the haircut price will start from Rs.700 for women and Rs.420 for men. The final price will vary depending on the style you're opting for. 
We hope you found this blog informative and helpful! Do consider dropping by at Limelite Salon and Spa! Limelite is a unisex hairsalon in chennai, that aims to give you, the customer, the very best experience! Whether it's any hair salon services like trendy women haircuts, men haircut styles, hair highlights, layercut for women, feather haircut for women, hair spa or a keratin treatment, olaplex treatment, hair smoothening, manicure and pedicure, foot reflexology or our special Kerastase fusio dose nail art or a simple haircare routine when you are at Limelite, our dedicated team of professionals will ensure that you are well taken care of! To know more about our services or to book an free consultation with us, call us at the number mentioned on our website. We always have offers you wouldn't want to miss, and we would love to have you in our salon. Thank you!