Most people associate hairstyles with women's hair, but there are plenty of cool hairstyles out there for men too. Go ahead, break away from the norm and have fun with your hair!
Like your attires, hairstyles aren't one-size-fits-all. There are different hairstyles for men and they come in different shapes and sizes, and in the same way, certain types of hairstyles for men work better for certain types of faces than others. If you are planning to get a new hairstyle, it is necessary to know the hairstyle that suits you best and if it's what others consider a decent hairstyle for men. To make it easier, Limelite Salon and Spa, a premium unisex hair salon, is here with a blog. This blog will take you through the different hairstyles and how you can make them work for you! 
70 of the Trendiest Hairstyles for Men
Hair trends are always changing and are a good way to communicate fashion and a particular time in history. So, how do you make sure you've got a cool hairstyle for men and are on top of the latest trends? Which are the trendy haircuts offered by men's hair salons nearby that are sure to win hearts this year? Well, if you want to know what's in and what's out, Limelite, one of the best hair salons in Chennai has got you covered! Here's a look at some of the top hairstyles for men.
Best Hairstyles for men with long hair:
1.Man Bun With Streaks
If you've got longer hair, this one's for you! Take a twist on the classic man bun and add some colour to your look. Try out this option and feel yourself just exude confidence! 
2.Ponytail 
If the bun isn't really your thing, then why not a Ponytail? It's a fantastic hairstyle for men with long hair on top. It's not only stylish but will effectively keep your hair out of your way, especially during the summer seasons.
3.A Man Bun with a Short Fade 
This is one of the best long hairstyles for men. This super cool look will bring out the best of your personality! There's no doubt that you can rock this hairstyle anytime. It's an easy to do hairstyle for men too. 
4.The Ivy League
This is a causal hairstyle for men that has been in style for more than a decade, not for nothing. Remember the good old crew cut? Ivy League haircut is another version of the classic men's haircut. In this haircut, the hair on top is left significantly longer, allowing for sleek and side-parted styles. It works well for anyone from a college graduate to a businessman, and that's why it's one of the most popular men's haircuts. It's a good hairstyle for men with silky hair 
5.Shoulder-Length Hair
It's a great silky hairstyle for men if you've been blessed with healthy hair that grows fast. This look will definitely turn heads. You can then style it into a quiff, pompadours, and such! The possibilities are endless. It's a great long hairstyle for Indian men.
6.Comb Over and Fade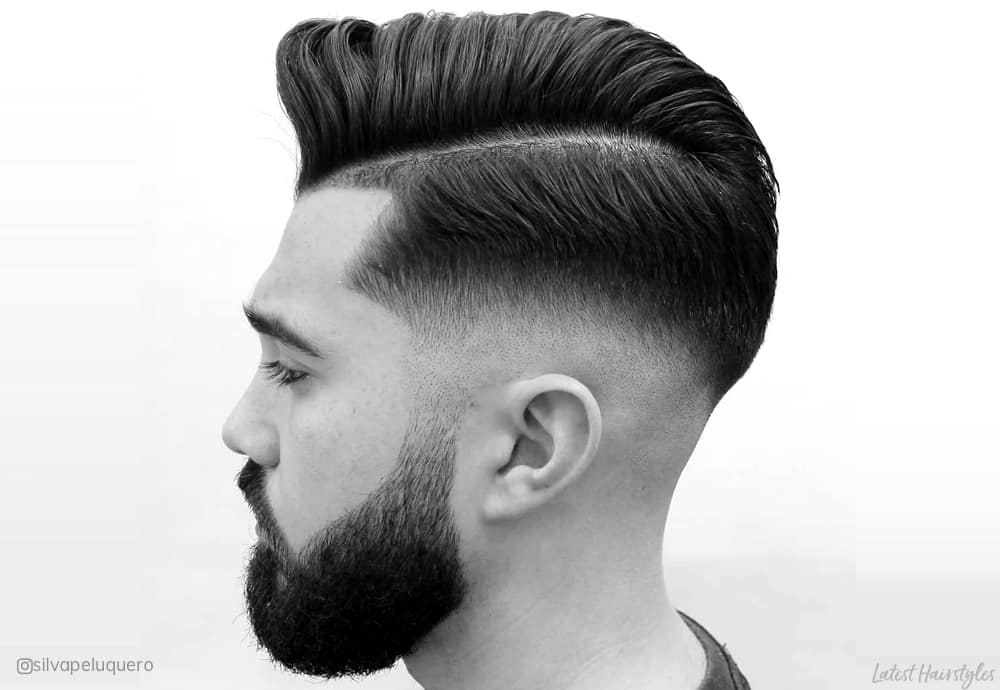 This will give you a side partition as well as a textured comb-over. If don't like it too slick and more volume is what you're looking for, then go ahead and add some hair spray or pomade. 
7.Curly Hair Fade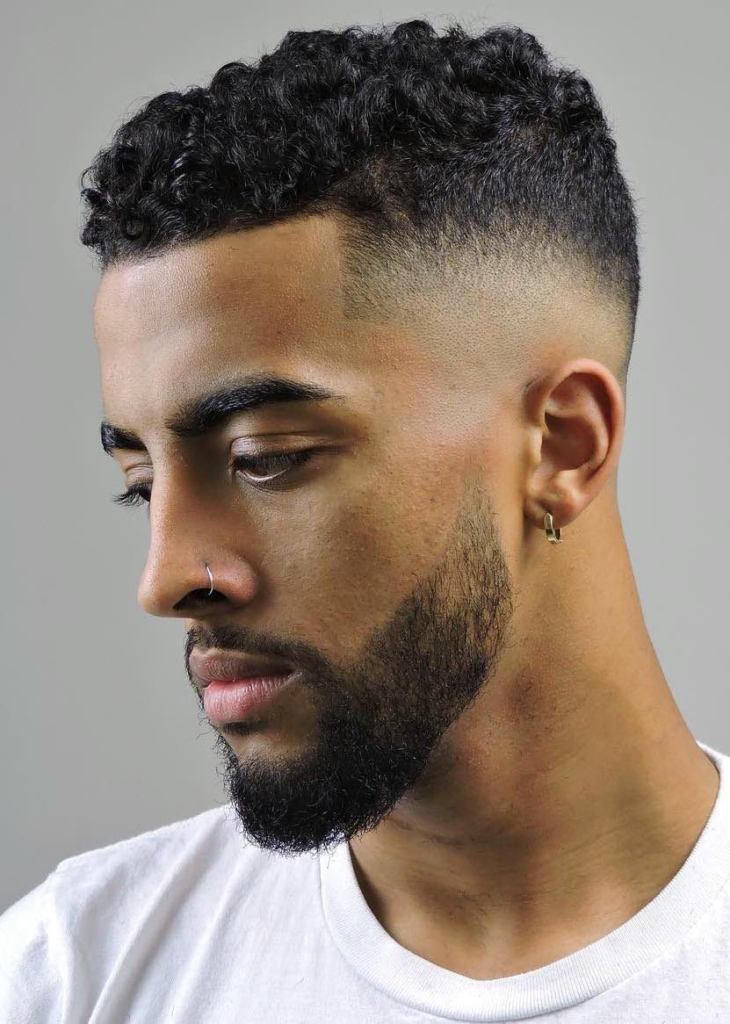 You don't have to let go of your gorgeous curls. You can keep them and still get a trendy fade that will go well with them! 
8.Slick Back 
There's a reason this look never goes out of style. It's so simple but can completely transform your look. 
9.Pompadour 
The main purpose of this look is to create a lot of volume that you can sweep into a quiff over your forehead. 
10.Quiff 
The quiff is another classic that has been around for a while. You can keep the bottom part of your hair short and buzz it close if you wish. But the top section of your hair should be long enough to style into the iconic quiff. 
Short hairstyles for men:
11.Short Crop
You can't go wrong with it! This short hair hairstyle for men is great, not just for the summer but for any time of the year. It's low on the maintenance side of things, but will always be trendy and stylish! So this is not a new short hairstyle for men, but it's definitely timeless! 
12.Pompadour with a Handlebar Moustache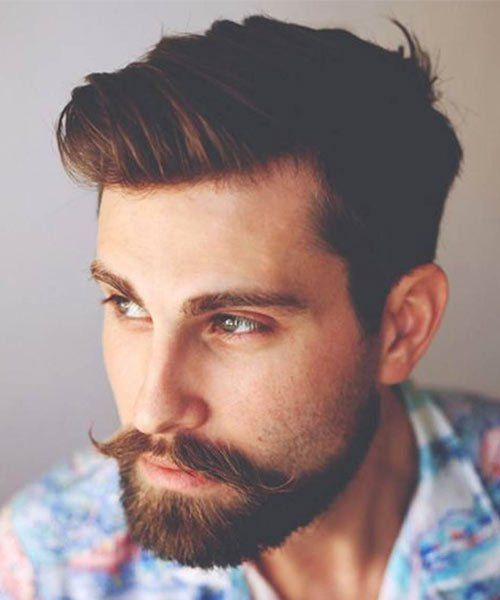 Now we admit, a handlebar moustache isn't for everyone, but it's worth a try. Pair this with a short Pompadour, and you'll feel super slick and classy! With short hair, simple hairstyles for men look fantastic!
13.Caesar Hairstyle
Looking for something vintage yet a modern hairstyle for men? If yes, try the Caesar hairstyle. It's one of the latest short hairstyles for men and is sometimes referred to as the French crop too, you can additionally cut a fringe too for that modern look! 
14.Close-Cropped Men's Hairstyle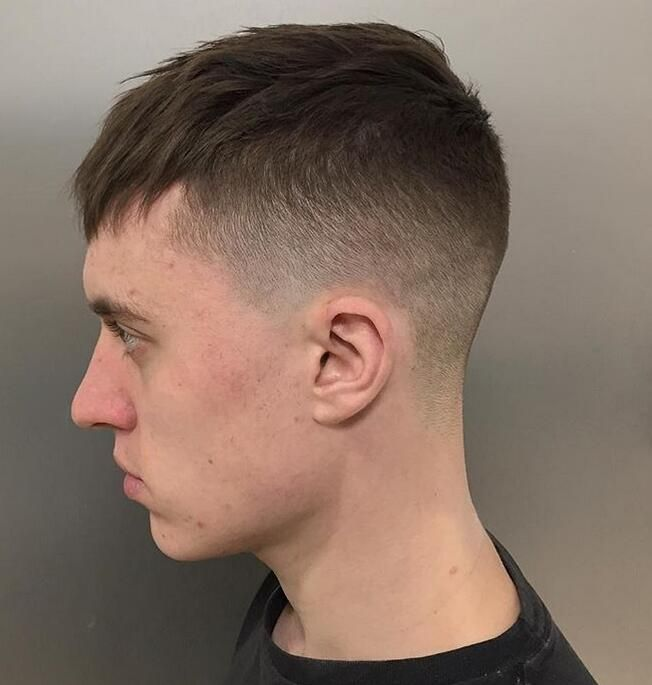 This look can be paired with a short fade on the side for a neat style. You can also pair this with a trimmed beard and fringe to enhance your look further. 
15.Short Fringe 
You don't necessarily need long hair to get a fringe! A short fringe just barely grazes your forehead. If you've got ears or facial piercings this cut will enhance your look. 
16.French Crop Fringe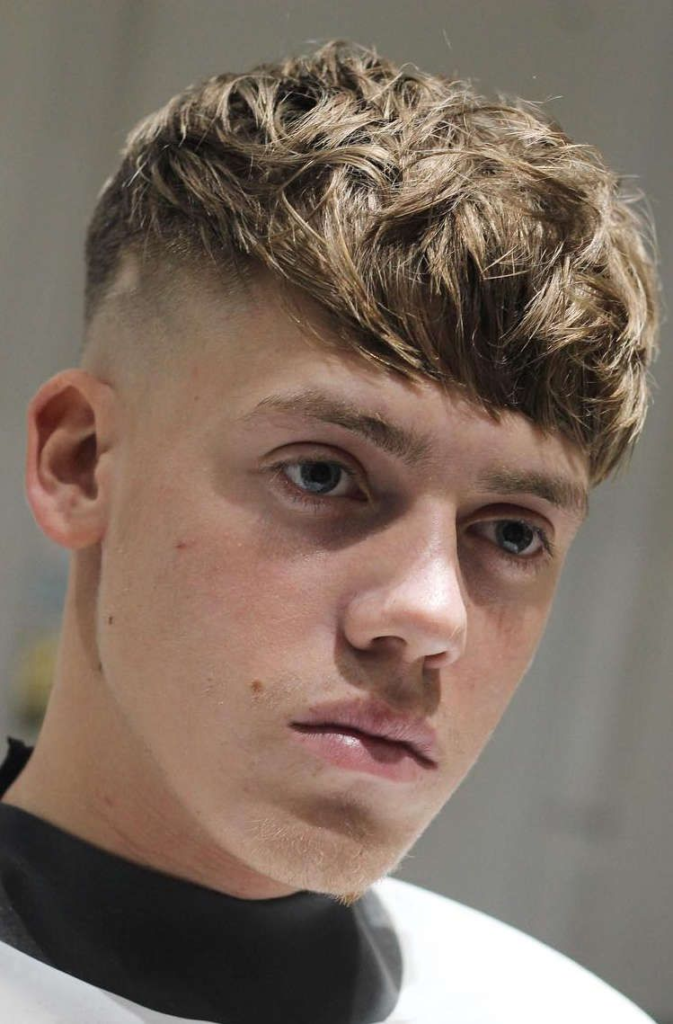 The French part of this hairstyle lies in the fringe section. If you want a fade with this cut, you can go high or keep it longer if you're going for more of a messier look. 
Trending hairstyles for men:
17.Fashion Colours
Experiment with colours! Fashion colours are all the hype these days, so why not join the trend? Don't be shy, choose from a variety of colours like blue, red, purple or even pink depending on your personal preference! 
18.An Undercut 
This is arguably the most dashing hairstyle of the year! The best thing about this nice hairstyle for men is that you can choose to make it look subtle or dramatic. The haircut is all about having a sharp angle with fine lines and a lot of volumes and can be styled in many different ways. 
19.Faux Hawk 
Now, this hairstyle has been trendy for a few years now and they're bold hairstyles for men. The haircut is meant to imitate a mohawk hence the name. And though it might give the impression of being easy to achieve, it actually requires a professional hairstylist's help.
20.Long Fringe
Do you remember Johnny Depp's hairstyles in the nineties? Yes, with long fringes! A fringe hairstyle refers to any haircut where the sides are cut short and the hair on top is styled to hang over the forehead. The main reason for most men to love this style is that it suits most face shapes and hair types. 
21.The Pompadour with a High Fade 
This cut will give you the best of both worlds. Pull off this great look with the utmost confidence!
22.Classic Fade 
Now just because this is a classic haircut, doesn't mean it's not trendy – quite the opposite actually! You don't have to clip your hair too short on the sides and still keep it longer on top. 
23.French Crop 
You can identify this haircut where the back is cut short, but the sides are slightly longer. You can either keep it over your forehead or comb it backwards or to the side depending on your preference. 
Short Hairstyles for men without a beard or with a beard:
24.Slick Spikes
If you're thinking of getting some slick spikes, try pairing it with a neatly trimmed beard that's well-shaped! It will give you a put-together look while still remaining stylish. 
25.Short Spikes with a Low-Trimmed Beard
Trimming the sides low into a low-trimmed beard with neat short spikes is great if you're not looking for anything too drastic. It's a simple hairstyle for boys that's still classy. It's one of the best hairstyles for men without a beard so you can give that a try too!
For scanty hair: 
26.Crew Cuts 
These are simple yet sophisticated. They're formal hairstyles for men with short hair That's why they've always been on the top of the list at many men's hair salons. The top is cut short while the sides are tapered short as well. Styling takes little to no effort! They're so great army men hairstyles or police hairstyles for men.
27.A Buzz Cut 
This has always been a short hair trendy hairstyle for men. If you are someone who likes to spend less time styling your hair, this haircut is the one for you. It gives a minimalistic look with a sleek haircut design. 
Others:
28.Side Partition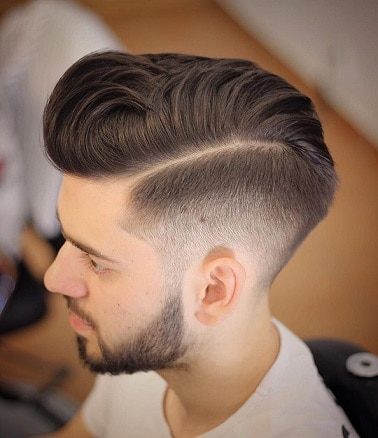 What says work and life balance better than an uber-stylish side partition? This paired with a high fade will show everyone that you're ready for both party mode and office mode if you want an office formal hairstyle for men and smart hairstyle for men! 
29.Skin Fade with Spikes 
A fade with some spiky texture is one of the great hairstyles to add a cool factor to your overall look. It's one of the most stylish hairstyles for men. A fade cut means the changeover of the lengths and colour on the back and sides of the hair. In skin fade haircut, it does not involve much hair at this point since the cut is incorporated into your skin. The best way to pair such a fade would be short or medium spikes on top and you are good to go! 
30.Tapered Cut
This hairstyle is where the hair on the top is longer and the hair in the back and sides is gradually tapered until it meets the hair in the front. Hairstylists at Limelite, one of the best hair salons in Chennai, suggest that the haircut is ideal for men with round faces. It is a popular hairstyle for men among working professionals because it is easy to maintain and looks well-ordered.  
31.High and Tight 
This is a spin-off of military haircuts. If you prefer it, you can completely shave the back and sides while keeping it long on top. 
32.Undercut Skater 
This looks more complicated than it actually is. The sides are trimmed while still kept long, mimicking an undercut that is disconnected, while the back is shorter. 
33.Surfer cut 
This style is meant to look messy and tousled. Remember, the messier the better!  
34.Regulation Cut 
This is another one that is inspired by the famous military cut going by how short it is. You can pair this with a side or middle part. 
35.Clean Shave 
You won't have to style your hair or beard! If you want a low-maintenance look, this is the one. It's still masculine while not needing to spend any time styling. 
36.Short Curls
Curls are super versatile. And the shorter they are, the less you have to worry about styling and it's the easiest way to wear it!
37.Buzz Cut with Lineup
We know the buzz cut, but a buzz cut with a lineup is distinguishable for how it shapes your forehead. 
38.Waves with a Side Part 
Wavy hair will make your hair look thicker and much fuller. That's why everyone loves it! 
39.Slick with Skin Fade
While the slick back is well-known, pairing it with a skin fade will have you standing out for sure in the best way possible! The fade will give your face some structure and enhance your features. 
40.Pompadour with Temple Fade 
The pompadour can be cut to whatever length you wish. The temple fade with it adds structure to your hair and enhances your hairline. 
41.Androgynous Cut 
This is a cut that has a few masculine and feminine elements to it. If this is something that is up your alley, then give this cut a try!
42.Disconnected Pompadour 
If you want to put a modern twist on a classic look, try this! It will give your whole look an attractive edge! 
43.Side Part with Quiff 
This is one of the most polished looks out there! You can keep the length of your hair and play around with it, due to the versatility of this style. 
44.Side Part with Textured Hair 
Textured hair is super versatile and requires very little maintenance. To show off your natural texture, keep the length on top! 
45.Taper Fade with Slick Back 
This is another combination that you can pair with your slicked-back look! If you're thinking about style you'll be glad to know this suits any texture and length. 
46.Butch Cut 
This cut is different in how the length is the same on the sides, the back and the top. Many love the simplicity of this cut and how it doesn't require much maintenance. 
 47.Bald Fade 
The sides and the back are cut short almost reduced to skin level while the top is full of length. You can then style the top in any way that you want. 
48.Short Afro 
This is great if you want to show off your natural texture but keep the maintenance to a minimum. Though it will be short you will still get your volume and texture shining through. 
49.Low Fade
The best part of this cut is that is can be customised based on your preferences for example if you want something simple rather than super stylish. 
50.Mid-Fade with Brushed Hair 
The main appeal of this cut is brushing it back to give it some volume! The mid fade will add a youthful look to your appearance.
51.High Fade with a Hard Part  
There's no denying that a hard part is super stylish! A hard part is where there is a clean-shaven line to your scalp! 
 52.Edgar Cut 
Now this is very similar to the Ceasar cut. The shape of the cut is the same but unlike the Ceasar cut, it has a high skin fade. This is a great cut for oval faces! 
 53.Faux Hawk Haircut with an Undercut 
If you want a rebellious look, this is a great option! You can actually pair the faux hawk with various types of fades!
54.Textured Fringe
A textured fringe will give you a youthful appearance!  This messy look is great for a laid-back appearance! 
 55.Low Taper Fade 
This is a simple look that starts just above your ears. The fade can be achieved with any hair texture and can be suited to your preference. 
56.Two Block Haircut
If want something popular and modern that is gaining popularity, you have to try this! This cut features two blocks. The first is at the top of the head and is slightly longer than the second block which is on the side and back. 
 57.Bowl Haircut 
This may not have been the most popular haircut before, but the modern look is something that people aren't as opposed to now! It can be paired with a fade for an even more modern look. 
58.Hair Design 
This is one of the coolest ways to express yourself! Make the most of things and have fun with your hair! 
 59.European Haircut 
Many various styles fall under this category like an undercut or pompadour. The looks can be tailored to fit your preferences! 
60.Shaved Sides 
If you ever want to add structure to your hair, this is one of the best ways! It will create contrast and remove weight from thick hair if that's what you want. 
61.Undercut Fade 
This is a super stylish cut and you can style it however you want depending on how much length you leave on top. We recommend pairing this with a side part! 
 62.Curly Quiff 
Not every hairstyle has to be neat and polished now does it? Brush your hair back but not too much so your quiff can still keep it's structure. Spraying on some hair spray will help keep things in place. 
 63.Spiky Military 
This is great is you have thin hair but still want to look stylish. Take the classic military cut and give it some style! 
64.Asymmetrical Layers 
Whether you have thin or thick hair, this is a great style! If you've got thin hair especially, this will give your hair a fuller look. 
 65.Blonde Butch Cut 
If you've got the confidence, you can rock this look! Keep in mind you'll have to trim off a lot of hair for a butch cut. 
66.Long Hair with Design
Flaunt your locks with this look! The design in your hair will also add something special and have everyone turning their heads. 
 67.Long Comb Over with Short Sides 
Another chance to get the best of both worlds with short sides but a longer top that you can comb over. 
68.Pompadour with Double Hard Part
This is definitely one of the more creative hairstyles out there. The designs on the side add such a cool effect, while the top can be styled into a pompadour. 
69.Top Knot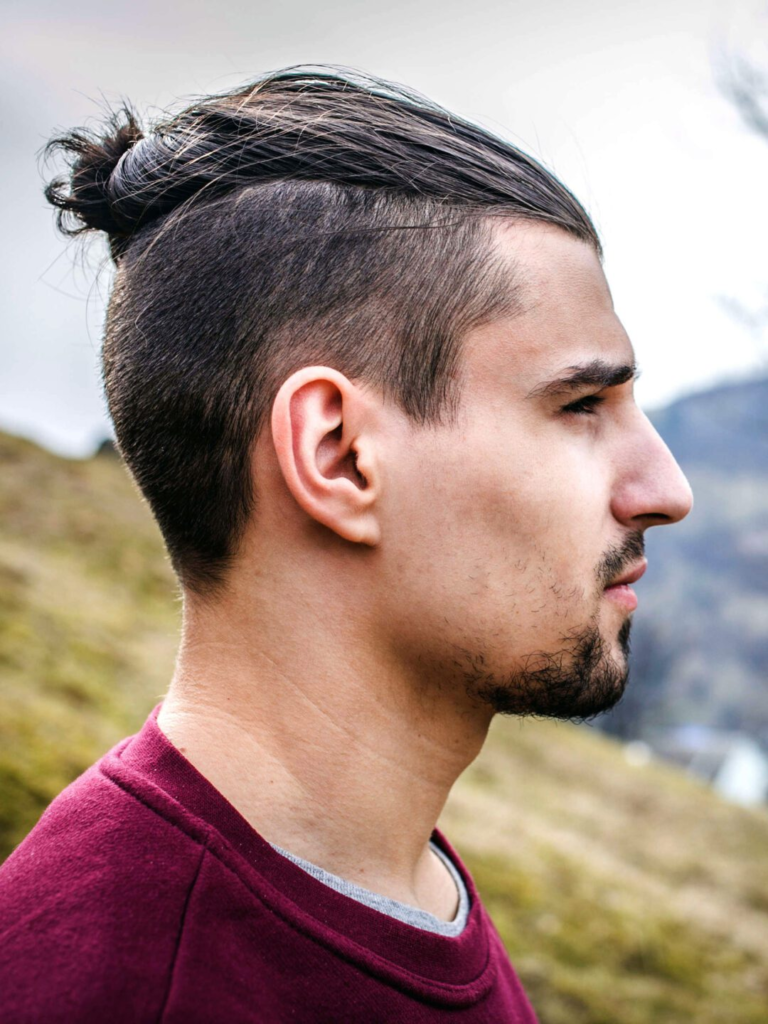 These are similar to top knots but instead of keeping all your hair the same length, you can just let the top grow and shave the sides. It's also popularly known as the Samurai Haircut.  
70.Diagonal Fade 
Instead of going with another side part, why not try a diagonal fade? This with some volume will look incredible! 
Choosing the Best Haircut for Your Face Shape
Before the hairstyle, and you choose the latest Indian hairstyles for men, you need to understand how to first choose a haircut that best suits your face shape. This will give you a good hairstyle for men. Each face shape will be different in how a haircut will enhance some features so you can choose from different types of hairstyles for men! Read on to know more! 
How to understand your face shape? 
The primary step in understanding which hairstyle/haircut suits you the best is determining your face shape. Pull back your hair and pay attention to the length and width of individual facial features. The most vital Determining your face shape is the primary step in understanding which hairstyle/haircut suits you best While observing these dimensions, you can figure out which face shape you are in and commit to a haircut that is most suited to your facial proportions. Take a look at the illustration below to understand different face types better.
What to choose based on your face shape
1.Best haircuts for triangle faces 
Classic tapers and low fades that build width on the sides are the best choices for triangle faces. These haircuts work great for men who have curly or thick hair. Pair up your tapered or faded sides with a long comb over, pompadour, quiff, textured brush up, or messy hair, and you are good to go!  
2.Best haircuts for oval faces
If you are someone with an oval face shape, consider styling your hair up and off of your face. Limelite Salon and Spa hair stylists recommend that the trick to achieving a perfect haircut for this face shape is to create volume and angles on top. Ideal haircuts for an oval face type are buzz cut, man buns, faux hawk, crew cut, side parts, fades, undercut, and quiffs.  
3.Best haircuts for round faces
Since round or spherical faces have little in the way of natural angles, you need to create the illusion of structure with your haircut. A style with height on the top with an inclination towards the sides, such as a pompadour, flat top, sleek side part, or classic swept-back quiff, works best for round faces. If you have a longer, rounder face, consider having a few front fringes as they help your head appear shorter. 
4.Best haircuts for oblong faces
Also considered a rectangular face shape or long face shape, oblong faces fall somewhere between an oval and a square; but require a subtly tweaked haircut to ensure that the face does not appear even longer than it is. Limelite, one of the best hair salons in Chennai, hair stylists suggest that short spikes, medium-length crew cut, buzz cut with light stubble, classic side part, and edgy fade go well with this face type. 
5.Best haircuts for diamond faces 
With a narrow chin and brows and wide cheeks, the diamond face shape is one of the rare face shapes for men. Because of that, it needs men's hair salon experts to make sure it looks like its namesake. For this shape, haircuts that add width to the forehead and chin area are the perfect picks. Textured crops, fringes, and longer haircuts will accentuate the forehead and enhance the overall appearance. 
6.Best haircuts for square faces 
Considered the masculine ideal, a square face shape has a razor-sharp jawline, even proportions, and an overall chiselled look. From buzz cuts to French crops and classy fades to quiffs, most haircuts work fine with this face type, and it is versatile enough to work with both short and long haircuts.  
7.Best haircuts for heart-shaped faces 
With broad temples and hairline, gradually narrowing to a point at the chin, the heart-shaped face benefits from a few optical illusions to make it appear better proportioned. Pursue longer, softer styles like a mid-length side-swept part, layered quiff, or textured fringe to emphasise literal sharpness. 
The Befores and Afters When Getting a Haircut
Before: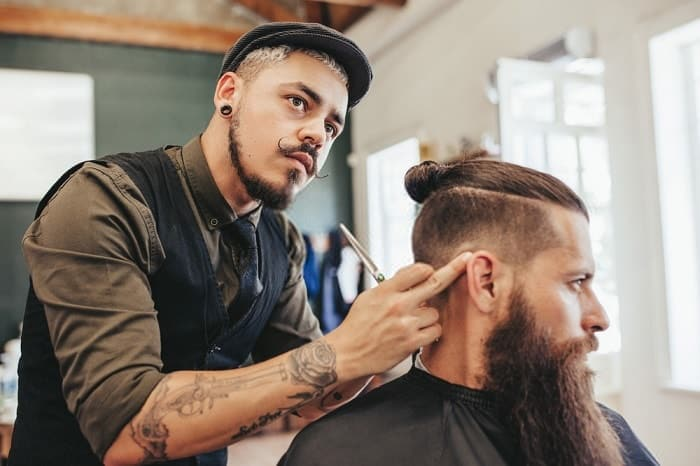 It may seem as though getting your hair trimmed involves only sitting in a chair and getting the new hairstyles for Indian men, but that's not the way to do it unless you want it trimmed to your taste and the outcomes to make you pleased. Like other activities, getting a haircut also takes some planning. We know the trick to getting a haircut you enjoy when you look in the mirror rather than one you hate when you get home. Make sure to keep in mind these 6 suggestions before your upcoming haircut session. 
1.Know what you want 
It's crucial to know what you want from the haircut before you even enter the salon. Do you wish to drastically change your appearance by shortening it? Do you desire a hairdo that you've seen on a model on a catwalk? Some famous hairstyles for men? Or do you only need a few inches removed? Make sure you carefully choose the haircut you want. Do plenty of research and even bring a photo of a haircut you like for your hairstylist to get a clear idea of your expectations. So once this is done and you're sure of what you want you can go ahead and make your appointment.
2.Keep in mind maintenance
Sometimes, even though you think you might like a certain hairstyle, the upkeep required to maintain it and keep it looking fresh simply might be too much. You are responsible for keeping up your hairdo after leaving the salon. Consider your commute, fitness routine, way of life, and how you wear your hair to each of these. Ask your hairstylist and they will suggest a cut that requires less maintenance if the current style you want is proving to be too high maintenance for your tastes. That way you'll be able to achieve something close to what you initially wanted but still not have to fret about if it's too much to manage. 
3.Cut your hair because you want to
Now getting your hair cut is great but never submit to pressure to get your hair trimmed. Whether you're going through something like a bad breakup or your friend's getting a fresh cut, that is not a sufficient justification for you to cut your hair. Be clear about whether you genuinely want to have a haircut or just like the concept of one because letting your emotions guide your choices is rarely a good idea. Sure it's just hair, but make sure you think through the decision and make sure it's something you genuinely want to do! 
4.Trust your hairstylist 
Even though you could be very clear on what you want from your haircut, keep in mind that the hairstylist is the expert in this case. Whatever feedback the stylist shares on the cut your want, be receptive to their advice because they have the knowledge to advise styles and cuts based on several aspects, such as your facial shape, etc. With an open mind, you can achieve remarkable things and get a better look that you never would have imagined and love all the more! 
5.Keep in mind your hair texture
If you've got coarse, curly hair, no haircut is going to change that. Don't expect to leave the salon with the hair texture in your reference picture. If you're looking for a celebrity kind of look, make sure to choose pictures of celebrities that have hair similar to yours. Your stylist will give you advice on what cut or style will work best for your hair. For instance, if you want a textured look, this won't exactly be possible on your hair without some help from various products. So before you head to the salon, make sure the reference you choose is fitting for your hair. 
6.Which is better for your hair, a dry or wet cut?
Your hair type will ultimately determine whether you get a wet or dry haircut. Going for a dry haircut is definitely a good idea if you have curly or frizzy hair because you can truly see how your hairstyle for men will look stylish because your hair is different in texture and length when it's wet. If you have coloured or tinted hair, a wet haircut will also help you see the highlights more clearly. On the other hand, you might choose the conventional wet haircut if you have fine, straight hair. It's really up to your hair type. Once again consult with your hairstylist. After all, they are the ones who will be cutting your hair and will know which will type of cut works best for you. 
After:
Aftercare is crucial and very beneficial even if you've got the current hairstyles for men. To begin with, it will retain the style and appearance of your first haircut. An aftercare regimen may also assist you in identifying any issue areas to discuss with your barber. Additionally, it's a terrific method to schedule some self-care time. What then does an aftercare schedule entail? You are mostly in charge of it. Establish a schedule that you can stick to, that suits your hair and your haircut.
1.Start with the right products 
Start with your haircare items if you want a style that makes aftercare simple and efficient. What's your routine like currently if you have one? Pre-stylers are a good choice if you're wearing a cut that calls for styling products, for example. Pre-stylers are like a warmup for your hair. They prepare your hair to handle products and prevent damage. Sea salt spray is a wonderful pre-styler option. Use it on the tips of your hair to add height to your cut. Pomade achieves the same thing. It prevents over-drying of your roots while holding hair in place. The other products you use in your aftercare routine will sparkle because of the pre-stylers. Always prepare your hair before styling it.
2.Don't overdo the styling 
When it comes to hair, it is referred to be a cardinal rule since it is so crucial – a little goes a long way when styling and especially when caring for your hair after a cut. When you're copying your barber's technique, you might believe you need to use a lot of products. After all, you might observe your barber utilising a variety of products while you're sitting in the chair. While that is true, you still need to be careful at home because accumulation can damage your hair. This rule also applies to the hair-washing products you use. Shampoo removes oil, dust, and impurities from hair and dries it. So it cleans and dries at the same time. Use only as much shampoo as you require for aftercare because it can play a significant role in a dry scalp. 
3.Don't forget to condition 
Conditioner is a product that everyone should be using. You may have heard that if a guy's hair isn't long enough, there's no need to condition it. However, you should also apply conditioner if you're using shampoo. One does what the other doesn't, just like in every great pair.  If you don't want your hair to be extra soft, don't overapply conditioner. When washing, add more water if you want some more moisture.
Rules/Precautions to Maintain your Hair 
1.No more greasy hair 
Although frequently oiling your hair is a good idea, leaving the oil in for a long time is not. This is especially valid if your scalp is oily. Oily or greasy hair is a result of an oily scalp. Nothing will work on your hair if you don't take care of this, regardless of how excellent a conditioner you use or how pricey your shampoo is. Additionally, it becomes tough to arrange your hair and give it a nice appearance.
2.Invest in good products 
Make sure you don't use inferior goods when styling and applying products. You must put some effort and money into locating the product that will serve you best. If you choose over-the-counter products that work for you, it doesn't have to be outrageously expensive. If you're still unclear, talk to your hairstylist. 
3.Cut your hair regularly 
Avoid going too long between cuts. Ideally, you should go to the barber every three to four weeks, but no later than four to five. This enables you to keep track of things, have a more regular haircut, and truly assess your style. 
Interested to know the trending hairstyles for women, check it out here!
We hope you found this blog informative and helpful! Do consider dropping by at Limelite Salon and Spa! Limelite is a unisex hairsalon in chennai, that aims to give you, the customer, the very best experience! Whether it's any hair salon services like trendy women haircuts, best hair cut for long hair, hair highlights, layercut for women, feather haircut for women, hair spa or a keratin treatment, olaplex treatment, hair smoothening, manicure and pedicure, foot reflexology or our special Kerastase fusio dose nail art or a simple haircare routine when you are at Limelite, our dedicated team of professionals will ensure that you are well taken care of! To know more about our services or to book an free consultation with us, call us at the number mentioned on our website. We always have offers you wouldn't want to miss, and we would love to have you in our salon. Thank you!