Love is in the air. Oops, it's just the aroma of your nails getting done! Nails are like the superhero cape for your hands. No matter what you are wearing or what mood you are in, perfect nails still have the supremacy to lift your mood. Well, how about you change the world with some colours? Sounds difficult? Oh, stop worrying. Life is too short to have boring nails so this blog is going to give you a guide on nail art and some of the trendiest nails so that you can flaunt them. Don't worry girl, we got you covered for that beautiful nail makeover. Nail trends are spreading like a piece of hot news on the internet daily. But you have to choose the one that suits your style and also the trend. 
Nail art is also sometimes referred to as nail decoration. This is because when nail art is done, you are essentially decorating your nails with embellishments or by painting them.  Now, nail art is all the hype. There are plenty of nail salons in Chennai.  People are using their nails as a canvas to express themselves. Your nail art can make a statement and showcase your personality! 
What are the Different Nail Art Techniques? 
There are various nail art techniques that will give your nails a stunning, unique look! Read on to see some of the best nail art designs! 
1.Nail art with a brush 
This is one of the most common techniques. There is more than one type of brush that is used. The various sizes and shapes will give you flawless nail art. Some of the brushes include angled, flat, line, detail, dotting, and more! The brushes are typically synthetic as this is recommended. With the selected template, the nail artist will be able to draw/paint on the various elements. It does not require much training and is fairly simple to execute after. The precision of the bushes will ensure that you will be able to perfect every the finest of strokes. You can achieve some amazing nail art designs
2.Nail art with a sponge 
This type of technique is perfect if you want to achieve a gradient or achromatic design. Any sponge can be used, but it really depends on the type of design you're trying to achieve. For this technique to work, usually a base coat is applied first and should dry. Then the sponge is dipped in nail polish and patted on the nails. The force in which the sponge is pressed onto the nail, and how the sponge is positioned once again depends on the design. This technique is bound to get a bit messy, so the edges will be cleaned up. Once this is done, the nail technician will finish it off with a top coat. 
3.Nail stamping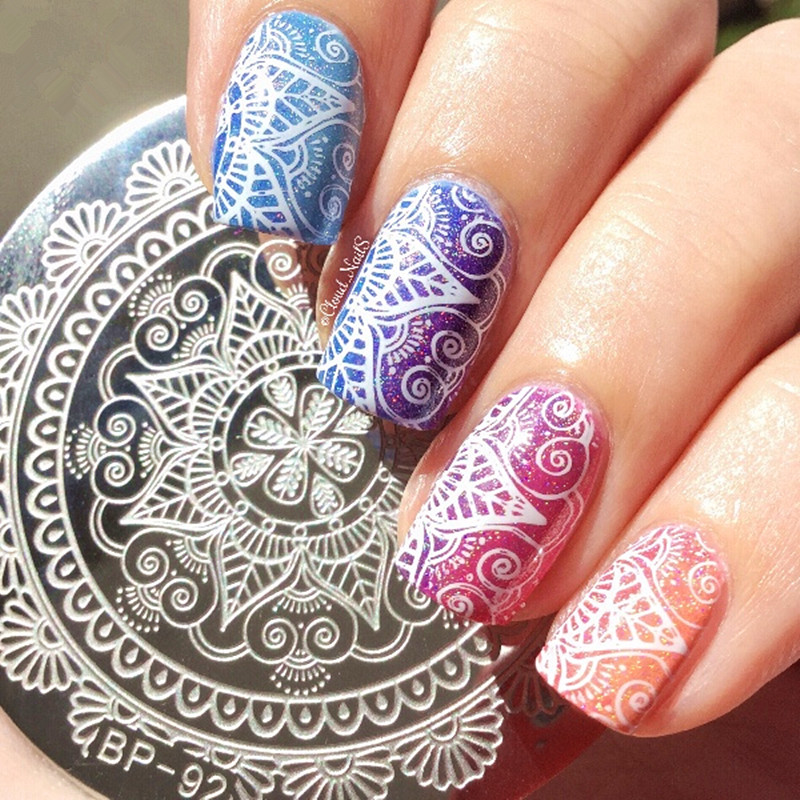 If you're looking for stylish nail art, this is for you! This is a well-known technique where the image of your choice is printed onto your nails. The design you want will be placed on the image plate and picked up and pressed onto the nails using a stamper. Compared to other techniques, this one isn't as easy to perfect and takes a bit more practice! But the results are instant and look beautiful. It's quick and easy. If you want nail art designs in yellow colour or any colour for that matter, the designs that you can achieve are endless! You can not only have fun with the stamped designs but also with the colours that go underneath them!
4.Nail taping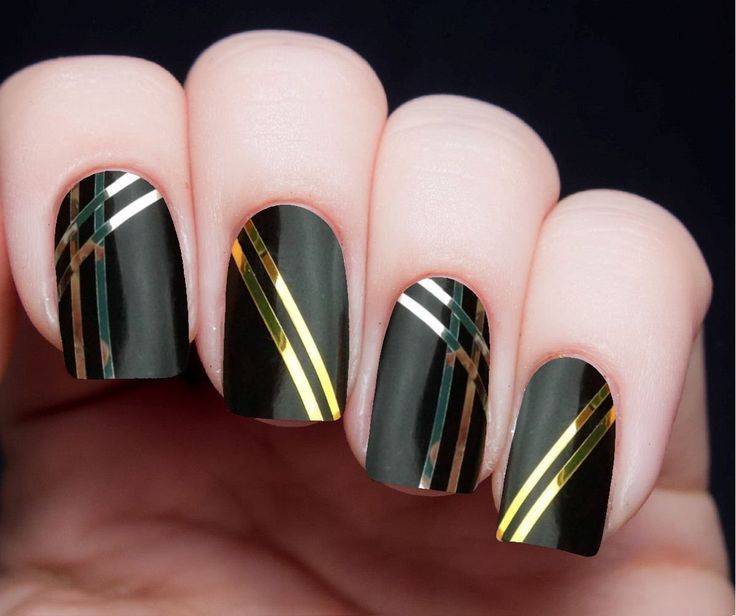 This is another simple technique yet it's for sure some stylish nail paint. A base coat will be applied first onto the nails. Following this, pieces of tape will be cut and applied to the nails. The placement of the tape will indicate where you want the base colour to be. The thickness and length of the tape depend on the design you want. To avoid any air bubbles or bumps, the tape is usually gently pressed down. After this, any nail polish of your choice will be applied. When it is completely dried, the tape will be gently removed to reveal your final nail art.  
5.Digital nail art 
Digital nail art is becoming increasingly popular these days. Many salons and nail salons have machines that print images onto your nails. It's super quick thanks to how the whole procedure is automated and it's easy to get the look that you're hoping for. You can choose almost any image you want from online and have it printed onto your nails. Though the machines are known to be on the expensive side, they are definitely worth it seeing as how much it has been in demand recently
6.Stencil nail art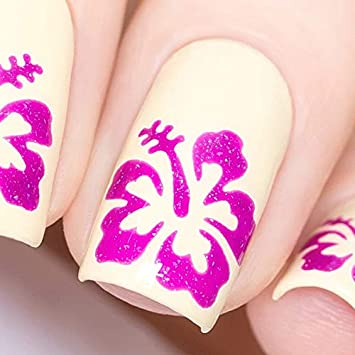 The background or primary image of the art is created using the stencil technique, which is applied on to a dry layer of nail polish. Like when taping, the stencil is pushed firmly up against the nails. A variety of colourful nail polish is applied to the entire nail. The pattern remains on top of your nail polish once the stencil is removed and allowed to dry.
7.Airbrushed nail art 
An airbrush machine is used in this method. Paint is applied to nails using an airbrush machine. To achieve the desired aesthetic, use this approach with stencils or stickers. Applying a base coat comes first, followed by placing the stencil on the nail. The wished-for design is now painted using an airbrush machine. Later, the stencil is taken off, and acetone is used to remove any paint that has smudged out in some spots.
8.Nail stickers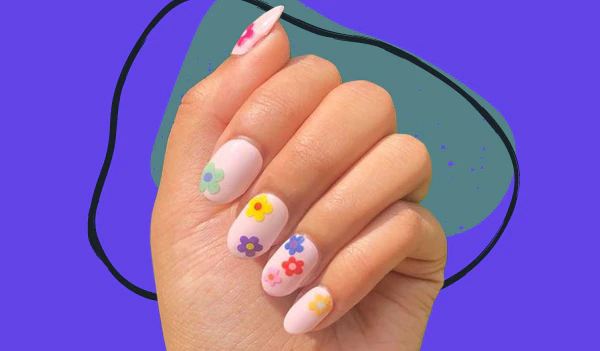 Using art stickers and decals is a cool way to stylishly adorn your nails. Applying nail stickers and decals requires no effort because they are so simple to do. However, the stickers and decals must be applied on the nails appropriately. The market offers a wide selection of fantastic stickers and decals. Before putting the nail art stickers to make your nails more appealing, clean your nails to give them a healthy and well-kept appearance. In order to complete the look you want, additional accessories like glitter, jewellery, and tattoos are also worn.
9.Water marble nail art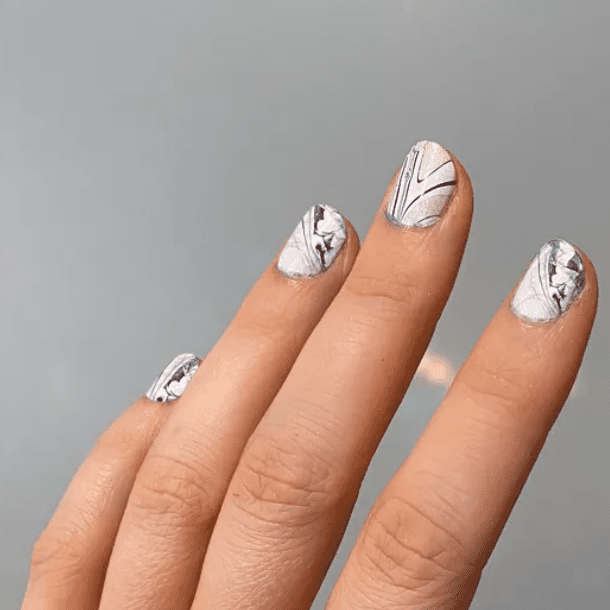 This is for sure some cool nail art! This method of nail art uses water. The nail veneers are arranged in a pattern on the water's surface and then dropped into the perfectly clear water. These days, this method is widely used because it can be used to create many different designs. 
Nail Art Designs that are Trending
1. Nails with Graphic Designs: 
Ever seen how bold a graphic designer is with her abstract drawings and doodles? Well, why not apply the same technique to your nails? Graphic design is one of the most popular Nail trends for 2021. Think about any colour, abstract figures, dark or muted shades, and contrasting effects. Mingle them all and you will get the perfect nails. Your nails don't have to be straight or exactly curved. Play with your colour and ideas and boom that design!  
2. Metallic Nails: 
Love that glossy metal texture on cars or on any building? How about giving the same shine to your nails? The craze for metallic nails this year is funky. Hollywood queens like Kylie Jenner, Jennifer Lopez, Kim Kardashian, and many more were spotted with this look on their social media. You can choose any colour that you want to apply. If your nails are coffin-shaped then it's a must-go! You can easily visit the nail salon for further assistance and the perfect lookout.  
3. Anime Nail Art: 
Do you also get excited by names like 'Eren Yeager', 'Kira', and 'Naruto' and try to speak broken Japanese? Definitely, you are a WEEB then, and this will be the best nail trend choice for you. Whether you are a Ghibli studios fan or Demon Slayer, you can decorate your nails with this intricate and quirky art. Choose any of your favourite characters or the symbol, and it will be there on your nails. Support your favourite show with these trendy anime nails and flaunt it off.  Where to get it?  I would suggest you get these trends done at a salon rather than trying them out yourself. So why the wait?  
4. CD Nails: 
How about some holographic shine on your nails? The kind of nails that change colours based on the light. Sounds groovy? Then get it! Your nails will be manicured using a pigment which is very special since it has shiny particles in them that will complete your look. You can choose any nail colour for your base or even go naked, and then apply a layer of this holographic pigment to give your nails the final touch-up. Embrace the old soul vibe back from the 90s with this new trendsetter!  
5. Pearl Fun:
Let's dive deep into the ocean and choose the perfect pearls to be put on your nails! This new trend which has been brewing up for a long time gives your nail a classy look. It is versatile as you can completely decide how many pearls you want on your nails. Depending on your choice, or how posh you want your nails to be? You can apply as many on your cuticle or completely drape your nails with the small whitish balls. Use a pearl nail polish that is iridescent in nature to give the desired outlook.  
6. Galaxy Nails: 
Why not skyrocket your nail trend with some funky galaxy nail trends? The Galaxy nail art is the perfect definition of the 'out of the world look.' YouTube has been blasting up with its tutorials and the fun part is – you can easily do it at home all by yourself! Choosing some bold blue and galaxy colours, you can give your nails the perfect glittery, and starry finish with some white paints or glitters. The abstract nature of this nail art makes it so desirable for others. Try this out and be your own star!  
Jewel Dwell: Cardi B inspired this new trend of nail art followed by Megan Thee Stallion. This nail art trend is one of the classy and trending looks. Jewels of different sizes are placed on your nails that give you a dripping lookout! You can easily get them in your nearest salon  
Nail Art for Kids
Who said fancy nail art has to be for grown-ups only? There are plenty of nail art trends out there for the little ones to enjoy too! Some nail paints are free from any toxins so you can be sure it won't be harmful to your children. 
1.Rainbow nail art 
Anyone may try this cute nail art, which features a wonderful blue colour, white polish, and a few shades of red, yellow, green, deep blue, and purple for rainbows. You can even add some glitter to it. With your dotting tools, draw a face as well as some clouds with associated dots. Add a beautiful topcoat layer to complete.
2.Butterfly nail art 
Try out this lovely freehand butterfly nail art. With a nail painting brush and dotting tools, youngsters may create this extremely wonderful nail art. Apply your preferred glitter polish as a finishing touch.
3.Polka dots nail art 
You can have your kids try this! White polka dots on a base of red and black paint, with a line drawn with a nail art brush to indicate a french tip and another colour. The colours you choose don't have to match necessarily! Use the colours you prefer. Put on a topcoat to complete.
4.Panda nail art
Panda nails are simple to make with your dotting tools and quite effective. The base should be painted white. This style is unquestionably appealing to you, and you can wear it with a variety of coloured clothing.
5.Penguin nail art 
Test it out, it seems absolutely lovely. Keep the other fingers simple and only do it on your middle finger. For the entire design, you can either use a toothpick, a dotting tool, and a nail art brush.
Why is Nail Art so Popular?
In recent years, the definition of a manicure has changed. Until recently, painted nails were a sign of traditional, sophisticated style. The market was dominated by conventional colours with classic names like ballet-slipper pink or pillar-box red. However, the popularity of nail art and the craze for head-turning hues like moss green, bright tangerine, and steel grey have upended conventional wisdom. A new generation of young women is embracing nail paint to convey their uniqueness, fashion savvy, inventiveness, and even humour. Nails have never been so prominent in fashion and popular culture.
Patriotic nail art was all the rage at the 2012 Olympics, with Rebecca Adlington's union flag nails and Missy Franklin's stars and stripes vying for viewers' attention. The Olympic Games served as a platform to display nail art's pure, family-friendly side.
Nail Art Aftercare Advice 
Follow these few tips after you get your nails done, and it should last you a good amount of time even if you're not using the costliest nail polish
When washing dishes, put on rubber gloves to protect your hands from abrasive detergents that could dry out your skin and nails.
To prevent accidental injury, put on protective gloves when gardening or doing household tasks.
Always wear gloves when it's cold outside to keep the area's blood circulation healthy.
After washing, thoroughly dry your hands. After washing your hands, always apply hand cream or lotion to lubricate and soften the skin. Some hand lotions have UV filters that lessen the occurrence of hyperpigmentation.
 Keep hand cream near the sinks in the kitchen and bathroom as a reminder to use it after washing your hands.
Use a nourishing cuticle oil shortly before bed as well as massage the hands and cuticles each evening with a thick hand lotion. To maintain the health of the nail, this will hydrate the cuticle and nail bed.
If you have a French manicure, seal it every two days to prevent fading and chipping of the nail art or top coat.
Avoid using your fingernails as tools (for instance, to take lids off tins)
Use nail polish remover without acetone because it is gentler on the nails.
Consume a balanced diet full of the nutrients necessary for strong, healthy skin and nails.
 Keep the skin and nails moisturised by drinking lots of water.
Try not to pick at the nail art.
If preferred, visit the salon again every two weeks to maintain the design.
The Advantages of Nail Art
Having healthy, gorgeous, and fashionable nails can increase your self-esteem and confidence. You can make an impression with nail art. Your attitude can be lifted at any time by wearing chrome nails or creating nail art with multiple colours. You can choose from a wide range of colour palettes and these hues might go well with your attire, way of life, and even personality. Your neutral-coloured nail polish can be made more entertaining by adding a bold graphic or colourful pattern. Wearing a striking nail design can also enhance self-confidence. Having nail art is like affordably wearing fancy labels, nail art is both chic and trendy.
Nail art in Chennai is all the rage too! After all, nails without a little sparkle are like a cakes without frosting. So why go bland when you can chase your dreams in killer heels and perfectly painted nails? Choose the trend that suits you the most and get that perfect design right on your hand. Sure, life isn't perfect but that doesn't count for your nails too!  
We hope you found this blog informative and helpful! Do consider dropping by at Limelite Salon and Spa! Limelite is a unisex hairsalon in chennai, that aims to give you, the customer, the very best experience! Whether it's any hair salon services like trendy women haircuts, men haircut styles, best hair cut for long hair, hair highlights, layercut for women, feather haircut for women, hair spa or a keratin treatment, olaplex treatment, hair smoothening, manicure and pedicure, foot reflexology or our special Kerastase fusio dose  or a simple haircare routine when you are at Limelite, our dedicated team of professionals will ensure that you are well taken care of! To know more about our services or to book an free consultation with us, call us at the number mentioned on our website. We always have offers you wouldn't want to miss, and we would love to have you in our salon. Thank you!