Have you been frequently searching "pedicure cost near me" or "pedicure price in India' 
It's not unusual for people to get confused between manicures and pedicures! But they couldn't be more different from each other with major differences. Manicures and pedicures are the two services offered by beauty salons most frequently. The manicure rate and pedicure rate is made reasonable for customers!  A "manicure" is a procedure that softens and enhances the appearance of hands and nails, whereas a "pedicure" has the same effect on feet. Each treatment also has a distinct focus. For instance, a manicure frequently involves cuticle care, nail shaping, and polish application. The process is repeated during a pedicure, which also involves soaking the feet, occasionally using stones or foot files to remove dry, dead skin, applying masks, and using foot scrubs to exfoliate. So stop searching for the pedicure cost in India and consider going for it! 
5 Reasons why Men should get Manicures and Pedicures
We know you've probably searched for "pedicure for men near me" Men frequently neglect to take care of their bodies, especially their hands and feet. But when it comes to putting in the greatest effort each day, their hands and feet put in the most. Without routine care, using your hands and feet excessively can lead to fatigue, dryness, scaling, ingrown nails, and other health issues. In addition to other advantages, regular care can contribute to smooth skin, healthy nails, less ingrown toenails, better-smelling feet, and enhanced circulation. Don't worry about the cost of manicure and pedicure in India! 
1.Well-Groomed 
There's no harm in taking pride in how you look! When you're confident in your appearance, everyone will see it and be charmed by you! You don't necessarily have to go all out, just a simple trimming that keeps your nails buffed and clean can make a huge difference as well! 
2.Healthy Nails 
The attention given to your nails during a salon manicure and pedicure is the best feature. Consider how challenging it is to properly and neatly trim your nails without running the risk of ingrowns. In order to prevent the growth of fungus, the professional will also cut back all the extra dead skin and remove any debris. Your nails will develop well over the course of the following month and you'll want to show them off! 
3.Smoother Skin 
Men labour, on their feet, and with their hands all the time, right? This results in calluses and rough hands and feet. The buffing away of all the dead, dry, and peeling skin from your feet is the other excellent aspect of getting a manicure or pedicure. The removal of calluses is followed by a relaxing lotion application that replenishes moisture and maintains smooth skin. No more unattractive yellow areas on your soles or heels with razor-sharp cracks. And don't worry, soft hands don't make you any less of a man! 
4.Better Circulation 
Okay, the hot water soak and massage, especially in the case of a pedicure, are the other fantastic advantages of getting a manicure or pedicure. It works similarly to how a regular massage revitalises your complete body to increase circulation in your hands and feet and activate the joints. You'll want to put on a pair of running shoes and take advantage of the newfound agility and smooth bottoms. When it comes to your feet just keep in mind to utilise shoe insoles to reduce pressure and to remove and moisturise calluses as they develop.
5.Unwind 
One can escape the hectic workday and enjoy a tiny slice of heaven by getting a manicure and pedicure. Enjoying a leg, foot, hand, and arm massage while your feet are submerged in a warm, jet-powered foot spa is a great way to unwind and is definitely worth the time! You wash your hair, shave, and trim it. Why not take the time to remove the dry skin, overgrown cuticles, and debris from beneath those ragged fingernails?
5 Reasons why Women should get Manicures and Pedicures
1.Keep them in Good Condition 
Our hands and feet might be subjected to a variety of challenging situations and conditions. It's simple to overlook the fact that certain areas of our bodies require care and attention when dealing with demanding activities like walking great distances in uncomfortable shoes or enduring extreme weather conditions. It is possible to maintain healthy nails and soft, well-cared-for hands and feet by arranging manicures and pedicures on a regular basis. This can help you avoid a variety of problems, including painful calluses on your feet and cracked hands.
2.De-Stress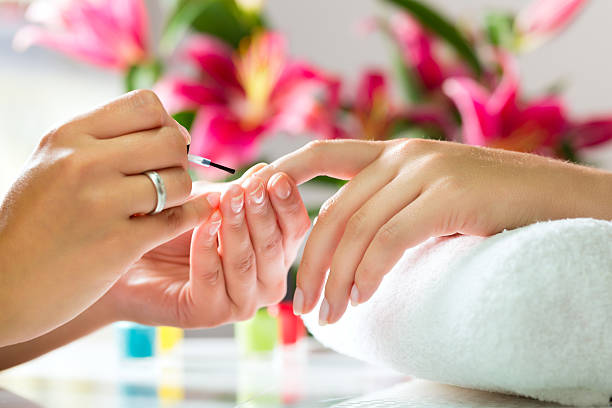 It goes without saying that one of the most traditional and fun methods to pamper yourself after a long week is to get a manicure or pedicure. Nothing compares to relaxing as your feet are immersed in water that has been infused with fragrant oils. In addition to the relaxing effects of the massage, this is a wonderful opportunity to give yourself some alone time. There are several opportunities during the experience to take a break from a hectic schedule, sit back, and unwind. Additionally, the effects of maintaining your nails in terms of aesthetics and happiness can make you feel good long after the visit is over. 
3.Exfoliation 
Deep exfoliation has both positive and pleasurable effects. Over time, calluses form on the bottoms of our feet, especially when we wear heels, work out, and go barefoot. Calluses on the bottom of your feet can be exfoliated to help the bottom of your foot become more even and to improve weight distribution, which may help with leg and back pain. Exfoliating is essential for removing dead skin cells, minimising wrinkles, and boosting the skin's ability to produce collagen.
4.Cleaning your Nails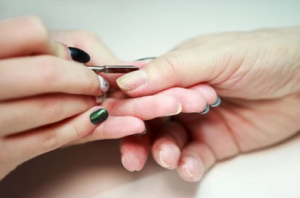 You probably don't want to consider how many microbes, contaminants, and toxins your nails come into contact with every day. Many of those unpleasant things have a tendency to accumulate over time in the hard-to-reach spaces beneath and around our nail beds. A lot of us also bite our nails, touch our faces, and scratch those annoying mosquito bites, which only serves to make the situation worse. This can easily transfer viruses to our bodies' most sensitive areas. Your chances of developing an infection, nail fungus, or being ill are reduced because nail technicians have all the tools and expertise necessary to effectively eliminate debris and bacteria.
5.Reduced Back Pain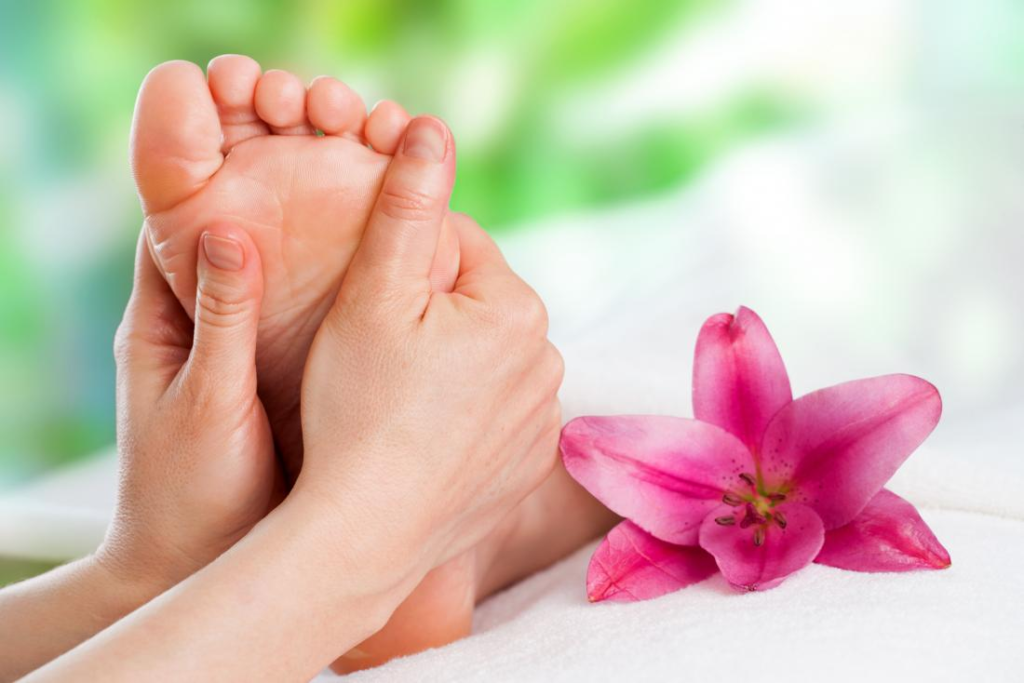 The calluses that develop on the bottoms of your feet may be well known to you. These can influence how your body weight is distributed, which can lead to back pain in addition to being unpleasant and painful. Your technician can deep clean and exfoliate your feet during a pedicure to help prevent calluses and relieve any pain you may be experiencing. You'll get massages on your arms, lower legs, and feet when you have a manicure and pedicure. As a result, your joints will move more easily, your muscle tension will be relieved, and any discomfort you may be feeling will be diminished.
The Process of getting a Manicure and Pedicure 
Once you've looked at the manicure charges and pedicure charges here's what the process will look like! 
1.Start with Clean Nails 
The most crucial step is to have a clean nail; use a non-acetone nail paint remover to gently but completely remove all nail polish off the nail plate. 
2.Shape the Nails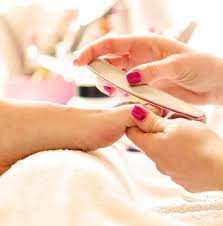 A well-shaped nail will go well with your fingers and toes. There are many options, but bear in mind what you do every day when it comes to your fingers; for example, someone who uses their hands for work might not want a long, pointed nail; instead, think about a short, blunt end with gently rounded corners. Not only is that a sturdy form, but it will also require less filing, making the nail stronger. Going from the outside to the inner corner when filing will prevent you from sawing on the top, which could weaken the nail and result in splitting and tearing. 
3.Cuticle Care
Cuticle care is a part of every manicure and pedicure performed professionally. For three to four minutes, your fingers and toes will soak in water. A cuticle pusher with a rounded edge is then used to gently press the cuticle back. The professional will then trim any extra skin from the nail after pushing back the cuticle. It is crucial to just trim the lifted, loose skin and leave the attached skin alone since the attached skin may be alive, and trimming it will result in microscopic cuts and tears that could cause infection and harm to the nails.
4.Buffing the Nails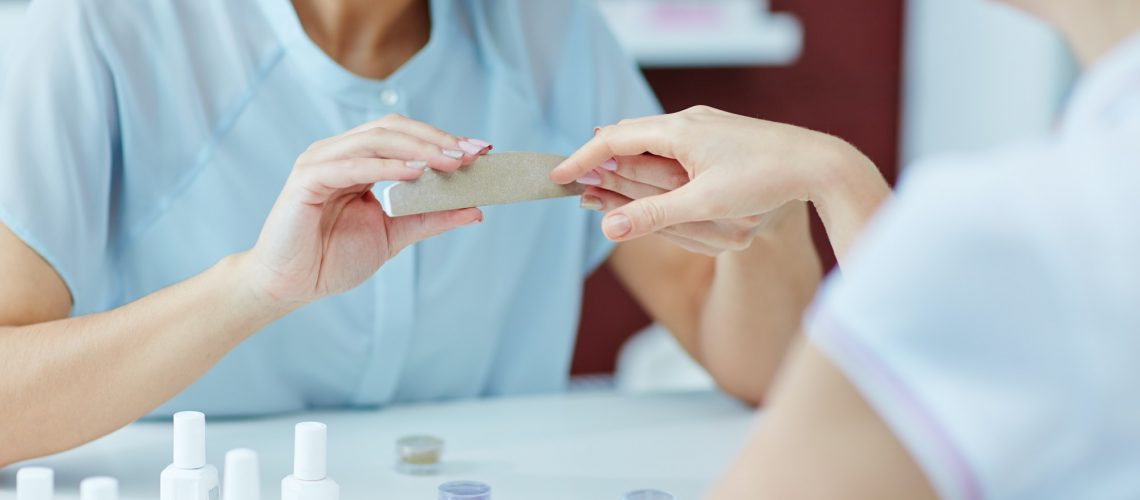 Buffing and applying oil is next. This is a great way of maintaining the health of the nail with cuticle oil. Tiny amounts of polish will be applied to each nail before gently pushing it in with a buffer. The nail plate will receive nutrition from this, and you'll also get a great smooth finish for our polish. Remember not to overbuff the nail because doing so will weaken the surface and result in bruising on the nail plate. 
5.Exfoliate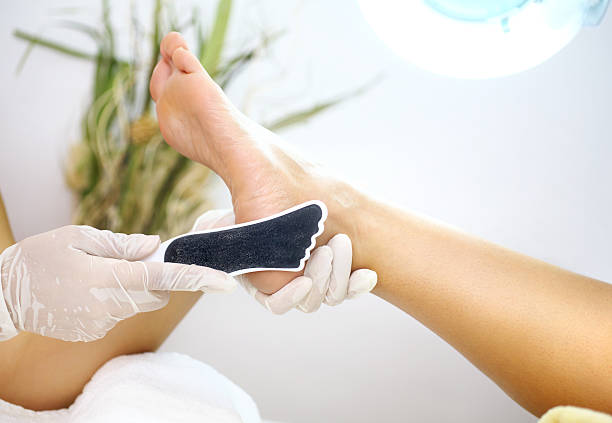 A gentle scrub will be used to massage the hands and feet. Once this is done, the professional will completely remove this with a hot towel or rinse in the sink.
6.Massage
This is our favourite part! A hand or foot cream will be massaged into your hands and feet for a couple of minutes. This will not only feel good, but it will also balance the colour of the skin and make it look smoother and healthier. Not to mention just how relaxing it is! 
7.Clean and Polish
The professional will give your hands and feet one last clean before then painting your nails with the colour of your choice. And then you're done and have beautiful fingers and toes!
You'll be so in love with your nails you won't even be thinking about the manicure pedicure charges because it will be so worth it! 
Benefits of Manicures and Pedicures 
Ever wondered how manicures and pedicures are beneficial for your body? If yes, you have landed at the right destination. Limelite Salon and Spa, one of the best unisex salons in Chennai is here to answer all your questions about the benefits of manicures and pedicures.
1.Improve blood circulation
This reduces muscle tension, relieves any pain you may be experiencing, and improves joint mobility. Another great benefit of having improved blood circulation is that it keeps your heart healthy. As the heart pumps blood through the body, healthy levels of blood circulation deliver required nutrients to your body's cells and take away waste.
2.Promote the well-being of your nails
Regular manicures and pedicures prevent the chances of your nails developing these infections. Manicure and Pedicure salon experts can spot these infections before they spread and the sessions help to treat them. Also, the technique of exfoliation involved in the process removes dead skin cells and encourages new cell growth, leaving behind stronger and healthier nails.
3.Relieve stress
As mentioned earlier, the massage techniques used in manicures and pedicures improve your blood circulation. These massages will also help you relieve any stress and relax. The fact that your hands are busy and you are disconnected from your phone, allows you to be present and indulge in the manicure and pedicure sessions that much more! Getting your nails done is a time to allow yourself to relax as it gives you the time to clear your mind from your busy schedule.
4.Enhance weight distribution
What most people are unaware of is that a pedicure is that they level out the surface of your feet allowing you to distribute your weight more evenly. A manicure and pedicure salon expert will use techniques to level your feet and assist you in distributing your weight equally. Equal weight distribution is necessary as it helps you maintain a good posture. Inappropriate postures create wear and tear in joints and ligaments; furthermore, it increases the chances of an accident.
How Often Should You Get Manicures Done?
Your lifestyle might have a big impact on how frequently you get a manicure and pedicure. The manicure price in parlours and the pedicure price in parlours will influence your decision too. But naturally, your nails will require a little more attention if your hands are subjected to more abuse from your profession or hobbies on a daily basis. To keep your nails in the greatest condition, experts advise waiting two to three weeks between each manicure and pedicure. Your nails and cuticles will start to dry out and become jagged during this period. The majority of nail polishes or coatings will also start to chip.
However, maintaining your nails in good shape in between manicures is a terrific strategy to avoid frequent trips to the salon. Daily nail care can be accomplished by taking vitamins and minerals.
For instance, maintaining the flexibility of the skin around the nail and preventing peeling and dryness, which quickly cause hang-nails, by keeping the nail and the surrounding region hydrated. Simply apply a drop of your preferred fatty oil, such as argan or avocado oil, to your finger and toenails a few times each day. You'll never have to deal with the dangers of a hang nail again, and your nail tech will love you for it. Even if you're not sure about the manicure price in India, it's something worth treating yourself to!  The manicure cost in India is reasonable compared to before, but if you're running on a budget then you'd want to limit your trips to the salon. 
Now that you've had your fingernails and toenails done, what can you do to maintain them at home? 
Here are some aftercare tips! 
After your treatment, give your nails enough time to dry.
When performing household or gardening, put on protective gloves.
After washing, thoroughly dry your hands and legs
Apply hand and foot cream frequently.
Use the pads of your fingers instead of your fingernails as tools.
Apply a good quality top coat to prevent chipping and always use a base layer underneath the polish to prevent staining.
Use nail polish remover devoid of acetone.
Avoid using metal files.
Maintain workable nail length
Use cuticle oil or cream each day to hydrate dry cuticles.
Eat healthily and drink plenty of water.
Exercise your hands and legs just to maintain your joints flexibility
For upkeep and further treatments, see your salon professionals for routine, expert manicures and pedicures at least every two to four weeks.
We hope you found this blog informative and helpful! The manicure and pedicure price in India varies depending on where you choose to avail of the service. Of course, the manicure and pedicure price in parlours will be different compared to doing it at home. 
If you've searched for "Manicure prices near me" and "pedicure prices near me" do consider dropping by at Limelite Salon and Spa! Limelite is a premium manicure salon and hair salon in Chennai, that aims to give you, the customer, the very best experience! Whether it's any hair salon services like trendy women haircuts, men haircut styles, best hair cut for long hair, hair highlights, layercut for women, feather haircut for women, hair spa or a keratin treatment, olaplex treatment, hair smoothening, foot reflexology or our special Kerastase fusio dose nail art or a simple haircare routine when you are at Limelite, our dedicated team of professionals will ensure that you are well taken care of! To know more about our services or to book an free consultation with us, call us at the number mentioned on our website. We always have offers you wouldn't want to miss, and we would love to have you in our salon. Thank you!