Hair, after all, is the crowning glory of any bride, so it's important to get it right on her big day. While there are many beautiful Indian bridal hairstyles out there, choosing the perfect one for your D-day might seem like a task. Luckily, we have done some of the legwork for you and our bridal makeup salon experts are here with some amazing bridal hairstyles that will help you look absolutely stunning on your big day, and feel free to book an appointment for expert consultation. 
Gorgeous flower bun – The bridal bun with a bunch of fresh flowers is sure to add an element of grace to your wedding look. Adorned with fresh tiny roses, rose petals, or jasmine flowers, this bun is a perfect hairstyle for a lehenga or saree. The bun looks even great with a vibrant stoned matha patti and never goes out of season.
Source weddingwire
Elegant open hair with curls – Not every bride can carry a bun or a braid for long hours. So, for the brides who like to keep it light on their heads, here is one of the simplest yet elegant hairstyles of the season, elegant open hair with curls. Style your hair with a small maang tikka and curl your strands. That's it! You are all ready to flaunt your wedding look!
Source Shaadisaga
Side braids with loose waves – If you are planning to wear a silk saree for your wedding, this hairstyle is the perfect pick for you. This bridal hairstyle makes your hair look voluminous and adds a touch of glam to your overall bridal look. You can use fresh tiny flowers or hair accessories to give it a fancy look!
Source shaadidukaan
Simple yet classy sleek tight bun – A sleek tight bun is a doughnut bun wrapped around with gajras, fresh flower strands, or hair accessories to decorate your hair. Pick this hairstyle and you are all done decking up for the day is just as quickly as in 15 minutes.
Source shaadisaga
Braided updo – A dainty braided updo is a right choice to wear with your reception gown or designer saree. A bridal makeup salon hairstyle expert braids your hair, secures the braids nicely to create this classy updo, and decks it up with a few hair accessories matching your outfit. That's all! You are good to go!
Source shaadisaga
French and Fishtail braid – Keeping it simple doesn't mean that you cannot be the charm. If you are looking for a simple and classy bridal braid hairstyle, then there's nothing better than setting it in a French and Fishtail braid. Add a few hair accessories to the braid and you are all set to flaunt your wedding look!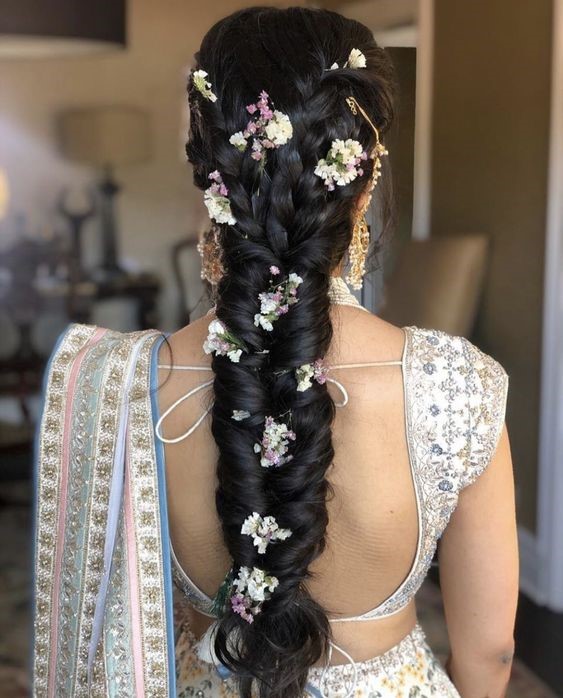 Source Pinterest
Side-swept fringe with low bun – Decorate with a single large flower or hair accessory, this hairstyle is the best option to go for if you are planning to flaunt your heavy outfit and a beautiful choker. It ensures that your hair looks voluminous with a side fringe and is just the perfect hairstyle for brides who want to keep it simple.
Source Pinterest
Puff bun with roses – Puff bun with roses is yet another light and elegant hairstyle preferred by most brides. With front hair tucked into a puff, this bun is super perfect with a few tiny roses placed on the side. It goes well with South Indian bridal looks and a traditional maang tikka makes it look extra special!
Source weddingz
Messy braid with tiny awesome flowers – This bridal hairstyle with a side-swept messy fishtail braid and some tiny awesome flowers to garnish it is a go-to hairstyle for silk sarees. Most of the time, Baby's breath flowers are used as they never overdo anything yet make the hairstyle look magnificent.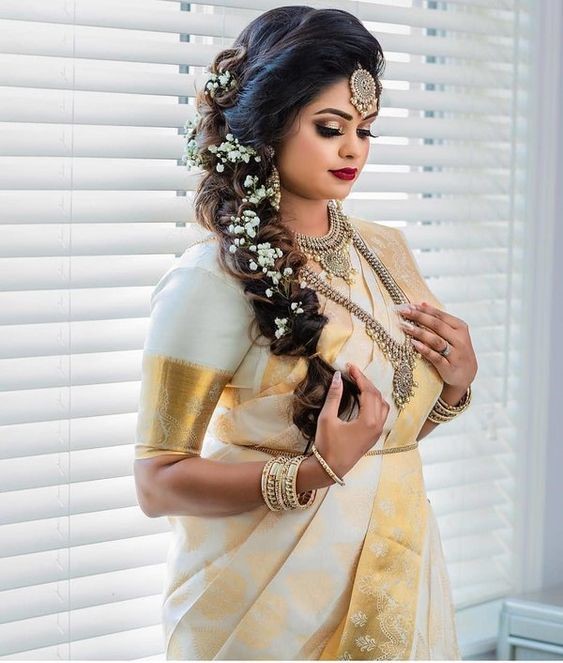 Source shaadisaga
Long braid with accessories – This is one of the most picked hairstyles by South Indian brides for Muhrutham look. A long braid embellished with fresh Jasmine flower strands or Jade billa is the most beautiful and traditional hairstyle to beautify your bridal look. The combination of a long braid with a nice matha patti is just on-point to make it gorgeous on your big day.
Source allaboutthewoman
We hope you found this blog informative and helpful! Do consider dropping by at Limelite Salon and Spa! Limelite is a premium hair salon in Chennai, that aims to give you, the customer, the very best experience! Whether it's just a haircut or a keratin treatment, olaplex treatment, or our special Kerastase fusio dose – when you are at Limelite, our dedicated team of professionals will ensure that you are well taken care of! To know more about our services or to book an appointment with us, call us at the number mentioned on our website. We always have offers you wouldn't want to miss, and we would love to have you in our salon. Thank you!