Hair care doesn't have to be a huge task anymore! With new treatments and products popping up, achieving healthy, gorgeous hair has never been easier! Some are only available at salons while others you can try from the comfort of your home. 
You might have heard of the brand Kérastase many times at the salon, but have you heard of a fusion dose? This is one such treatment that tames your locks and gives you absolutely incredible results! 
Read on and let us tell you a bit more! 
What is a Kérastase fusio-dose treatment? Why is it special?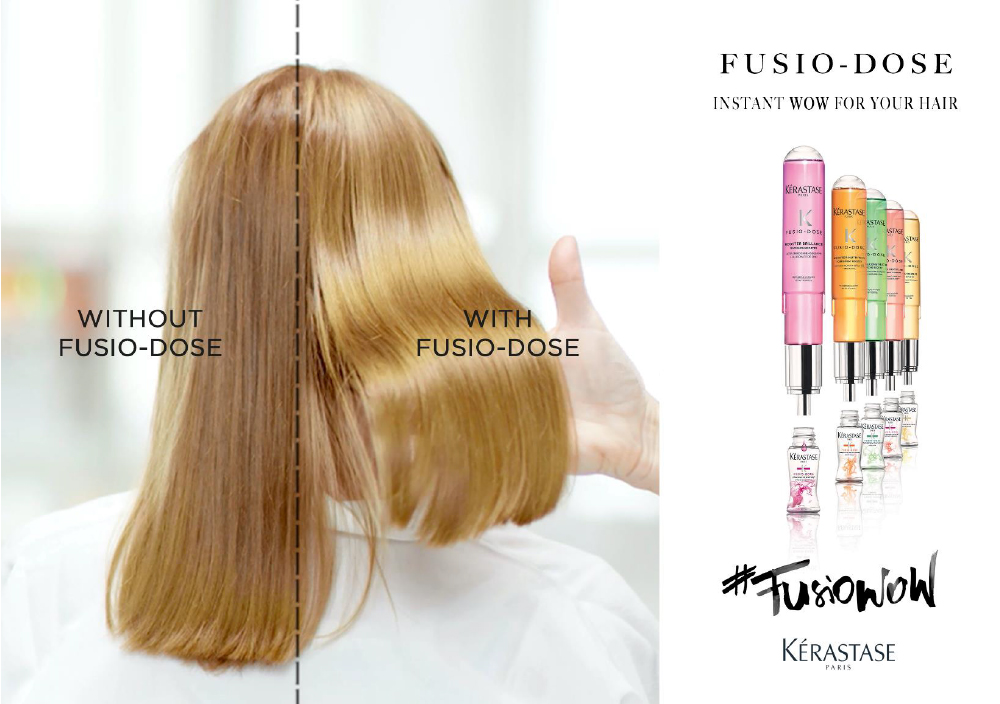 Have you been searching for "Kérastase salon near me"? Let us give you what you're looking for! Kérastase is one of the world's leading haircare brands. Using scientific technology and innovation, they are bettering hair treatment. All across the world, salons use Kérastase products! You can also get Kérastase products online!
Who doesn't love voluminous, shiny, healthy hair? A fusion dose makes that achievable for everyone! We come in direct contact with pollution, chemicals, bad weather and such on a daily basis. As a result, we're left with hair that's dry and rough, and essentially unhealthy. That's why the fusio-dose is there to give your hair a boost! A fusio-dose is known to treat and instantly transform your hair leaving it soft and well-nourished! 
What's special about the fusio-dose is that it is specifically formulated for your hair type and hair concerns. The whole fusio-dose treatment starts with a trained Kérastase professional who assesses and analyses your hair first. Everyone needs a customised hair care treatment and you're guaranteed to get that with the fusio-dose. This is exactly why many consider the fusio-dose to be magical! 
Every treatment is customised for your hair's distinctive needs. Before the treatment is finalised, the professional will assess your hair and scalp as well. Once the treatment is done, you'll fall completely in love with your hair! 
Who is a fusio-dose treatment right for?
Even those of us who take great care of our hair occasionally want a little booster every now and then to revitalise our hair. Stress, styling, and environmental factors can gradually damage the hair, making it appear dry and lifeless and leading it to behave strangely and uncontrollably. Salons near you will have the renowned Fusio-Dose tailored hair treatment that you may use as soon as your hair starts to show signs of stress. It is a system of boosters and focused care solutions that your hairdresser may customise for you, giving you hair that is extraordinarily soft, lustrous, and healthy. Your hair swiftly changes and returns to its full potential with this treatment!
If you're thinking about whether you should get a fusio-dose, ask yourself these questions:
Does your hair look and feel lifeless?
Do you want a fast fix for your dry and damaged hair? 
Do you want to have fuller and thicker hair?
 Worried you don't have the time to sit for hours? 
If you want your hair to look healthy, then you need this treatment! Without any more thought, it might be time to book your fusio-dose appointment at the salon today! 
Kerastase for Different Hair Types!
When it comes to choosing the right Kerastase products, where do you start? Kerastase has products for almost every hair type be it curly, coily, wavy or straight! When you're going to invest in a product that is priced on the higher side, you want to make sure that you choose the right one! 
1.Kerastase for Dehydrated Hair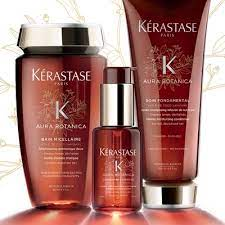 The Aura Botanica Kerastase line is designed for dehydrated hair that has lot its shine. The formula is said to be made from 98% natural ingredients so it's great for controlling frizz! Give your hair the ultimate hydration with this line! 
2.Kerastase for Normal and Oily Hair 
The Cristalliste line works incredibly well for those with oily roots but dry ends. Unlike some products that prioritise only deep cleaning, this was formulated so as to not dry out the hair, hence why this cleanses yet will not try your hair out. 
3.Kerastase for Curly Hair 
The right hairstyle can give a lot of confidence to a person. It can also take a lot of confidence away from a person. With curls, every day is unpredictable! Wavy or coily, all curls deserve the best hair salon treatment. Curly hair is beautiful, but this is only true if you take care of it. A healthy head of curly hair is easier to manage and looks better than hair that has been damaged by hair products or chemicals. Curly hair type is the most difficult hair type to maintain and is naturally dry and fragile. So, it requires special care.  
Tired of trying multiple hair care products to get perfect curls? If yes, Limelite Salon and Spa is here with the secret to achieving luscious free-flowing curls. Kérastase Curl Manifesto Range is a range of hair care products that is specifically made for curls, coils, and waves. Kérastase Curl Manifesto Hair Care introduced a full range of curly hair care products that incorporates a unique molecule, which guarantees up to 3x better curl hold. The products are formulated with hydrating Manuka Honey and cementing Ceramide to provide hydration, definition, strength, and ultimate hair care for curly hair, very curly, and coily hair. They also help to achieve better curl retention and redefine the curls.  
Kerastase Curl Manifesto hair care products entrust women to wear their curls with pride and confidence. The products celebrate all types and textures of hair, and further aim to provide the best hair salon-like hair care for all women. The blog is structured as a narrative around the different products of the Kérastase Curl Manifesto Range and how you can use them to improve your curly hair. 
CURL MANIFESTO SET FOR CURLY HAIR – Curl manifesto set for curly hair includes Bain Hydration Douceur Shampoo(250 ml), Fondant Hydratation Essentielle Conditioner(200 ml), Crème De Jour Fondamentale Hair Cream(150 ml), Gelee Curl Contour Gel-Cream(150 ml), and Refresh Absolu Hair Spray(190 ml). The products reactivate the moisture, shape, and shine of your curls and add an extra bounce to your hair. Bain shampoo gently cleanses your scalp to remove all impurities and improve scalp health and hair growth. The conditioner adds lightweight moisture to your hair, reduces dryness and frizziness, and enhances curls. Crème De Jour Fondamentale Hair Cream provides moisturizing and frizz-reducing leave-in treatment for curly hair. The hair gel cream and hair spray refresh your curls and make them more defined curls without the crunch.  
CURL MANIFESTO SET FOR COILY HAIR – Curl manifesto set for coily hair includes Huile Sublime Repair Hair Oil(100 ml), Bain Hydration Douceur Shampoo(250 ml), Masque Beurre Haute Nutrition Hair Mask(200 ml), Crème De Jour Fondamentale Hair Cream(150 ml), Gelee Curl Contour Gel-Cream(150 ml), and Refresh Absolu Hair Spray(190 ml). The products are similar to curl hair care products except Huile Sublime Repair Hair Oil and Masque Beurre Haute Nutrition Hair Mask. The hair oil provides the best nutrition to your scalp and hair follicles and strengthens hair from the roots. Masque Beurre Haute Nutrition Hair Mask adds extra-rich nourishment to your curls and makes them springy, and playfully twisted. 
CURL MANIFESTO SET FOR VERY CURLY HAIR – Curl manifesto set for very curly hair includes Huile Sublime Repair Hair Oil(100 ml), Bain Hydration Douceur Shampoo(250 ml), Crème De Jour Fondamentale Hair Cream(150 ml), Gelee Curl Contour Gel-Cream(150 ml), Masque Beurre Haute Nutrition Hair Mask(200 ml)and Refresh Absolu Hair Spray(190 ml). The products in the kit are tailor-made for very curly hair in need of hydration, more strength, and defined curls. They also preserve and enhance the natural shape of your curls and bring out the unique beauty in your curls.  
Apart from curly and coily hair care products, Kerastase also offers different variety of hair care products for every hair type. The motto behind the products is to provide customized hair care products for your hair type. The products are free from harsh chemicals and provide excellent nourishment to your hair. Why wait then? Add a touch of radiance to your tresses and flaunt them with pride.  
What is the difference between the booster and concentre?
Unlike some treatments, the fusio-dose treatment is a Kérastase treatment service that's only available in salons. It's a kind of technology, for instant hair transformation. This liquid care treatment consists of a tailor-made and mixed Concentré and a Booster, it's the ultimate quick-fix problem solver for all hair types
What's the difference between concentre and a booster? The difference is that while the concentre deals with primary hair concerns, the booster will target the secondary things that you want your hair to achieve for example shine, nourishment and so on. 
The important thing to note in this situation is that your hair and scalp's health will be evaluated before treatment, and any areas of concern will be communicated with you. It turns the whole procedure into a collaboration between your stylist and you.
The concentrates, five potent active substances, are combined with the five distinct boosters, creating a variety of combinations for a treatment that is specifically created to rapidly alter your hair. The boosters work best when combined right before the treatment because they are made of incredibly active components! 
What does the fusio-dose do to your hair?
Think of the fusio-dose as a quick fix! There's no time these days to stick to strict hair care regimens that take commitment and a lot of effort. Instead, let the Kérastase hair spa fusio-dose come to your rescue! This treatment is fast becoming a preferred choice in the beauty world. This treatment is intense and basically transforms your hair. 
The treatment is just fifteen to twenty minutes long. That's it! This is comparatively shorter when looking at other treatments like a Kérastase keratin treatment that can take up to hours. The brand new look for your hair will last for about five washes. If you follow the after-care strictly, it can last for as many as 20 washes. You can get the Kérastase shampoo online in India. Definitely give the Kérastase professional shampoo and Kerastase scrub energisanta a try too! But Kérastase claims that frequent use of the products will improve the quality of your hair over time! The treatment is rather lightweight, so you can get it done as often as any time you visit the salon. 
What can you expect from a fusio-dose? Here are the benefits! 
The whole treatment is super quick! So expect to be done in no time! Once the professional has chosen your custom ingredients, the solution is applied and rinsed out after approximately five minutes later! All you need is a blow dry and comb through and voila, you can already see the difference! 
Is the Kérastase treatment worth it? Definitely, yes! The fusio-dose gives your hair back its vigour. Your hair will be bouncier, shiner and overall more healthy. This simple treatment will make sure your hair is cared for with all its vitamins! The treatment will penetrate your hair for long-lasting results. The best part is that both your scalp and your hair will be healthier after the treatment. Many use Kérastase for dry and itchy scalps.  Another benefit of fusio-dose is that it prolongs your Kérastase hair colour while simultaneously adding shine and sealing in moisture. The fusio-dose treatment also tackles things like thinning hair or brittle hair. It's perfectly customised to fit your hair's needs. 
Can you get a fusio dose at home?
Unfortunately no. This treatment is exclusively for the salon. The treatment involves a trained professional having to assess your hair for the best results. For this reason, it's best to take a trip to an authorized Kérastase salon and get it done. The whole process and treatment won't take more than approximately 20 minutes, so it's best to a salon near you and get incredible results that will be worth the time! Think of it as Kérastase therapy! 
If you've been going through Kérastase fusio-dose treatment reviews in India, what are you waiting for? Book your next appointment at Limelite Salon and Spa. We offer premium Kérastase hair treatments and services in Chennai, Bangalore and Coimbatore and would be glad to have you drop in! Hope to see you soon!
We hope you found this blog informative and helpful! Do consider dropping by at Limelite Salon and Spa! Limelite is a unisex hairsalon in chennai, that aims to give you, the customer, the very best experience! Whether it's any hair salon services like trendy women haircuts, men haircut styles, best hair cut for long hair, hair highlights, layercut for women, feather haircut for women, hair spa, hair highlights or a keratin treatment, olaplex treatment, hair smoothening, manicure and pedicure, foot reflexology or a simple haircare routine when you are at Limelite, our dedicated team of professionals will ensure that you are well taken care of! To know more about our services or to book an free consultation with us, call us at the number mentioned on our website. We always have offers you wouldn't want to miss, and we would love to have you in our salon. Thank you!