Self-care time is so essential! Taking the time to let yourself unwind and relax is so important. Taking care of oneself is vital to caring for others as well. When you take care of yourself, you feel good, which increases your motivation and self-esteem and gives you more energy to take care of your loved ones as well. The first step in self-care is attending to your own needs, don't worry Limelite salon has got your back, read the blog to explore more. 
One such mode of self-care is caring for your hair. Do you feel like you've been slacking off on caring for your hair's needs? Don't worry, we get it! Keep on reading to see how you can care for your hair, get it back to its prime health, and have yourself cared for.
Why Do I Need a Hair Care Routine?
We all need to take care of our hair on a daily basis. Unfortunately, our hair is exposed to a lot of pollution and grime, which is why it is imperative that basic care be taken of it. Because it is the only thing that can help you accomplish your best hair goals, taking care of your hair is extremely important. Without the right monitoring, kids cannot grow hair that is long, healthy, and lustrous-looking.
First off, messy, unkempt hair may create a tense picture. Both correct lubrication and routine shampooing are necessary but insufficient. Undoubtedly, a balance needs to be kept. One should have as much information as possible about which products should be used on the hair and which ones should be avoided. Hair that is horribly dry or extremely greasy is not appealing.
Here are some benefits of a hair care routine: 
1.Decreases Hair Loss
You will probably have less hair loss if you tend to use natural products and reduce using those that include chemicals. The next step is to strengthen your hair from the roots up, which is of utmost importance. If you regularly oil your hair, shampoo it, and condition it, you should be able to accomplish it.
2.Increase your Hair's Volume 
In addition to the number of hair strands, the thickness of each hair strand is used to describe the volume of hair. Hair that is thick always appears impressive and appealing. They imply that the hair's roots are firmly planted. Everybody's hair should be frequently oiled. This will allow for the growth of thicker, stronger hair strands. If you maintain a hair care routine, your hair will appear better on the outside and be healthier within.
3.Gives your Hair Shine 
If someone wants to appear wonderful, having lovely hair should be at the top of their list. The best hair serums and treatments will help your hair look shiny. If you take care to apply hair serum after each wash, you will have a greater chance of achieving that polished and shiny appearance. Additionally, with a proper hair treatment, frizz-free hair can be achieved. Limelite's Metal DX treatment is definitely a must-try. It preps your hair for any sort of hair colour or hair-lightening treatments. And what's better is the Metal DX treatment will leave your hair intensely shiny! 
4.Reduces Dandruff 
White hair flakes have a way of making us feel less confident. However, dandruff-related issues can be swiftly resolved if you take proper care of your hair and give it enough moisture. A healthy scalp requires letting go of the embarrassment that dandruff brings.

Understanding your Hair Type
Before you start your hair care routine, it is key to first understand your hair type. Accordingly, you can find the routine that fits best. Do you know what category your hair belongs in? Or the various hair kinds that exist in humans? Well, most of us are guilty of not knowing this.
But the first and most important step in achieving gorgeous, voluminous hair is understanding your hair type. You won't be able to choose the best hair care routine for your hair type until that time.
Your hair's curl pattern can reveal your hair type. To select the best hair care products, knowing your hair type is crucial. Not every product will suit your hair nicely. A personalised hair care routine that addresses your particular hair needs is warranted given your distinctive hair type. For instance, compared to straight hair, maintaining coily hair requires a lot of conditioning. The shape of your hair follicle determines how much curling will occur. Curlier hair is produced by follicles that are oval or asymmetrical. There are four fundamental forms of hair, namely:
Straight
Wavy
Curly
Coily
Hair Care Routine for Healthy Hair 
The following essential stages are included in every basic haircare regimen: cleaning, conditioning, moisturising, detangling, styling, and treatment. Your hair type, lifestyle, and taste will determine how frequently you should perform these processes. Let's go over the fundamentals:
1.Cleanse 
Cleaning is always the first step in any hair care regimen. Your hair benefits from a cleansing just like your skin does every night, though it may not be necessary every day depending on how dry your hair and scalp are and how many products you use that can lead to buildup.
By eliminating any products, grease, debris, and dead skin cells that may have accumulated in your hair and scalp, washing your hair will leave them feeling clean.
2.Condition and Nourish 
Conditioning is the next crucial step in your washing process. Conditioning your hair provides moisture, seals the cuticles, and aids in detangling. It restores whatever moisture your shampoo may have taken away and aids in detangling any tangles or knots that may have formed as a result of kneading your shampoo into your hair and scalp.
Tips for conditioning:
After shampooing, condition the hair. Apply to the lengths of your hair, squeeze out any excess water, and let in for one to two minutes before rinsing with lukewarm water.
After applying conditioner, carefully comb through your hair with a wide-toothed comb to distribute the product. Choose a lightweight conditioner which is silicone-free and won't weigh down your hair. 
3.Detangle 
Your hair will become less tangled and less likely to break if there are no knots. A leave-in conditioner is one product that can make the detangling procedure less difficult. Your hair will become smoother, as a result, making it easier to comb or brush out tangles. Before detangling, you can also use a hair oil or serum.
4.Protect, Prime and Style 
Before utilising heated products like a blow dryer, curling iron, or straightener, always prepare your hair. In addition to preventing breakage, this will improve styling outcomes and guarantee that your hairstyle will last.
To get your hair ready for style, use a quick-drying styling primer. In addition to reducing drying time, improving hair texture, and guaranteeing the best workable hold when using heated-style products, it also helps prevent frizz. Utilizing a heat protectant, which shields your hair from heat damage brought on by blow-drying, styling tools, and the sun is the next crucial step in your style procedure.
Tip: 
On wet or damp hair, never use heated styling products like a straightener or curling iron. Before using heat on your hair after using a heat protectant, let it air dry for a few minutes.
Apply a pea-sized amount of primer; a little goes a long way! Consider using a texture spray as the final step in your style procedure if you want to further improve the texture of your hair after styling.
5.Moisturise 
You might want to re-moisturize your hair after styling it or allowing it to air dry. Your hair may benefit from an increase in hydration even on days when you don't wash it. This is where hair oil, our go-to multitasker, comes in! Oils are also excellent in reducing frizz and avoiding dryness in hair.
6.Treatments
You can add one of three treatments—a mask treatment, an oil treatment, or a scalp treatment—to your weekly regimen to give your hair extra TLC. Regular hair treatments will enhance the overall look and condition of your hair while addressing particular hair issues including damage, dryness, and an oily, flaky, or dry scalp.
Common Hair Problems & Treatments 
1.Split Ends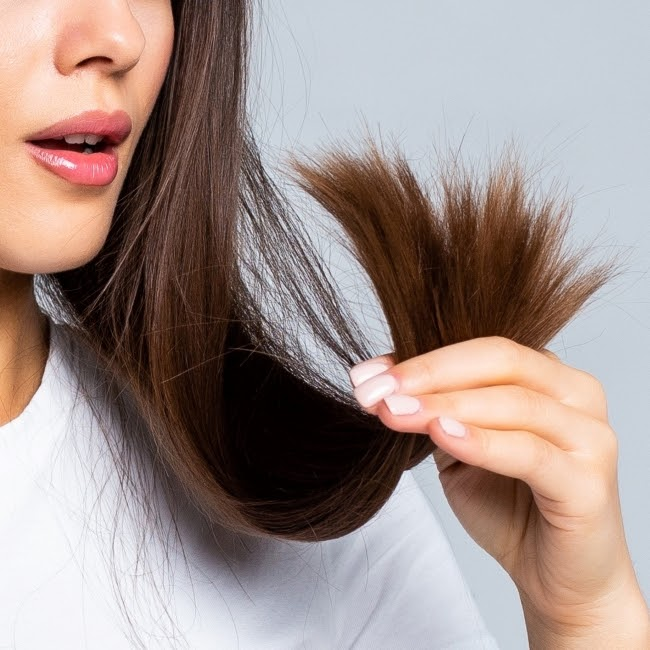 The idea that split ends may be "reversed" is among the biggest beauty fallacies. Unfortunately, cutting off the split end is the only way to repair it. You can, however, stop them from getting worse or from starting in the first place. The ends can be sealed together and kept from moving up the hair strand by using a keratin-based finishing serum or high-grade silicon oil. Our Olaplex treatment is also perfect for this. The olaplex treatment heals your hair from within by repairing bonds so it will prevent split ends from spreading any further. 
2.Oily Scalp 
There are several causes of greasy hair, ranging from a bad diet to hormonal changes. But who is the worst offender? Overwashing. When a customer has this problem, the first thing we inquire about is how frequently they wash their hair. If you do it more than twice or three times per week, your scalp is undoubtedly getting dried out. To make up for it, the scalp produces extra oil. Limelite's Deep Nourishing Hair Spa will take care of it all! It will nourish your hair without stripping it of the natural oils that are so important for your hair's health. 
3.Frizz 
When the cuticle, the hair's outermost layer, isn't completely sealed, moisture can seep into the hair and cause frizz. This could be due to a number of factors, such as dryness, injury, exposure to the sun, or a poor blowout. The cuticle must lay flat in order to control frizz and maintain sleek hair. Porous cuticles can also be strengthened with leave-in products that include protein, such as wheat, yoghurt, collagen, vegetable, or silk amino acids. Limelite's Keratin Treatment is very popular among customers with frizz-prone hair. The keratin smooths the hair and gives you glossy, hassle-free hair! 
4.Hair Loss 
Stress, hormone imbalances, and the improper use of hair products are just a few of the causes of hair thinning and hair loss. If you recently switched to a new product, consider using the method of elimination to identify the offender.
5.Limp Strands
Oil and product accumulation can weigh hair down at the roots, which is a common cause of lankness. To remove any residue, wash your hair with a clarifying shampoo. Then, only condition the midshaft to the ends of your hair, and after styling, spritz a volumizing leave-in spray on your roots to add volume. If you want to give your hair shine and bring back its life, our Keratase Fusio Dose treatment is the perfect solution. It will add some much-needed volume and shine to your dull hair. 
We hope you found this blog informative and helpful! Do consider dropping by at Limelite Salon and Spa! Limelite is a unisex hairsalon in chennai, that aims to give you, the customer, the very best experience! Whether it's any hair salon services like trendy women haircuts, men haircut styles, best hair cut for long hair, hair highlights, layercut for women, feather haircut for women, hair spa or a keratin treatment, olaplex treatment, hair smoothening, manicure and pedicure, foot reflexology or our special Kerastase fusio dose nail art or a simple haircare routine when you are at Limelite, our dedicated team of professionals will ensure that you are well taken care of! To know more about our services or to book an free consultation with us, call us at the number mentioned on our website. We always have offers you wouldn't want to miss, and we would love to have you in our salon. Thank you!