Introduction
Getting your hair done as a man for your wedding day is as important as placing a ring on your soon to become wife's finger. On the special day, all eyes are focused not only on the bride but also on the groom. Every detail on the groom matters and one element that truly elevates the groom and makes him stand out is his hairstyle. A well-crafted wedding hairstyle not only complements the groom's wedding attire but also boosts his overall confidence. Your wedding day photos serve as memories for you and when you look back and recollect your thoughts, your hairstyle makes a big difference. Limelite premium hair salon and spa  provides the best of the best to make you look fab on your wedding day. In this guide we dwell on the different wedding hairstyles that grooms can rock for their wedding day!
Wedding hairstyles to choose according to your face
It's always good to choose one's wedding hairstyle that is in sync with one's visage.  A person with a long face would do well to sport a style that shows richness of the mane.  One with a chubby head should opt for a mohawk or a pompadour style that would accentuate one's height.  Besides this, each one has a natural hair texture that could vary from straight to wavy to curly to even dishevelled.  It is usually preferable to choose a hairstyle that would complement one's genetic mop.
Top 12 wedding hairstyles for Men
Indian men are by and large blessed with a good cerebral outcrop, and it is essential to give identity and character and class to that, especially during marquee occasions such as one's wedding.  Here is an array of finest Indian wedding hairstyles to choose from:
Fade: where the base of your head appears like a freshly-mowed lawn, yet gives you that hip-hop look.
Slick Back: where your hair is gelled and combed backwards to give you that opinionated demeanour that you so prefer.
Ponytail: where your long hair at the back is drawn together like a foal's tail, and suggests that you brook no nonsense.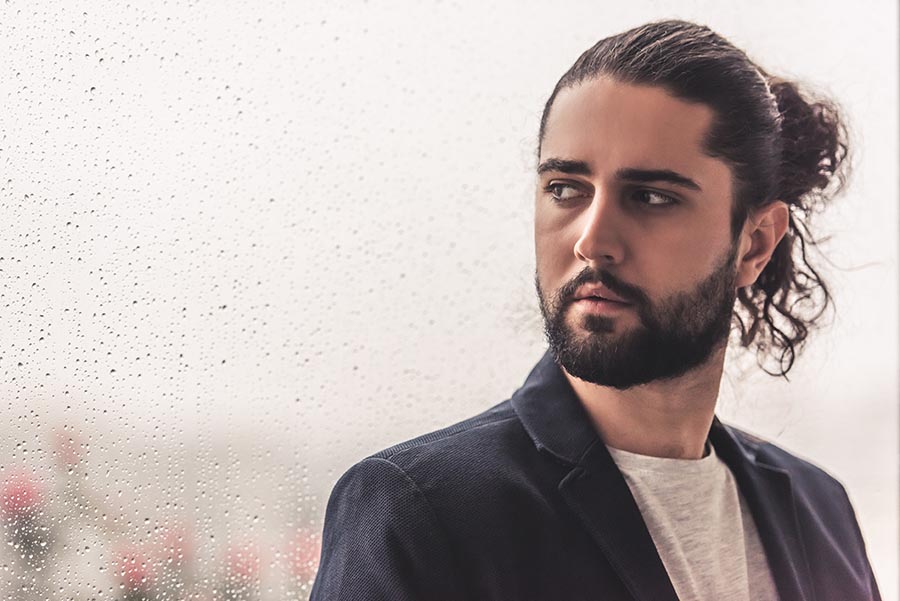 Crew Cut: where the hair is cut to its roots to give you that footballer's look that women adore.
Pompadour: where the hair is puffed at the top, like a rooster at dawn, to make you seem haughty.
Spiked: where the hair in the middle is shaped like quills to show you are naughty.
Side Cut: where the hair on your head is trimmed on the sides for you are a man of purpose.
Ivy League: where your hair is manicured evenly, deliberately understated, to show your class.
Bouncy: where your hair is softened and lush, and bobs on your rooftop, as though it's a trampoline.
Curly Locks: where your hair is curled to the taste of Cupid.
Wavy: where your hair is unfurled to show you aren't stupid.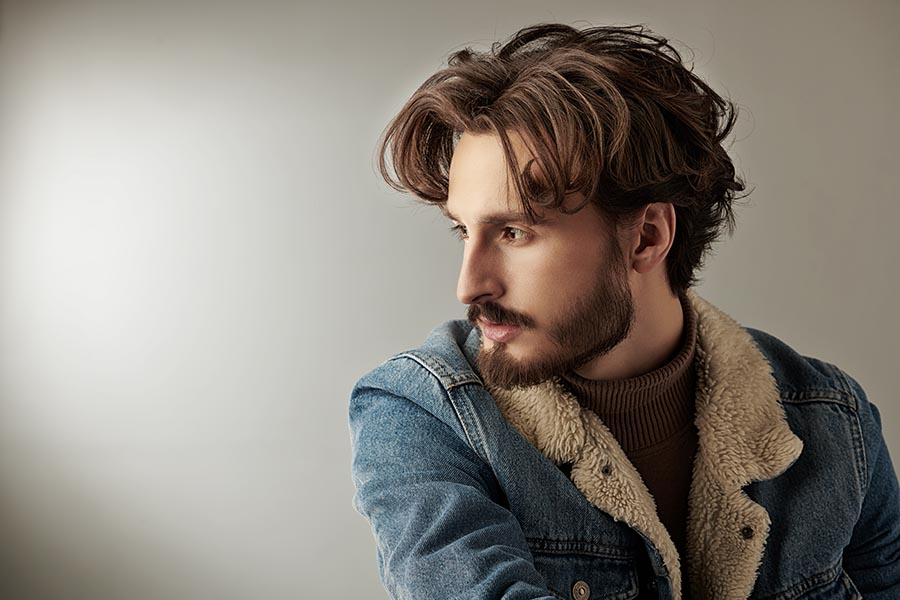 Tapered: where your hair is cut and crafted, wafered and tapered, from the peak to the nape, like a slowing waterfall.
Factors to consider before choosing your wedding hairstylist
There are some factors that a groom should consider before choosing his wedding hairstylist – 
1] Find a hairstylist who is specialized in wedding hairstyles for men and also check out their recent cuts and check out their portfolio to assess where their skill level lies when it comes to wedding hairstyles.
2] Ask around for suggestions from people and from other reliable sources. Also do your own research about various hairstylists and read valuable feedback in order to select a proper hairstylist who will provide the desired hairstyle.
3] Look out for professionalism in a hairstylist. You should look out for a hairstylist who is highly reliable and can work efficiently under a short period of time as the time period for a special occasion such as a wedding can be tight.
4] The hairstylist that you are choosing must be flexible. He or she should be able to adapt with the different styles, structures and textures of hair so that they can provide a hairstyle that will suit you based on the type of hair you have 
5] Find someone who is able to understand and visualize what is the type of hairstyle that you want. He or she should be able to tell you what works and what does not and also improvise based on their listening of your ideas and preferences that you throw to them.
Testimonials 
1] Whenever I wish to have a new hairstyle and a confidence, I prefer Limelite and especially I prefer Vinish Hairdresser he made a new makeover for me which looks more classy and slay and make me more confident with the hairstyle and they are also being professional and at the same time they are treating customers so friendly Thank you So Much Vinish and Thanks Limelite. 
#thankslimelite
#thanksvinish
A 5-star review from Tajammal Hussain
2] I went here for a haircut. Appointment was made over phone. It can be done through website too. They followed up for the appointment and had a perfect haircut as I wished. The stylist listened well and service was great. I was disappointed a few times with green trends so tried here. 50% pricier than greentrends.
A 5-star review from Ganesh Sivakumar 
3] Positive: Cleanliness, Professionalism, Punctuality, Quality, Value
Great experience at Limelite, wonderful customer service, friendly people and amazing styles. You will not be disappointed. If you're looking salon around vadapalani this is probably the best place. I went 4 times and Mr. Azhagesan took the time to ask me how I wanted the haircut and gave me some great tips, I got out of the salon feeling great!
A 5-star review from Raja J 
Conclusion
Whatever one's career achievements, personal grooming for any occasion is extremely important.  Style is the icing of substance, and a stylish person always makes a subconscious statement about himself, namely that he is a person who is not just hygienic, but more importantly, he is meticulous, takes nothing for granted, and pays attention to the tiniest of details.  As a groom, not only would he look attractive to his bride, he would also draw the attention of all those in attendance on his wedding day.  And, needless to say, one's countenance always draws the first blush of the audience.  Though understated, it is the hair that often defines one's appearance in society.  The modern Indian man is acutely conscious of his hairstyle and the groom always aspires for the best look on his wedding day.
One of the finest hair salons across the country that has caught the attention of the Indian groom in recent times has been Limelite, a parlour that has been seen to deliver the finest haircut one could wish for, regardless of one's age or hair texture.  Its hair stylists are highly professional and courteous, and have been trained to understand and cater to the specific needs of each client.  Repeatedly rated five-star, Limelite is bound to give top satisfaction to any groom seeking the best hairstyle for his wedding day.  It is enough for one to walk into any of their boutiques, even if one is clueless about hairstyle.  The salon has a range of styles to offer that would suit any type of hair, and its stylists are quite happy to help one choose the hairstyle that would suit one the most.  Consultation is free and the Groom package includes shampooing, styling and colouring of choice.  One could even do a trial take in advance before one's final hairstyling.  And of course, the Limelite Book is on their centre-table that could help one choose while having coffee.