Introduction 
Limelite salon and spa which has been providing some of the best beauty services till date pampering   customers with amazing services and also giving out time-to-time salon offers packages that customers can take advantage of to the fullest extent! If you're searching for the best salon shop near me then just check out Limelite and check out our reviews. Our customers are the proof!
Why is Limelite salon the best in the industry?
Why is Limelite salon the best in the industry? The answer is simple and that is our customers come first and we put our customers in the spotlight! Whether you're googling up men's hair salon near me or a ladies hair salon near me or just simply  salon and spa near me, look for limelite and come visit us at one of our salon's and we will show you exactly why we are the best in the business. Just search up for Limelite salon shop and you will find all our salon locations! 
Limelite offers top class beauty services ranging from haircuts to hair colour to foot massages to texturising services and so much more!
Limelite has most of its branches in Chennai namely at Anna Nagar, Ashok Nagar, ECR, OMR, R.A.Puram and at Vadapalani in Nexus mall. Limelite also has two branches located at Bangalore and one branch at Coimbatore.
If you're asking who all does Limelite serve? Well, Limelite serves its customers of course!  Whether its salon offers or salon services, Limelite will serve its customers with the best and provide them with an experience unlike any other!
Top 10 Trendy transformations of all time 
1)Blunt Bob
Blunt bog is a haircut that reaches up to the length of the jaw. It is called blunt because this hairstyle has a clean cut and which appears to be sharp which give off a polished look!


2)Shaggy Layers 
Shaggy layers hairstyle gives out a textured and layered appearance. The messy appearance of the hair provides a movement feel to the hair of the person mostly halfway through the length of the hair.
3)Long waves
The name of this hairstyle says it all! In this hairstyle a long smooth wavy look appears in the long hair of a person. This look is not only easy to maintain but can be rocked on both casual and formal occasions. 


4) Pixie cuts with bangs
Pixie cut with bangs is a short hairstyle around the ear or neck level which varies in style from shorter, eyebrow-grazing bangs to longer, side-swept fringe depending on one's personal choice.
5)Curtain bangs 
Curtain bangs hairstyle is a long type of hairstyle where the long hair falls on either side of one's face hanging down like long curtains. This hairstyle provides a smooth appearance to the person who is rocking it!
6) Braided hair  
Braided hairstyle is a trendy hairstyle where hair from three to four sections is taken and weaved together to form a pattern. This hairstyle is very pleasing to the eye!
7) Low bun
A low bun hairstyle is where one gathers their hair at the back and coils it to form a bun shape.  To all those Indian brides who want to go for this look, just look up for women's beauty parlour near me and choose the nearest Limelite salon to get this outstanding look!


8) Colourful highlights 
One of the most popular services at Limelite salon in Chennai especially among the ladies is Colorful highlights. Colourful highlights hairstyle is where one's hair is styled with various different vibrant hair colours which is very eye catchy.
9) Half up ponytail
A half up ponytail hairstyle is a fancy common hairstyle where you gather hair from the crown of your head and form a ponytail. This hairstyle is suitable for those with medium and long hair.
10) Textured Lob 
A Textured Lob hairstyle is a short hairstyle that is slightly longer than a Bob hairstyle. This hairstyle also has a slightly messy texture to the hair which is very elegant looking. 
What do our customers say? 
I had a good experience at this salon! Geetha my masseuse was professional and friendly. The ambience  of the salon was good and well-maintained, making me feel comfortable and relaxed.  Overall, I  recommend this salon – Rekha Deepak
I had a fantastic experience at Limelite Ashok nagar, Chennai. The staff here were not only expert in their field but also incredibly polite. I was running late for a party tonight, and even though they were about to close, they went above and beyond to help me. I couldn't be happier with the service I received. Highly recommended! 5 Star ♡♡♡♡ for the hygine, lighting and professionalism – everyday life
Parlour employees- 5 stars who gave me the facial is awesome at her job. Very skilful hands and a sweet natured, soft spoken girl. Kareena gave me an amazing pedicure and she is too good too. It will be the parlour of my choice time and again – Epcibha Christy
I visited the place for the first time and it was an amazing experience. Trishna was my stylist and she was so sweet. Her hands are magic. I loved the hair cut and the styling was super awesome. She just transformed my look. Loved it! – Pallavi shinde

Very good service. I did manicure. The master Laldirn works fast and clean. We had good conversation during the process. The final result is great. Update: I had full make up and hairstyle for a wedding. The master Ester gave me the best service. Thank you! I will definitely come again. Services: Makeup, Hairstyling, Manicure – Darina Isakova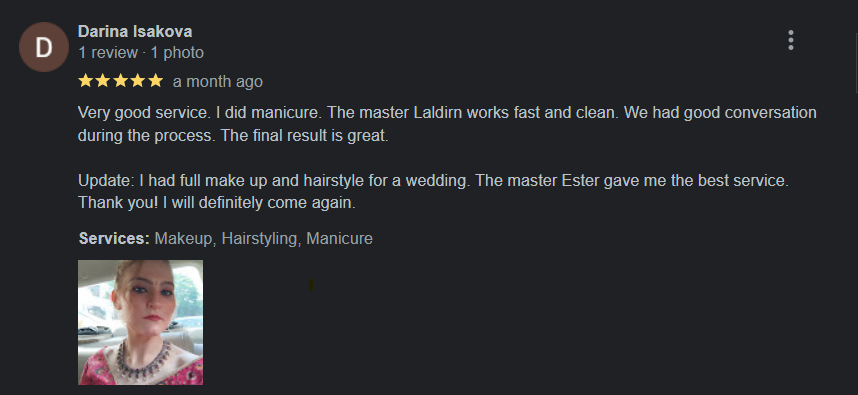 Limelite salon has good atmosphere and friendly staff. Me and my mother took pedicure from Chunumun. His service was very good and did a relaxing foot massage. Recommend him for sure for pedicure and massage service. – Vyshali Suresh
This was my first time visiting limelite. I came for threading service. The person who did the service wad Treeza and she did just how i wanted my eyebrows to look like. It was a friendly and fullfilling service. In future Will choose limelite for other services too. Thank you.! – Anjali Ram

Me and my dad visit the salon casually,  Enquiry the coloring.. Stylist Suresh give a consultation to my hair ,💇‍♀️ He choose the better color to my hair & Analysis my skin tone , eye iris tone also finally this man done my services    I step out this salon happily 😊 Highly recommended salon on racecourse area.👍 – Senthilkumar T
It was a great experience in Lime Lite salon, I had visited Lime Lite for my hair cut and hair colour, since this was my first attempt in hair colour I was a bit sceptical but Mrs.Sheeba  did an excellent job by giving his opinion and suggestions. I thank the lime lite thoraipakkam team for their excellent service. Services: Hair treatments, Shampoo & conditioning, Hairstyling, Spa services, Balayage – Dinesh D

This Limelite Salon & Spa provides an exceptional service. Whether you come for a haircut, or facial or pedicure or any spa related thing, the service here is always great every time I come here.  Today I had an appointment for facial and Hari did an amazing job. He patiently expressed the process and facial with him left me with a rejuvenating experience. – Anand Singh

Limelite is amazing! Wonderful salon. Got a haircut from Irudhyarani, multiple times  can say with confidence that she's the best hairdresser I've ever been to. Very skilled and will listen and work with you to achieve your desired look. She's so skilled and so sweet. Highly recommend! – Merlyn Swetha
Conclusion
If you're in a lookout for a makeover salon or for the best salon in Chennai  then drop in at Limelite. We at Limelite see beauty in every transformation we do and we are more than hundred percent sure that we would provide you with such an experience which would make you once again walk right in our doors!