Long hair or short hair – they're both sure to make you look just as gorgeous! But many girls and women and starting to embrace the idea of cutting their tresses short. Why? Well, why not? There are so many reasons to absolutely fall in love with short hair and we Limelite salon and spa going to look at some of them in this blog. Thinking of cutting your hair short? Get ready for healthy hair that is so easy to maintain!
What to Consider Before Getting a Short Haircut
Now we understand the desire to get a fresh cut and chop your hair off. But first, ask yourself, will it suit your face shape? Your eye shape plays an important role too when it comes to evaluating how your face will look with short hair. Keep in mind that the reference you choose will not give you perfect ideas of how the cut will look on you in particular. You can ask your stylist for some recommendations on how to get the perfect style for you. 
Keep in mind that short hair will make your hair texture tighter. Therefore, shorter hair is lighter and, if you have curls or waves, they will become looser as the weight is reduced. Short hair will make your curls tighter, whereas long hair will cause your waves and curls to be more relaxed.
Another important thing to note is that when it comes to shorter hair, you'll have to be prepared for more frequent trips to the salon. Be aware that you'll be sitting in the stylist's chair a lot more often. If you have long hair, you can go much longer between trims, but if you have short hair, you must keep it a particular length.
Of course, before you go for the chop, keep in mind that it is going to take some getting used to. It's not uncommon to feel attached to your hair. But change can be a good thing, so if you're thinking of making the change, go for it! 
The Trendiest Short Haircuts of All Time 
1.Asymmetrical Bob 
This short hair cut style for girls is especially great for girls with straighter hair texture. Not only is it sophisticated yet fun, but it is also easy to maintain!
2.Short Shag 
The shag is definitely a favourite among those with short hair! If you've got thicker hair, this is the perfect layered short hair cut for girls for you thanks to all the layers that you can cut into your hair.
3.Pixie Cut 
This summer, girls seeking extremely short hair may want to consider the popular pixie. It's quite stylish and easy to style. For girls in high school and college! All they would need to do to tame the traces is blow-dry them and brush their fingers through the hair.
4.Curly Bob
While the bob is one of the sophisticated yet fashionable cute haircuts for teen girls and women, the curly bob is best for those with naturally curly hair. 
5.Buzz Cut 
This beautiful yet daring buzz cut is next on our list of fashionable short hairstyles for girls. Why can this cut only be worn by men? You can try out the various short hair cut designs. 
6.Side Part Shaved 
This daring and fashionable haircut is ideal for teenage females who like to experiment with their looks. On one side of this haircut, the hair is long, and on the other, it is shaved. It is the best side short hair cut. 
7.French Bob Cut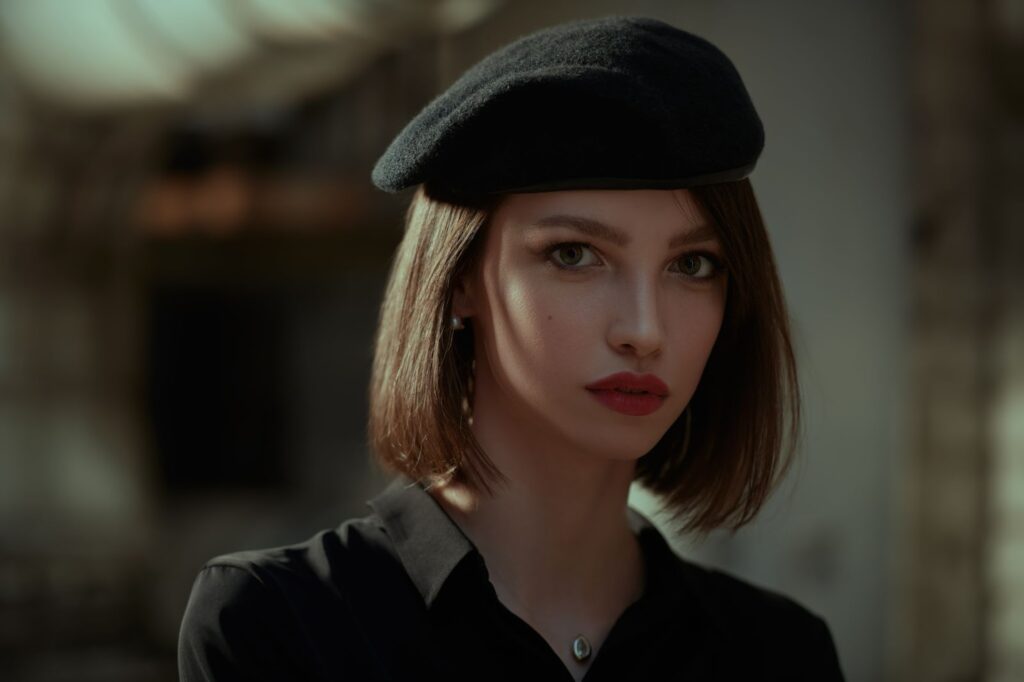 The French bob is a distinctive cut that terminates just above the shoulders and between the ear. It functions well as a face-framing haircut for anyone seeking a stylish appearance when worn with harsh bangs.
8.Short Layered Cut 
Doing a chop-chop in varied lengths produces short layered cuts that provide the appearance of dense texture and dimension. This is a beautiful short hair cut for girls. 
9.Wolf Cut
Looking for short hair cut styles for women? Try this! It takes considerable self-assurance to pull off this current look, but it looks great when done perfectly.
10.Classic Lob 
This is a great Indian short hair cut. Dip your toes into a chop with a collarbone-length lob if a bob seems too short. You can go a bit longer if you're looking for shoulder-length short hair cuts for girls
The Pros and Cons of Short Haircuts 
Just like with everything, there are pros and cons to having short hair too! Do the pros outweigh the cons or vice versa? The final decision depends on what is important to you. Here are a few advantages and disadvantages that we have put together. 
The Pros
1.Less Shower Time 
Sometimes washing our hair can take up a whole load of time, it's unbelievable! But with short hair, you'll instantly notice how much quicker it is to wash your hair. 
2.More Volume
Due to the weight of hair, when it's longer, it tends to appear thinner. This is why short hair almost always looks voluminous and bouncy. Long hair takes away that natural bounce. If you're looking for instant volume, then getting a chop is the way to go. 
3.Fewer Tangles 
The longer your hair is, the more tangles there are likely to be and the more time it will take you to brush it all out. With short hair, it will take you only minutes to run a bush through your hair and have it look more manageable! 
4.Easy to Style
Short hair by nature is a lot easier to style and even dry, the reason being that you have less hair to work with. 
5.Face-Framing Pieces
This does not apply to all types of short hair. For instance, it won't be the case with very short hair. But if your hair falls at around chin-length, then you will get the most gorgeous face-framing layers that will fall naturally.
6.More Cost-Efficient 
It's no secret that having short hair costs less than having long hair. Many stylists will charge you less to cut your hair and dye it as well. 
The Cons 
1.Frequent Trims 
If you want to maintain the same look and length, you need to be prepared to trim your hair at least every 6 weeks. So you need to be committed to the possibility of needing to visit the salon often. 
2.Takes Time to Grow 
Going in for a big chop means accepting the fact that it will be a while till you have long hair again! Growing your hair out will take a long, long time. 
3.Limited Styles 
While it might not take long to style, the number of styles at hand might not be many. Depending on how short your hair is, it might not even be possible to put your hair into ponytails or buns! 
4.Texture Change 
When your hair is long and weighed down, there's a chance the texture will change when you chop off your hair. While many may love the new bouncy texture, it can take you time to re-learn how to care for your hair and learn how to care for your new texture. 
5.A Change in Products and Routines 
Similar to the last point, products and routines that used to work for your hair before, might not now. The amount of moisture your hair needs might change, the products you used to style your hair might change, and even how often you wash your hair might change. It's up to you whether you're up for the change! 
Caring for your Short Hair 
1.Use Less Product 
Short hair requires way less product compared to longer hair. Using too much product can weigh down even your short hair. This might cause your hair to look flat and oiling too! Start by using small amounts. As you continue styling your short hair, you can add on products as per your hair's requirements. 
2.Trim your Hair every 3-6 Weeks 
Unlike what many might think, short hair requires frequent trims too! This is especially true if you want to maintain your hair's overall shape. As our hair grows about half an inch each month, you're definitely going to want to visit the salon for a trim often. 
3.Don't use Heat 
All hair lengths benefit from decreased use of heat. Let your hair air-dry as often as it can! If you're looking for a quick solution to dry your hair fast, use a hair dryer but on a low setting. Keep in mind that hair dryers can cause frizz so we recommend limiting their use as much as possible. Don't forget to use a heat protectant beforehand though!
4.Keep up with Wash Days 
It may come as a surprise that short hair needs more washing. With short hair, hair becomes greasy quicker. If you choose to wash your hair every day, ensure you're using a mild shampoo that isn't too harsh on your scalp. If you don't want to wash your hair that often, dry shampoo is another option to rejuvenate your hair!
5.Comb your Hair Less
One of the best parts of having shorter hair is that you don't need to comb it as often as there won't be as many tangles. For this reason, using your fingers will be enough to style your hair and shape it as you'd like. This way you'll also be able to avoid some of the damage that comes with brushing your hair often. 
We hope you found this blog informative and helpful! If you've been looking for short hair cut for females do consider dropping by at Limelite Salon and Spa! Limelite is a premium hair salon in Chennai, that aims to give you, the customer, the very best experience! Whether it's a any hair salon services like trendy women haircuts, men haircut styles, best hair cut for long hair, hair highlights, hair spa or a keratin treatment, olaplex treatment, hair smoothening, manicure and pedicure, foot reflexology or our special Kerastase fusio dose nail art or nail extensions and not to forget our specialization in bridal makeup, best salon facial – when you are at Limelite, our dedicated team of professionals will ensure that you are well taken care of! To know more about our services or to book a free consultation with us, call us at the number mentioned on our website. We always have offers you wouldn't want to miss, and we would love to have you in our salon. Thank you!