Every single detail matters to a lady planning her ideal wedding, but as we all know, some choices are more significant than others. Choosing a beauty artist is one of these. There are some basic questions you must ask makeup artists before signing on the dotted line, regardless of whether you are a bride who knows exactly who you want or is overwhelmed by the choices at hand.
Wedding bridal makeup can be difficult to master since you want to glow without shining, appear your best in photos, and have your makeup endure all day rather than melting in the middle of the big day. But don't worry, Limelite salon and spa has got you covered. Keep reading! 
What to Consider Before Booking your Bridal Makeup

Possibly one of the most significant individuals on your wedding day is your makeup artist. Your look can be made or broken by your makeup artist. Every girl hopes to look her absolute best as a bride on her big day. In order for it to occur, you must pick the best bridal makeup artist while keeping in mind a number of factors including the bridal makeup cost. Below are a few suggestions you should keep in mind when making one.
1.Start research early 
During the wedding season, there is a significant demand for makeup artists. So it's usually a good idea to hire a cosmetic artist at least six months before your wedding.
2.Cancellation and a back up plan 
It is advisable to have a backup plan in case of emergencies. Ask the MUA about cancellation policies and whether the advance will be returned if one or both parties cancel. You can also inquire as to whether they will offer a substitute if they decide to back out on you. So, inquire as to if they have a backup plan in case of emergencies.
3.Enquire about any advance 
Some places are known to take payment in advance while others don't. Make sure you're aware of this beforehand so you can budget accordingly and won't have too much of a hassle when it comes to payment. 
4.Know all the details 
Have everything documented in an email or contract before giving the bridal makeup artist the advance payment. Make sure details like the wedding's date, time, location, the cost of the service, hours of service, refund policy in the event of a cancellation, and any last-minute alterations.
5.Know the pre-wedding day routine 
Not only are great makeup artists experts in applying makeup, but they can also provide you with helpful skincare advice. Of course, before implementing, you can confirm the advice with your dermatologist.
On the day of your wedding, your skin should be like a fantastic canvas for your artist. Therefore, talking to your artist in advance and taking care of your skin will benefit you both on a special day. Some makeup experts offer individualised cosmetics lessons or pre-bridal skin care services. Asking your artist all of these questions is therefore recommended. Whether you choose to have skincare treatments or do it on your own will be up to you.
Which Type of Bridal Makeup is the Best? 
The type of makeup used is essential in achieving that celeb-inspired best bridal look. The consistency, application, and ingredients of today's makeup products differ greatly, which in turn affects the coverage, finish, and glow factor. Choosing the best formulation for your big day can be overwhelming with all the options currently on the market.
How do you determine the best bridal makeup for you?
1.HD makeup 
On the big screen, high-definition cosmetics are typically seen. Fine creases and wrinkles on the face are easily captured by the cameras. These wrinkles can be created by multiple layers of makeup. As a result, HD makeup is a method that conceals small wrinkles and doesn't cause creases. The best part is that this makeup does not feel heavy or cakey. It's their best feature. You also appear incredibly natural both in real life and on screen. For hours, HD makeup keeps your skin appearing dewy and radiant.
2.Airbrushed makeup
In the field of cosmetics, the airbrush technique has recently grown in prominence. This makeup uses an airbrush rather than conventional makeup tools, as the name would imply. Your skin is covered in a layer of cosmetics thanks to the airbrush. You will have a flawless and radiant appearance because to the soft, silky finish it provides. But on muggy days, it could feel a little heavy. The longevity of airbrush makeup is its finest benefit.
To apply this kind of makeup, you need various brushes. It conceals imperfections, dark patches, or variances in complexion. It provides you with a dazzling appearance that is naturally without creases.
3.Matte makeup 
The matte makeup appearance is the most well-liked of the various makeup styles. One of the most adaptable looks is this one. Whether it's a dramatic look, a wedding look, or your typical appearance. You may rock every day with grace and piety if you wear matte makeup. You can experiment with bright colours with the matte makeup look. Dark colours might be used, or you can skillfully achieve a natural impression.
This kind of makeup is appropriate for any weather. It may look both natural and daring and is lightweight and breathable. The rich hues of matte cosmetics provide a wide range of options for creating beautiful appearances.
4.Mineral makeup 
The cosmetics used in mineral makeup are free of chemicals. It is becoming more and more well-liked because it doesn't harm the skin. The greatest candidates for this makeup kind have sensitive skin. It is advised to use mineral makeup after treating the skin to make it better. Different hues and tints of mineral cosmetics are available. It can be worn for formal occasions as well as everyday wear. The skin looks smooth and feels light when wearing mineral makeup.
For women with older skin and acne-prone skin, mineral makeup is the best option for Indian bridal makeup at weddings. This makeup's ability to avoid any drab or ageing appearance is another noteworthy feature.
How to Pick the Right Makeup Artist?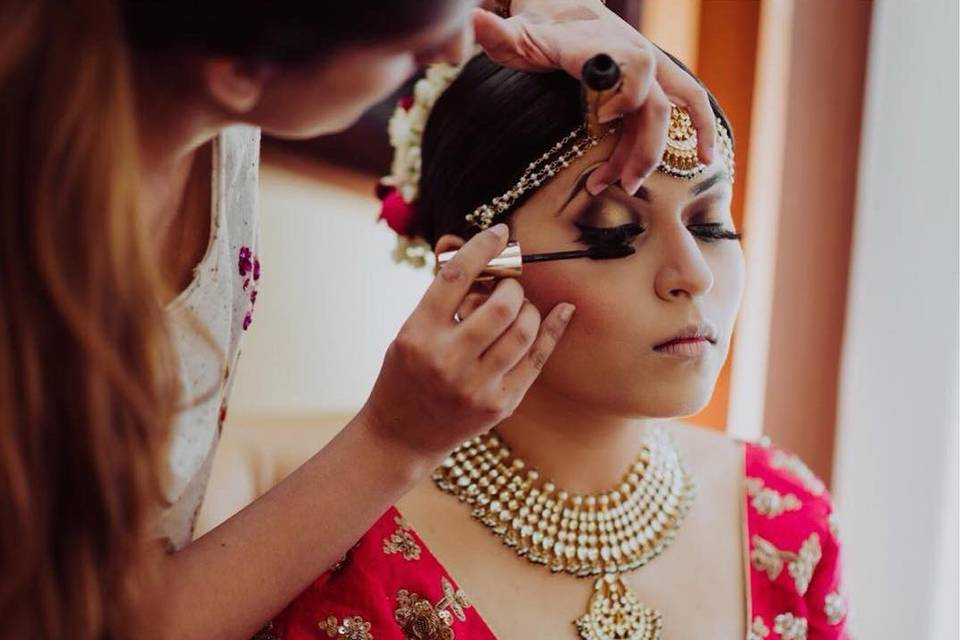 A bridal makeup artist you pick can make or break your big day look. And who does not want to look their best on their big day? But with so many available bridal makeup salons at your service, there is almost too much choice that makes it hard to find the perfect one for yourself. So what do you do? Limelite Salon and Spa, one of the best bridal salons, is here with a blog on tips to keep in mind when choosing the right bridal makeup artist for your D-day. 
1.Do your research 
If not very early, at least 3 to 4 months before your wedding, start researching the best bridal salons nearby in your city. If you have recently attended a wedding and liked the makeup and hairstyle of the bride, ask for a reference. It is also helpful to look for bridal styling inspirations and shortlist a few looks that you like. Most bridal makeup artists have their signature style, whether the stand-out eyes or a different hairstyle, so do thorough research about makeup artists and connect with them to understand the services. 
2.Look for the reviews 
Trust us when we say this; reviews matter. Every bridal makeup artist has a track record, and it is necessary to read the reviews left by previous brides. Check the social media handles of the makeup artist and look for comments posted on the posts to know about the work. If possible, check with a few real brides about their experience before going ahead with the artist.
3.Consider hygiene and sanitation practices 
Post pandemic situations, it is essential now more than ever to be aware of hygiene; when it comes to personal services like makeup and hairstyling services. Poor hygiene practices in makeup include steps like double-dipping, no brush cleaning, blowing on brushes, reusing disposables like makeup sponges, using fingers and hands as palettes, etc. Bridal makeup salons must very strictly instruct their artists to stay away from these practices as they are not just unhygienic but can also cause infections. Before you finalise a makeup artist for your big day, ensure that the salon they come from takes care of hygiene and sanitation practices. 
4.Let the artist know about the venue 
No matter how much you like the work of a particular makeup artist, it might be a chance that the artist may not be comfortable travelling to a venue. Many artists choose to work in controlled environments such as hotel rooms. So, if you are planning an outdoor wedding, let the artist know. Also, in case of a destination wedding, check if the artist would be comfortable travelling and make sure to discuss the expenses. 
5.Be frank about your budget 
Like any other aspect of wedding planning, it is also vital to set a budget for makeup and hairstyling services. Make sure to do this before shortlisting the bridal makeup salons. Every bridal makeup artist has a different price range for Indian bridal packages, and the price is generally non-negotiable. Be frank about your budget and discuss the package the artist offers in your budget. You can also customise the package as per your needs if the salon offers the same. 
6.Examine the products 
Some makeup artists prefer to go ahead with a particular brand's makeup and styling products. If you are not okay with the brand or have skin sensitivity issues, discussing the matter in advance will help. Check if the artist can swap them with other products that make you feel comfortable. Remember to keep this point in mind while shortlisting bridal makeup artists. Also, if you are new to a particular brand, a trial session will help you figure out your comfort level. 
7.Don't skip the trial 
Once you list the top wedding hair and makeup artists, spare some time for a trial run. Even if you find it a little time-consuming and might cost you some extra money, going for it can save you from those last-minute changes. After all, the thing you would want on your big day is to look your absolute best. Additionally, be prepared with at least the swatches of your dress and the jewellery you would be wearing. It will help the makeup artist to put together the entire bridal look. 
8.Don't forget the gang 
When choosing a bridal makeup artist, do not forget to factor in these services for your bridesmaids, cousins, and special guests. Let the makeup artist know beforehand how many other people will be needing the styling services and if you can work out a package deal. Plus, it will also help the artist know if any assistants are required. This factor is a must if you have a huge gang. 
10 Things to Look Out for in Bridal Makeup Packages
Weddings are all about love, laughter, stunning gowns, sentimental moments, and stunning photos. In order to make sure the last one, every bride's makeup must be flawless. Therefore, if your wedding day is quickly approaching and you're looking for bridal makeup packages, you've come to the perfect place.
The wedding ceremony is organised with a lot of planning, including party themes, decorations, invitations, food, clothes, flowers, and lighting. Because of the possibility that it will become too much, we wish to relieve some of your burdens. Here are the qualities a bridal package should include in order to give you the desired radiance on your big day.
1.A package within your budget
The initial price range for a skilled bridal makeup artist starts at around 15–18k and can reach into the lakhs. It is essential to create a budget in advance so that you know how much you can comfortably spend, how much you can stretch if necessary, and what range is totally off-limits. If you don't have a predetermined amount ready in your mind beforehand, it is extremely simple to be persuaded into something, and even though you want to look your best on this day, you most definitely don't want to end yourself in financial trouble later. Nobody ever suffered from a little smart planning, especially not the bride!
2.Think of your bridesmaids too
The majority of brides enjoy using this special day to pamper their special female family members and friends with some artistic makeup. Do you want to hire makeup artists just for yourself, or would you also like them to work on your chosen friends or bridesmaids? Nowadays, the majority of bridal cosmetic packages include unique treatments for the bride and a specific number of friends, so make your decision and plan appropriately.
3.Bridal, pre-bridal, post-wedding events 
These days, a lot of bridal package providers offer cosmetics not just for the wedding day but also from the start of your festivities like reception bridal makeup Of course, you have the option to select an artist who will just collaborate with you on your wedding day, but if you would want a professional touch throughout the festivities, make sure to verify with the artist you are considering hiring. Pre-wedding cosmetic services may undoubtedly keep you looking beautiful throughout the most important days of your life!
4.Know what is part of the package 
The majority of bridal packages and pre-bridal packages will include hair, makeup, and also the draping. This means they will assist you with your bridal hairstyle, bridal makeup, and saree or wedding trousseau draping. If you choose costume jewellery, experts can also help you put on your wedding jewellery at the makeup location. However, it's best to double-check if you intend to wear "genuine" jewellery with sentimental significance because many locations may or may not approve. Additionally, you might want to check with the same artist if you want to choose a pre-bridal package (which typically includes body cleanses, wraps, exfoliates, waxing, facial treatments, massages, etc.) before the big day (s).
5.Hair 
There is still a lot you can accomplish with your bridal hairstyle even if you will probably opt for a traditional wedding bridal look. Examine a few styles online to see which ones you prefer and to determine which ones that will work for your face shape best and the outfit you are wearing that particular day. Also keep in mind to choose a hairstyle that complements the jewellery you intend to wear. Please ask your artists if you need to pre-wash your hair at home the day before or the day before the appointment or if it will be done in the studio.
6.Trial Day 
Before your big day, getting a hair and cosmetics trial is always advised. What appears fantastic in photographs and on the phone could end up being completely different from what you initially believed. With a trial, both you and the artist will have a clear understanding of your skin tone, skin type, matches, what looks well, and what you can wear without feeling too self-conscious. To ensure that there is always room for adjustment and rescheduling with someone else if necessary, be sure to arrange your trial at least 4-5 months in advance, or when your wedding saree or attire is ready.
7.Check if the makeup is suitable for your skin 
Make careful to tell your makeup artist about any skin issues you may have been having well in advance. Professionals may recommend pre-makeup procedures while others may give you recommendations for the makeup that will work best for your skin in the given situation.
8.Think about the venue 
Make sure to consider crucial factors, such as the distance from your home and the wedding site, while choosing the location for your makeup. The length of a typical bridal makeup package ranges from two and a half to four hours.
9.Highlights your eyes
Without a question, a bride's eyes are the most alluring feature of her appearance. The eyes convey a lot! Therefore, when you look through a bridal makeup artist's portfolio, be sure they have done a great job bringing out the beauty of the eyes. You can't risk seeming worn out or depressed in your wedding photos, after all.
10.Team is experienced
In other situations, it is acceptable to use a less experienced makeup artist. However, you must find someone with a tonne of experience in this industry for your wedding. Artists with expertise can work and perform even while under duress. They are constantly alert since they are aware of potential problems that could arise during a wedding event. You may fully rely on them in this way.
Why a Professional Salon for your Makeup?  
The wedding day is often a chaotic mix of a little stress and a whole lot of goosebumps! If you plan everything earlier, things might become easier for you.   
Planning your makeup and hair for the big event is something you can't afford to miss. With just a few weeks left before the wedding day, most brides opt for exclusive makeovers like hair-smoothening. Look for a top-notch women's hair salon near you and book an appointment for your beauty needs.    
But why should you consider having a pre-wedding trial? Keep reading to know more! 
1.Get To know which women's salon works best for you: 
On your wedding day, you need to be surrounded by people who can make everything easy and seamless. Your wedding look is also more of a collaboration than you'd imagine, so it's important to find experts who understand your requirements.  
2.Chance to redecide your make-up artist:  
If you are not happy with the trial session, you can always hire somebody else. Look for the best women's salon nearby so that you don't have to regret it later. Your wedding photos will last for a lifetime. So, your wedding day is a one-day chance.  
3.Rethink your look:  
Photos on Pinterest may look amazing on your screen but not as great when you try the style. And that is okay. You can rethink your bridal look before your wedding day arrives. A trial lets you find the loopholes in advance. 
4.Try it all:  
It's important to test different looks before you commit to one. So, try out hairstyles and make-up looks that you've always wanted to try. Or you might get new inspirations for your bridal look.   
5.Let your chosen women's salon understand you better: 
While you can always send photos and chat about your needs if they can see your bridal outfit in person, they know exactly what colours to pick for your make-up. Another benefit of a trial is that the MUA can find the perfect shade of foundation for your skin tone.    
6.Get expert recommendations:  
Once professional stylists understand what look you want, they'll tell you what styles and colours work best for your bridal look. They can recommend what's trending and what's outdated too.  
Also, if you want to revamp your hairstyle or colour, it's best to do it before the big day. For instance, if you opt for some hair smoothening deals your hair needs some settling time before your wedding day.  
7.Experts get time to prep:  
If you are allergic to a product, the MUA has enough time to arrange a different one. If your wedding hairstyle requires extensions, the stylist has time to buy and even colour the extensions if required. They may not have everything you need but a professional Women's Hair Salon can always arrange things as per the client's requirements.  
8.You have time to prep:  
The stylist and makeup artist can tell you what you need to do in the days before the wedding. Can you wash your hair the night before your wedding? What skin and hair treatments would you need before the day?  Book your appointment with a professional Women's Salon and note down every essential thing.  
9.A hassle-free wedding day:  
Doing a trial in advance means you're not worried about how you'd look on the main day. You're not wasting time trying out different hairstyles and bridal eyeshadow shades.  
10.Helps create a schedule:  
Depending on how many stylists you need for the final look, and how long it will take, the trial can give you a timeline. This helps you chalk out a plan for your wedding day.  Again, this type of advanced preparation will be provided only by an experienced Women's Salon. 
Want to know the best part? At Limelite, we want you to have the most perfect day with the most perfect makeup. This is why at Limelite, you get a free bridal makeup trial! You'll get a clear idea of what your makeup will look like and be able to tell the stylist if there is something you'd like to change. And all this comes at no extra cost!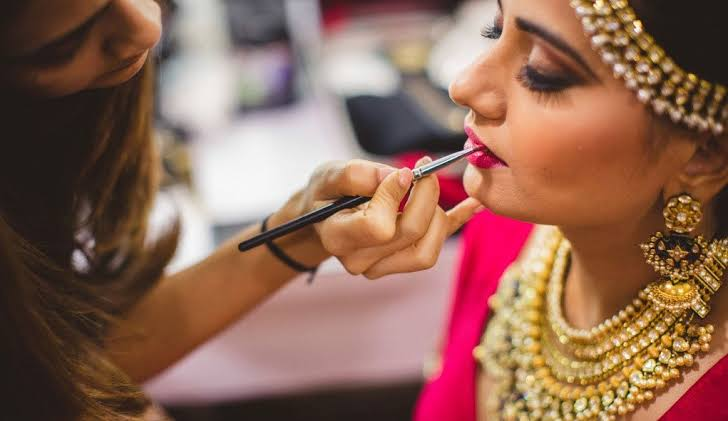 We hope you found this blog informative and helpful! Do consider dropping by at Limelite Salon and Spa! Limelite is a unisex hairsalon in chennai, that aims to give you, the customer, the very best experience! Whether it's a any hair salon services like trendy women haircuts, men haircut styles, best hair cut for long hair, hair highlights, hair spa or a keratin treatment, olaplex treatment, hair smoothening, manicure and pedicure, foot reflexology or our special Kerastase fusio dose nail art– when you are at Limelite, our dedicated team of professionals will ensure that you are well taken care of! To know more about our services or to book an free consultation with us, call us at the number mentioned on our website. We always have offers you wouldn't want to miss, and we would love to have you in our salon. Thank you!