Don't you feel relaxed and refreshed after a facial session? This is because a facial improves blood flow and circulation and is a great way to pamper your skin. Facials are rejuvenating, but only when chosen the right one for your skin type. Yes, you heard it right. Choosing the right facial for your skin type is also a trick. There are a plethora of facial treatments available at salons today. But, it is important to choose the right one for you and your skin type. Before heading to Limelite, a premium salon in Chennai near you, for your monthly beauty ritual, the facial, you need to know which one goes well with your skin. And, we are here to tell you more about facials!
Why and When do you Need a Facial?
How do facials benefit you? Facials can benefit you in various ways, for instance in helping cleanse your skin, preventing wrinkles and ageing, reducing psychological stress and detoxifying your skin.  
If you're struggling with acne, a facial can heal your acne and take care of the scars too! Just like this, facials help with a number of skin issues such as the removal of blackheads and whiteheads and the elimination of dark circles and under-eye bags. Have pigmentation, a facial will likely solve that and give your skin a beautiful even tone. There are even various types of facials that will exfoliate your skin and even improve the absorption ability of your skin. Keep reading to know more about the various types of facials and how each of them can help your skin. 
Many estheticians will frequently advise getting a facial every four weeks. The cause of this is that it takes that long for skin cells to pass through their entire cell-growth cycle. But when it comes right down to it, it all comes down to your skin type.
The Steps in a Facial 
For a variety of reasons, people receive facials. A facial is one of the greatest ways to hydrate and nurture your skin because it is essentially a multi-step skin treatment. have not yet had one? This new year, you should definitely pamper yourself! Here are some of the steps typically done in a basic facial!
1.Consultation
A consultation is the ideal way to start a facial. The salon professional will enquire about your diet, how much water you drink, your skin troubles, the products you already use, and other things.
2.Cleansing 
The esthetician typically begins by covering your hair to prevent any product from touching it. Utilizing cotton pads, the first step is a thorough cleaning.
3.Skin Examination
If you are wearing makeup, the esthetician may first examine your skin under a bright lamp. Your basic skin type (dry, oily, combo, sensitive, or normal) and skin issues are being determined by her (acne, blackheads, whiteheads, ageing, sun damage, dehydration, etc.) The esthetician then selects the proper remedies and products.
4.Steam
Some facials use a device that sprays a delicate mist of heated steam across your skin. This aids any blackheads and whiteheads that need to be retrieved from the skin by relaxing them. The esthetician might not use steam on you if you have really sensitive skin. Your pores will be cleaned by the sweat it generates.
5.Exfoliation 
Using a mechanical or chemical exfoliant to remove the skin. The grainy texture of mechanical exfoliants scrapes off the top layer of dead skin cells. Typically, this kind of exfoliation takes place after the steam treatment.
6.Extraction 
Whiteheads or blackheads are removed in this manner. For extractions, various people have varied pain thresholds. Keep your salon professional informed about your comfort throughout the facial!
7.Massage 
Using traditional strokes to both calm you and stimulate your skin and facial muscles, this is in our opinion the nicest portion of any facial.
8.Mask 
Your skin type (dry, oily, mixed, sensitive, mature) and condition are catered to by the facial mask.
9.Products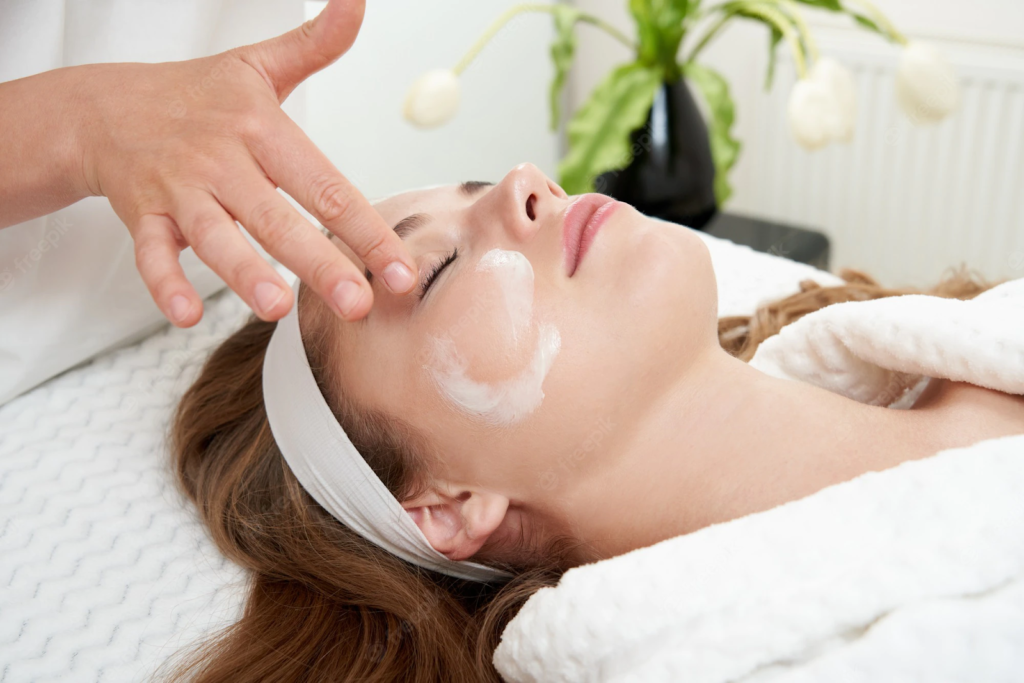 Sunscreen, serums, moisturiser, and toner are finally applied last.
The Most In-Demand facial Services at Limelite Salon and Spa
1.Standard Facial 
This consists of cleaning, exfoliation, extraction, application of a beneficial mask, and moisturising to soothe the skin of those with normal to dry skin. Clogged pores begin to open during this procedure, releasing the dead contents. Your face's natural radiance is restored thanks to it.
2.Chemical Peels 
Exactly what it says. A chemical solution is administered to your skin on your hands, neck, and face during this facial. Peeling away the old, dead skin reveals younger, glossier skin.
3.Anti-Ageing Facial
Anti-aging facials employ natural active substances and techniques to get rid of age symptoms from your skin. Exfoliation, extraction, and hydration of the skin are all involved. Your skin is treated with many products that are high in antioxidants to help your skin with various ageing indications.
4.Brightening Facials
A brightening facial can help reveal the underlying radiance in skin that has started to seem damaged and lifeless. In this procedure, essential masks, enzyme peels, etc. are used.
5.Laser Facials
Your skin is softly resurfaced and small defects are fixed during this pampering facial session. It facilitates the reduction of wrinkles, age spots, scars, uneven skin tone, etc.
6.Microdermabrasion 
This facial exfoliates dead skin cells naturally. It reveals younger, healthier skin that glows within.
7.Dermaplaning 
This procedure gives the skin a smoother, brighter appearance by perfectly allowing the beneficial ingredients to permeate deep within the skin.
How to Choose the Right Facial for my Skin Type?
To choose the right facial for you, you need to focus on your skin type and the problem you want to be addressed. Let's now have a glance at different skin types.
1.Dry Skin 
Which facial is best for dry skin? Dry skin is also regarded as normal skin. For dry skin, it is always ideal to choose a facial that includes deep cleansing and moisturising massage. This helps in the removal of extra dirt from the skin and the hydrating serum used to finish off keeps your skin moisturised for a long time.
2.Oily Skin 
Oily skin requires deep cleansing, extraction with toning, a face mask, and a protective serum. The face mask helps in the removal of excess oil from your skin, shrinks the pores, and adds a fine glow to your skin.
3.Combination Skin
Combination skin has a tone of both oily and dry skin. So, it is really necessary to use mild products if you have neither too oily nor too dry kind of skin. Mild products provide perfect nourishment to both oily and dry skin and do not aggravate the skin into breakouts and rashes.
4.Sensitive Skin 
If you are a person with sensitive skin, using gentle skincare products is a must. These products are specially formulated to treat sensitive skin and keep your skin away from rashes and side effects.
What are the Different Types of Facials?
There's no denying that every woman deserves the best salon experience. Want to know which facial is best for glowing skin? Let's look into the different types of facials and their benefits.
1.Classic Facial 
The best facial for glowing skin is always in. Add a sparkle of radiance to your skin with a classic facial treatment. Classic facial includes deep cleansing, toning, exfoliating, a head and neck massage, and a face mask. It is a great way to rejuvenate skin with much-needed moisture. It helps in dead-skin removal and gives your skin a fine texture and fresh appearance. It is the best facial for dry skin types and is the best option to treat skin concerns such as skin congestion, lack of radiance, skin sensitivity, and firm lines. Why wait then? Head to the best salon near you and watch your skin glow like never before with the magic of classic facials.
2.Anti-Aging Facial 
Who does not want to look younger? But can you stop the hands of time? No, you cannot. An anti-ageing facial is the best option to look younger and revisit your youth. It is a type of facial that is targeted to improve the appearance of mature skin. The products used in an anti-ageing facial are effective in diminishing the signs of ageing. It involves deep pore cleansing, exfoliating, and skin resurfacing, followed by a face massage and skin tightening mask. It is suitable for all skin types, but the products used vary concerning your skin type. You're never too old to look younger. Visit the best salon nearby and flaunt your youth with an anti-ageing facial!
3.DeTan Facial  
Wondering which facial is best for skin whitening? Rather than trying the best facial kit for skin whitening at home, try this! Exfoliate your tanned skin back to its natural tone with a de-tan facial treatment. It involves tan removal, skin lightening, face pack and massage, and exfoliation. De-tan facial helps in the removal of dead skin cells and evens out your skin tone. It also helps in the elimination of blackheads and whiteheads, leaving your skin glossy and fresh. De-tan facial suits best for oily skin, as the products used for this facial cut the melanin on the skin and remove tan from your skin. It also treats pigmentation effectively and brings the glow back after a tan, improving your skin complexion.
4.Gold Facial 
You are only a facial away from a good mood. Beautiful skin begins with consistent skincare. Give your skin an instant glow with a gold facial treatment. It improves skin elasticity, making your skin look fresh, refreshed, and renewed. Regular gold facial treatments decrease the depletion of collagen and help you maintain younger-looking skin. Gold facial is suitable for all skin types and is the best option to prevent excess melanin formation, which helps in the prevention of tan and pigmentation. Want to inquire about the gold facial price in beauty parlour? Contact Limelite Salon and Spa today! 
5.Silver Facial 
Silver can be your skin's new dearest companion! Silver facial treatment helps in the detoxification and purification of your skin. It consists of a scrub, cream, and gel that gives your dull skin an instant lift. The facial restores the pH balance of your skin, clears the pores, and deeply cleanses your skin to remove blackheads. The facial is suitable for all skin types and is the best facial option for dry skin. This is because it keeps your skin moisturised for a long time. You need a beauty parlour facial! Head to a salon near you and pamper your skin with a silver facial treatment now!
Which Facial Works Best for Acne? 
If you are no stranger to acne, you might feel as though you're always searching for that one cure. Acne is a skin condition characterised by red pimples on the skin. While there is no one-size-fits-all treatment for acne, facials are known to reduce the condition. How effective a facial is depends on the products used, skin type, and frequency of how regularly you have one. There are different types of facials you can choose from depending on the needs of your skin. Some acne facials are meant to treat acne, while others are meant to deal with scarring leftover from prior issues with acne.  If you are not sure about your skin type and the right facial for your skin type, you can consider visiting a unisex salon near you for expert guidance. A skincare professional will understand your skin type and causes of acne before going ahead with an acne facial and you can always feel free to book an appointment with an expert. Below are some of the benefits of acne facials. 
How do acne facials work? Here are a few ways in which they can benefit your skin! They remove impurities, debris, and oil from the skin and cleanse the skin thoroughly. A facial specifically for acne-prone skin can also kill acne-causing bacteria while adding much-needed moisture to your skin. And importantly, it will reduce inflammation and excess oil production and remove any dead skin cells. 
Acne facials are typically safe for all types. But, the products used in the facial treatment depend on your skin type and are different for every skin type. Unisex salon professionals have a good knowledge of products and the acne facials performed by them provide better results than at-home versions. To ease your worries, here we present a list of acne facials and their benefits.
1.Classic Facial 
A typical classic facial includes deep cleansing, extractions of whiteheads and blackheads, a head and neck massage, and a face mask. It helps in deep cleansing and exfoliation, which removes dead skin cells and leaves skin looking hydrated and more even in tone. The blackheads and whiteheads extraction process included in a classic facial helps in acne reduction.
2.Microdermabrasion Facial 
Microdermabrasion facial treatment is a non-invasive cosmetic treatment that uses a handheld device to gently exfoliate the top layer of skin. It is one of the fastest ways to add a healthy glow to your skin. It treats blackheads and whiteheads and also improves depressed scars and discolouration of your skin. Microdermabrasion facial makes your skin brighter and smoother and also improves overall skin tone and texture.
3.LED Facial 
LED facial treatments are the latest techniques developed in the ongoing battle against acne, ageing, and wrinkled skin.LED facial uses an LED machine, which emits infrared light. It emits a combination of red, blue, and white infrared light. Red helps produce collagen, blue kills acne-causing bacteria, and white improves skin tone. The treatment acts as an anti-inflammatory agent and treats all kinds of acne-related problems. As LED lights do not contain UV rays, it is a good facial for sensitive skin.
4.Brightening Facial
Brightening facial includes a combination of acid peels and masks which target hyperpigmentation. To reduce the discolouration of the skin caused by acne is the main goal of a brightening facial. Vitamin C serums are rich in antioxidants and provide the best nourishment to your skin. The serum also protects skin cells from damaging free radicals and improves melanin production in the skin, which helps to lighten dark spots and hyperpigmentation. Brighten up your skin like never before with Skeyndor Power C + vitamin C serum. The serum brightens the skin, firms up the skin, and evens the skin tone. Infused with the extract of pomegranate and acai, the serum acts as a shield against cutaneous photoaging. It gives an intense "light effect" on the face and is the best go-to serum for all skin types.
5.Decongesting Facial 
The decongesting facial treatment involves professional pore-digging to remove minor breakouts in the skin. An expert at a unisex salon will give you a detailed view of decongesting facial treatment and ensure to discuss with you the tools being used in the facial. An extractor tool is used to remove minor breakouts. The facial dissolves the outer layers of skin for resurfacing and cleans the blocked pores. It helps prevent future breakouts and adds a fine texture to your skin.
The Dos and Donts After a Facial
Dos
1.Use a Mild Cleaner
Keep in mind that after a facial, your skin is more sensitive than usual. By cleaning your face with a mild cleanser, you may get rid of dirt, grime, and excess grease while maintaining the integrity of your skin's protective barrier.
2.Before your Facial, Complete all other Facial Treatments
Before your facial, you should get any face treatments like threading, waxing, or waxing. After a facial, your skin often becomes more sensitive. Following a facial, waxing or threading can irritate your skin and potentially exacerbate rashes.
3.Drink Water
The creams, face masks, and moisturisers have all done a wonderful job of moisturising your skin. Your turn is now to hydrate your body so that the glow lasts longer. After receiving a facial, keep your skin and body moisturised by drinking lots of water, juice, and other fluids.
4.Wash any Other Items you might use on your Face
Clean any equipment and surfaces that come into contact with your face frequently. Make sure your makeup brushes are clean in case you have an event.
Don'ts
1.For 4-5 Days, Refrain from Scrubbing your Face
Exfoliating is beneficial, but too much exfoliation might remove your skin's barrier. Deep cleaning and scrubbing techniques used in facials will keep your skin supple and free of dead skin cells for several days.
2.Avoid Exposure to the Sun
Your skin barrier might be harmed by UV radiation. After your facial, always make it a point to avoid the sun. Your skin may become irritated from all the scrubbing and cleansing involved in a facial. If you must spend time in the sun after getting a facial, be sure to use a broad-spectrum sunscreen.
3.Avoid popping pimples
Leave any whiteheads, blackheads, or other pimples and zits alone if they emerged after the facial. Touching or popping your pimples might result in scarring, irritation, or further breakouts. 
4.Delay Putting On Makeup
Despite all the steam and rigorous cleaning, your pores are still open. Following a facial with cosmetics might clog your pores. Your skin has just gone through a thorough deep cleaning. Prior to allowing anything to become stuck within the deeper layers of your skin, give it time to breathe and space to allow your pores to close.
Hear from our Happy Customers! 
"I have done facial it's was awesome…"
– Reshma Kerketta 
"I took facial here… worth of cost .."
– Punitha Balaraman
"Had a facial cleansing done…highly pleasant and professional. Awesome service and friendly attitude by the staff. Had a very relaxing experience.."
– Fatima Rajja
"Took a facial after an intense and tiring trip from ladak where the temperatures where btwn -18 to -20 my face did not react well to the harsh weather…but thier intense facial my face is now moisturised and clear…great services and hospitality"
– Gowtham Manikandan
We hope you found this blog informative and helpful! Do consider dropping by at Limelite Salon and Spa, a facial salon if you have searched for "facial salon near me." Limelite is a premium hair salon in Chennai, that aims to give you, the customer, the very best experience! Whether it's a any hair salon services like trendy women haircuts, men haircut styles, best hair cut for long hair, hair highlights, hair spa or a keratin treatment, olaplex treatment, hair smoothening, manicure and pedicure, foot reflexology or our special Kerastase fusio dose nail art and not to forget our specialization in bridal makeup– when you are at Limelite, our dedicated team of professionals will ensure that you are well taken care of! To know more about our services or to book an free consultation with us, call us at the number mentioned on our website. We always have offers you wouldn't want to miss, and we would love to have you in our salon. Thank you!