We frequently think of bygone eras when considering feathered hair. pictures of television stars with feathered hair from the 1970s. But did you know that fashion is still in vogue today? Even though some would wish to write off the style as outdated, feathery hair is still fashionable! Celebrities like Selena Gomez and Jennifer Lopez have been known to flaunt the cut in a contemporary manner while still drawing inspiration from its past. Still sceptical of this time-honoured haircut? Discover more about feathered hair by reading on the blog by Limelite salon and spa!
What is a Feather Cut?
A beautifully layered hairstyle for ladies known as a feather cut resembles the layering of bird feathers. Since the airy feathery hairstyles are a highly textured variant of a layered cut, they are usually cut in a V shape with a razor.
In the 1970s, both men and women began to adopt feathered haircuts as a fashion statement. Feathered hair is layered hair that has either a side part or a centre part. From straight to curly, short to long hair, feathered hair can be worn. Generally, a cut can be categorised as feathered if it has finely textured layers.
Would you like to experiment with a feathery hairdo? Try it out! Many of the popular cuts that are currently prevalent in feathered hair originated in the 1970s. Wearing the layered, flowy style all day long is convenient and comfortable. Find the information you require in our thorough guide that includes various renditions of this traditional favourite. Look through and select a few feathery haircuts you might want to try while keeping your tastes and facial shape in mind.
30 Latest Feather Cut Hairstyles
1.Feathered Hair With Bangs
This is a fresh spin on the long hairstyle popular in the 1970s. There are tiny, but yet discernible, feathers here. Soft and airy, the feathery bangs. This haircut is adaptable and eminently attractive.
2.Feather Cut for Long Hair 
All people can pull off this look, although women with thick hair tend to favour it the most. This is due to the feather haircut's ability to lighten the volume without actually sacrificing length.
3.Medium Cut with Light Layers
Do you desire a hairdo that has both softness and edge? The best way to do that is with this step cut. The layers, which produce the feather impression and curve out at the ends while still looking sharp, look great on shoulder-length hair.
4.Softy Flip-Worth Feathers 
Are you looking for a cut with substance and bounce? This gentle flip achieves precisely that and is ideal for someone with naturally curly hair. Whether it is wavy or straight, the silky appearance will endure.
5.Long and Textured Shag 
If you want to keep your hair manageable, use a shaggy cut. You don't need to worry about getting it precisely styled all the time because a haircut with this texture looks best when it's slightly unkempt.
6.Short Feathered Cut 
This traditional bob's feathery side fringe gives the appearance of more volume, which is ideal for fine hair. While keeping the rear fuller and thicker, the layered bangs bring flow to the front of the face.
7.Choppy Feathers with Lowlights 
Want to give your hair more thickness? Then you should use this cut. This texture is fantastic because of the rough layers and the gloomy colour. Your hair will appear thicker and the lowlights of this style will be highlighted when you have side-swept layers like this.
8.Feathered Layers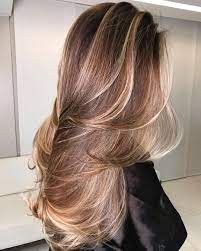 Everyone will be enamoured with this vintage, layered hairdo that was popular in the 1970s. The look will make thick hair lighter and work well with any face shape. To add sassiness to your feathered hairdo, ask your stylist to cut thick front sections of your hair for a side-swept fringe and slightly curl the ends.
9.Stacked Bob with Feathered Layers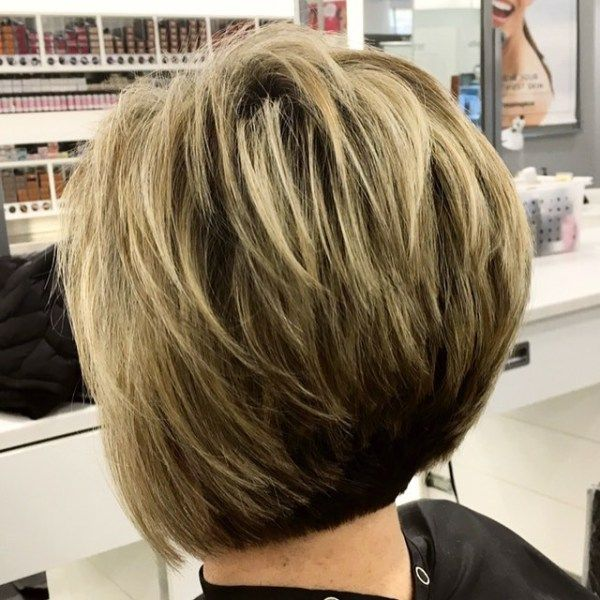 Another good example of feathered, short hair is his stacked bob. Even though some bobs are sharp, feathering is a terrific method to soften what might otherwise be a harsh cut. This cut produces a playful appearance with some bounce.
10.Medium Length Feathered Hair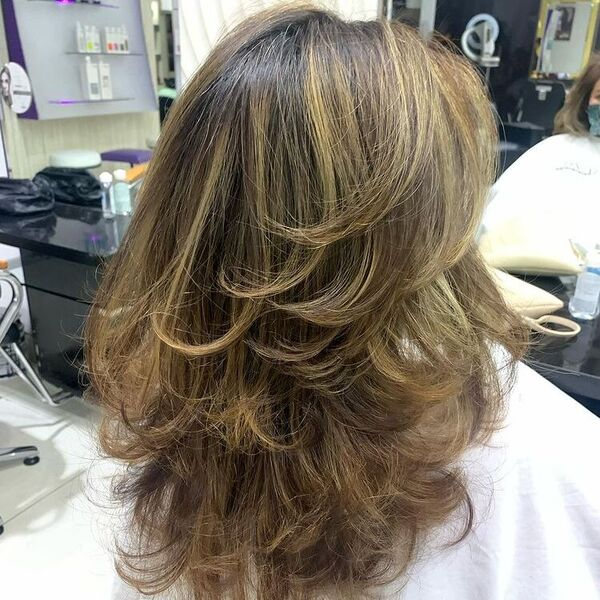 Make a hair appointment with your hairdresser at Limelite as soon as possible to get this incredibly beautiful straight bob with feathery layers and face-framing highlights. This cut is incredibly easy to dress and goes great with any outfit.
11.Neck Length Layered Bob 
For women with thin strands, above-the-shoulder feathery designs are a fantastic choice because they naturally hold more volume and height. This kind of layered hairdo is quite simple to maintain.
12.Rose Gold Feathered Bob 
Add a feather effect to your smooth, medium-length hair to give it that extremely amazing texture, then colour your hair rose gold for a genuinely spectacular appearance. By applying a little texturizing spray and blow-drying hair with a round brush, you may create a salon-styled appearance.
13.Brunette Feathered Hairstyle 
This chic flip-up feathery hairstyle is a terrific way to give your long hair movement. To make it simpler for you to style your hair at home with a standard round brush, ask your hairstylist to add feathers in graduated layers.
14.'70s Inspired Layers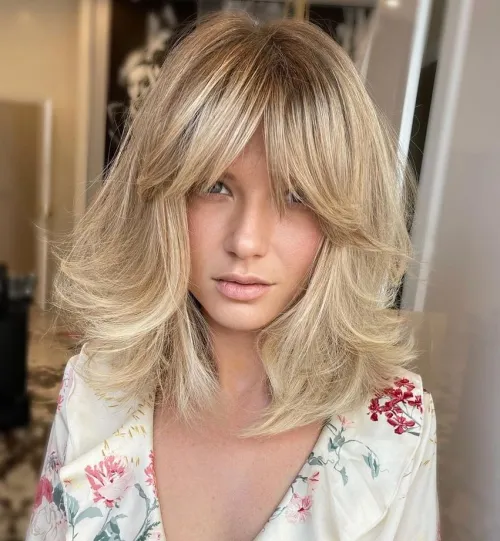 You can enhance your mane with a medium-length layered cut. To accentuate your layers' feathery texture and provide the appearance of volume on fine hair, choose front highlights or balayage.
15.Mid Shag with Face Framing Pieces 
With this fashionable blonde underlayer and mid-length razored shaggy cut, you may add rock vibes to your regular appearance. Thick hair can seem a little hefty with this layered style, so the feather haircut works best with thin to medium textured strands.
16.Short Feathered Hair 
With its razor-sharp layers wrapping around the crown and side-swept bangs, this feathery jaw-length bob delivers lots of fullness and volume. a great option for people looking for a solution to make their fine hair thicker.
17.Short Layered Pixie Bob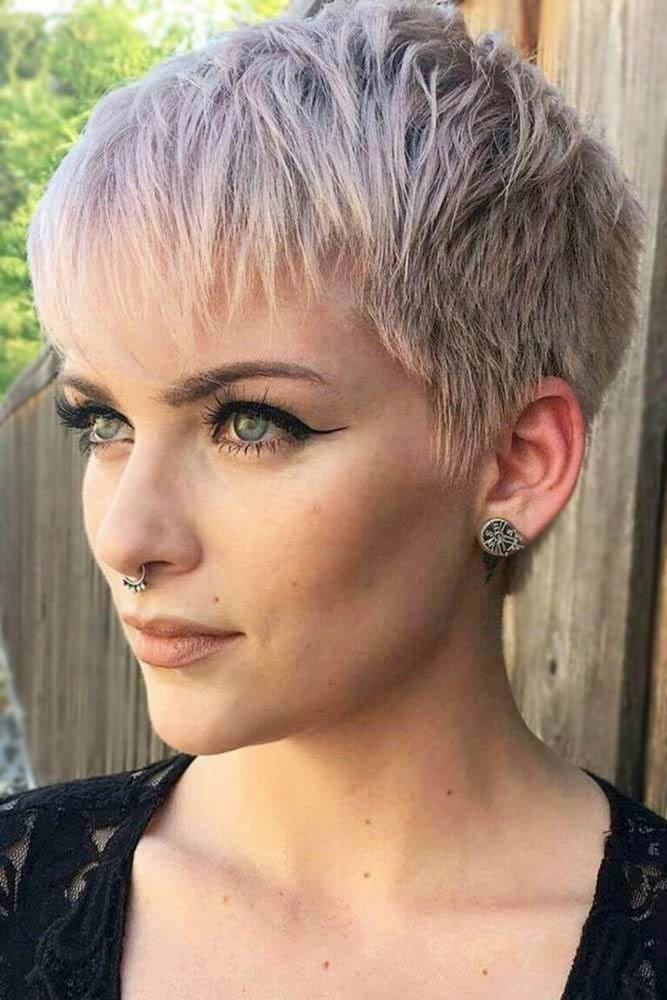 Women frequently choose simple, easy-to-manage haircuts like this layered style when experimenting with different ways to style fine hair since they know they will look nice as they mature. Your thin hair will gain additional volume from feathered layers on top, and the haircut will seem lighter thanks to its short length.
18.Volumious Feathered Lob with Bangs 
To obtain this gorgeous, '70s-inspired hairdo, combine a fashionable layered cut with feathery bangs.
19.Long Flowly Layers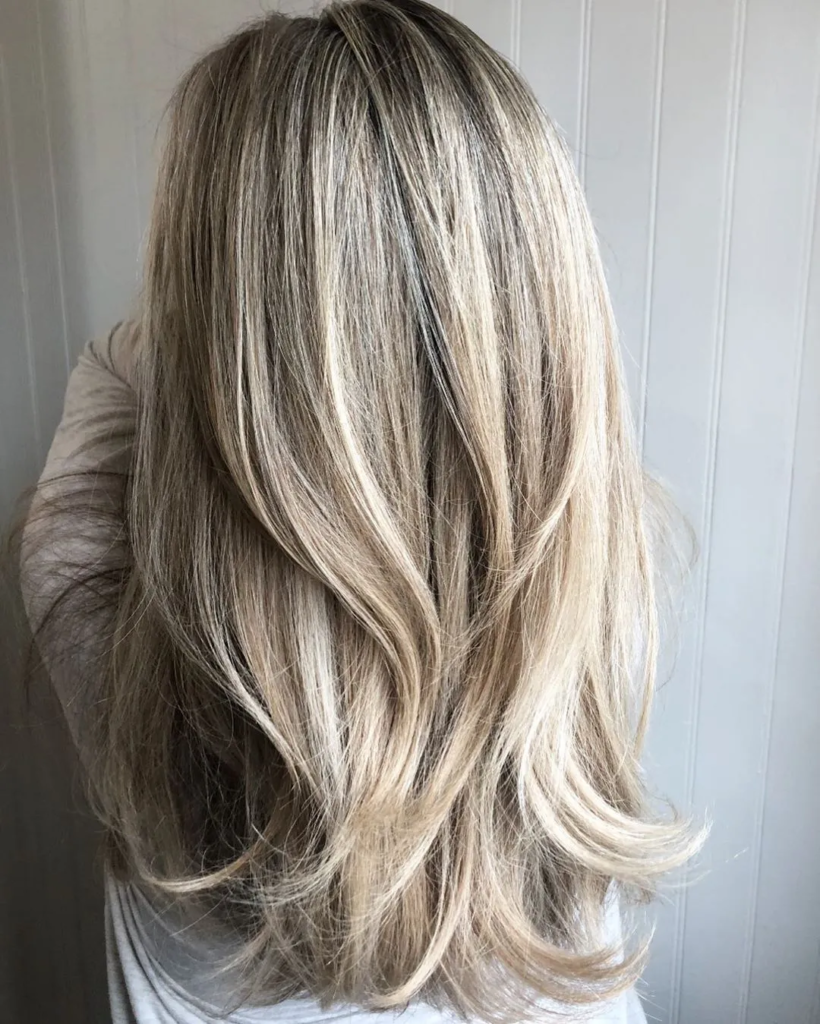 Look at how light and airy the curled framing layers make this style look. Your glossy blonde hair strands have more character and layers when styled with a broad round brush. You can bet that wherever you go, people will be staring at your long feathered hair!
20.Feathered Shag for Straight Thick Hair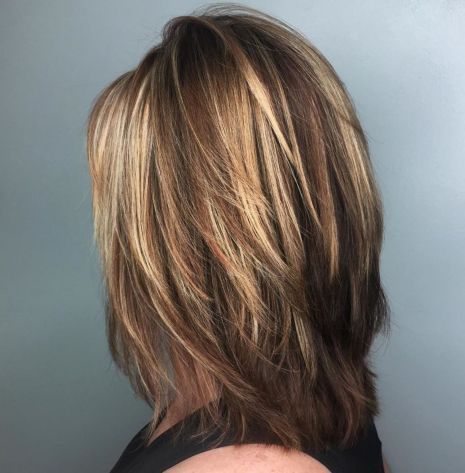 Grab attention with this gorgeous feathery shag. With numerous small, feathery layers and side bangs, it's simple to achieve such a flirtatious and feminine style. Additionally, this shaggy cut is properly softened and balanced by a lovely sand blonde hair colour.
21.Wispy Feathered Shag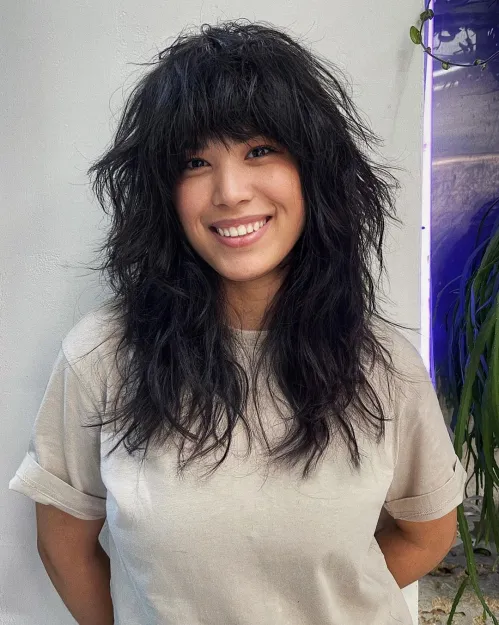 Everyone will definitely notice your messy feathered haircut! In order to complete the rocker look, front bangs are best coupled with shorter layers. Razored layers can assist your thin hair gain lift.
22.Pixie With Long Layers 
Cut your fine locks into a long pixie haircut with softly clipped layers and caramel highlights if you're willing to take the risk with short feathery hair.
23.Messy Feather Cut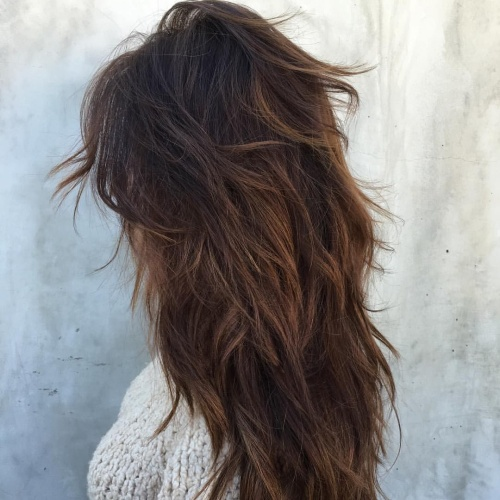 When you want to get a chaotic look without sacrificing length, feathered haircuts are a fantastic choice. You get that bombshell volume you must have been dreaming about thanks to a number of short slices that help provide the appearance of body waves.
24.Flipped-Up Feather Hairstyle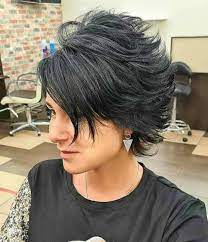 This black spiky pixie with lengthy layers that is beautiful and sassy will keep you current and fashionable. Coarse hair works well with pixie cuts that have sharp angles and flipped-up feathery layers, which also offer a fun element to the entire style.
25.Thick Feathered Lob with Bangs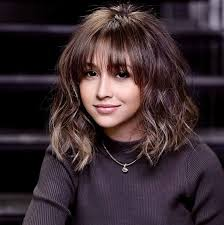 Here is the feathery hairstyle with a fringe that will successfully manage your thick hair and give you a stylish, contemporary image! This medium-length feathered hair has layers that cut an intriguing shape and give your locks a lighter appearance.
26.Medium Cut with Face-Framing Feathering 
Layered hair with feathers will always be popular! A playful and stunning glow-up created by a blonde balayage and side-swept bangs that delicately frame the face will undoubtedly catch everyone's attention.
27.Long Feathered Pixie with Side Bangs 
All hair lengths look great with feathered hair! This pixie cut makes it clear that feathered bangs are an exceptionally stylish accent. While yet being playful and flirtatious, this short style is sophisticated.
28.Side Swept Feather Bangs 
If you're unsure whether you want to go totally feathered, this cut is ideal. The highlights offer some additional dimension and emphasise the layers while the side bangs subtly frame the face.
29.Natural Feathers 
If you want to have fun without becoming too crazy, this is ideal. Even though the hair is layered to give it that feather-like appearance, it yet looks natural. The natural hair is only enhanced by this style.
30.Voluminous Layers
Interested in giving your hair more volume? Don't look elsewhere than this fashion! This Indian cut's layers give it a voluminous appearance without being overly bulky. If you want to keep your natural hair, it's a perfect alternative because it's subtle but fashionable.
Feather Cut vs Layer Cut vs. Step Cut 
People who are less experienced about hairdressing frequently believe that step hair cutting, layer hair cutting, and feather cutting are interchangeable. Some may argue that there are just three different names for the same haircutting method. Actually, the three are pretty dissimilar to one another.
The term "step cutting" is used to describe a graduated haircut in which the hair takes on the appearance of cascading steps. Since the steps are clearly differentiated from one another, this technique produces a "number of steps." This haircut looks nice on the majority of people with thick, fairly wavy hair.
A layered haircut gives the appearance of length and volume when applied to long hair. In this configuration, the hair is layered, with the top layers being shorter than the bottom layers. The cutting technique makes it possible for the tips of the top layers to seamlessly blend with those below. It is an easy style to master.
Hairstyles with feathers emphasise your hair's ends more. The hairdresser will hold your hair at a 90-degree angle and shape it into a "V" to give the illusion of feathering. On the other hand, a layered cut gives your hair different lengths all around. This shortens the drying process by giving your hair more bounce and volume.
Who is a Feather Cut Best for?
While layers call for significant hair loss in order for the layers to be apparent, a feather cut concentrates on giving your hair bounce and a "feathered" appearance at the ends. This increases volume without taking much hair out. This hairstyle is undoubtedly suitable for those with thin hair as it will you more volume and bounce to your hair! 
How to Maintain your Feather Cut?
Remember to keep these in mind when caring for your hair!
Deep conditioning is required for hair that has been styled with feathered ends. If you forget, your hair may split. Make sure the shampoo you use won't make your hair lose volume. In between washes, you can use dry shampoo to keep your hair from looking unkempt.
To keep the style, use a brush rather than a comb, and don't comb your hair frequently throughout the day.
Reduce the amount of heating tools you use to style your hair. Using a roller brush, roll your hair.
Depending on the rate of hair growth, have your hair cut every three to six weeks to maintain the style. Finally, avoid bunning or tying your hair because these actions change the way your hairstyle appears.
We hope you found this blog informative and helpful! Do consider dropping by at Limelite Salon and Spa! Limelite is a unisex hairsalon in chennai, that aims to give you, the customer, the very best experience! Whether it's any hair salon services like trendy women haircuts, men haircut styles, best hair cut for long hair, hair highlights, layercut for women, feather haircut for women, hair spa or a keratin treatment, olaplex treatment, hair smoothening, manicure and pedicure, foot reflexology or our special Kerastase fusio dose nail art or a simple haircare routine when you are at Limelite, our dedicated team of professionals will ensure that you are well taken care of! To know more about our services or to book an free consultation with us, call us at the number mentioned on our website. We always have offers you wouldn't want to miss, and we would love to have you in our salon. Thank you!