Since change is as pleasant as a vacation, getting a new haircut is the ideal approach to shake things up. Even if wearing your hair in a consistent rotation of straight, curly, top knots, and ponytails are totally fine, a fashionable cut can greatly improve your hair game. It can be difficult to keep up with the many hair trends, and it can be challenging to choose the proper cut.
It would be a fool's errand to try to convince a lady of how important her hair is in deciding her overall appearance. Limelite salon and spa understands, we frequently see our hair as one of our most valued things, and it necessitates careful maintenance.
Because fashion is ever-evolving, stylish hairstyles for women are something to always be on the lookout for. The different haircuts for women and hair trends for this season are vibrant and incredibly flattering on all different hair textures. Keep scrolling for women's hair cut images!
Why do Women Think Haircuts are Important?
Keeping a lovely and tidy haircut is very important for women's fashion and self-care. Getting a haircut is essential for expressing who you are and your sense of style, but it may also make you feel more relaxed and youthful.
But getting a haircut has more benefits than merely improving your appearance. because maintaining better hair is also dependent on it. Individual hairs may become more fragile and prone to breaking as your hair lengthens. Without routine haircuts, it would be impossible to remove damaged hair without endangering the remaining healthy hair. In order to maintain healthy hair, many ladies also undergo haircuts.
The biggest and most beautiful accessory you can wear is your hair, so getting it precisely how you want it to appear can occasionally be a hassle.
Have you been looking for a fresh hairstyle but lacked any ideas? Perhaps you were unsure about who to ask for advice. Check out these classic women's haircuts that are always in style if you're ready for a new cut you won't regret it. You can even try some of these women's haircuts at home. Discover some great haircuts for women you can try out by reading on!
60 All-Time Trendy Haircuts for Women 
Some haircuts survive the test of time, not necessarily the ones that continue to look good after hours of late-summer humidity (although that's obviously a plus), like monograms, heirloom silver, and white bedsheets. We're talking about the timeless silhouettes that withstand the ebbs and flows of fashion.
Certain of these timeless looks won't let you down year after year, decade after decade. We're so certain of this that we won't be retiring these outfits any time soon. Here are some types of haircuts for women:
1.Pixie Cut
This is one of the most popular haircuts for women. We adore a lady who isn't scared to toss out her lengthy locks in favour of a perfectly cut pixie. The style is elegant, classic, and always in style.
2.A Typical Bob
The traditional bob is always a smart choice and is similar to a solid life insurance policy in that it is always certain to pay off! This cut will be simple to handle and always in style if you use minimum layers and smooth styling.
3.Side Swept Bangs 
Think of short side-swept bangs as your go-to style for giving a basic cut personality. The best aspect is that they are quite hassle-free.
4.Stacking Crop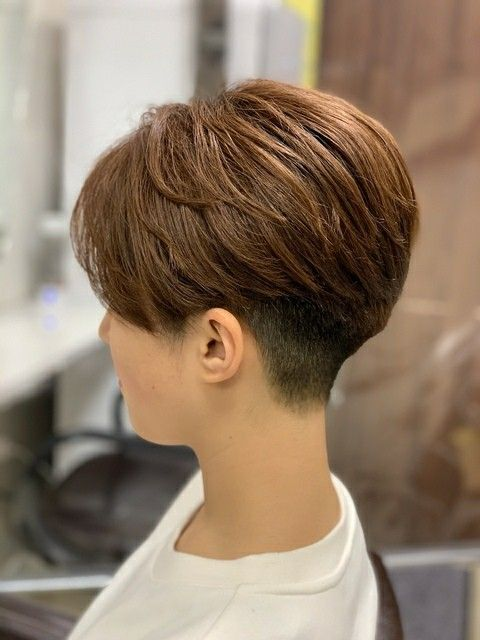 This traditional short style that is one of the most popular layered hair cuts for women achieves massive volume with all-over layers while remaining low-maintenance enough to become a go-to for years to come.
5.Shag
Despite being a throwback to the 1970s, this hairstyle qualifies as timeless since it looks good on people with a variety of face types, hair lengths, and textures. For a casual appearance that endures trends, add bangs and a face-framing centre part to your hair.
6.French Bob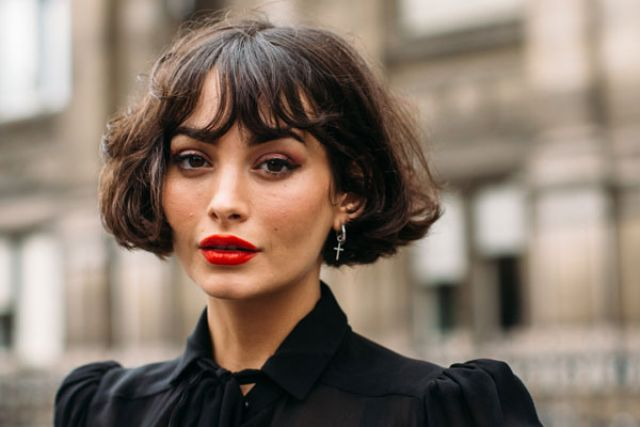 The French bob is created by fusing the traditional bob with European ease. This flawlessly mussed cut, which is frequently complemented by short bangs, manages to look both dishevelled and put-together at the same time, which is pretty much what the French are known for. This look is gorgeous for whether you're strutting through the city or going to a fancy party!
7.Bold Pixie 
This has just the right mix of sassiness, energy, and confidence to stand out.
8.Blunt Lob 
This cut is relatively new to the scene. But it's bound to be a classic! The blunt ends, with a sleek texture, and a distinguishable face-framing silhouette make this look universally flattering and so chic. 
9.Full Bangs 
Poufy permed bangs? Nope! The type of fringe that is going to stand the test of time is the full bang. Sometimes called the Birkin bang, the key to getting this look right is to not make it look overly styled. That's why it's easy to achieve! We especially love and think it looks great when styled on long hair! 
10.Side-Swept Crop
If you take the plunge and get this cut, you'll have many people calling you brave. But it will create a lasting impact and impression for sure. The deep part and long bangs make it look edgy yet so elegant. 
11.Choppy Bob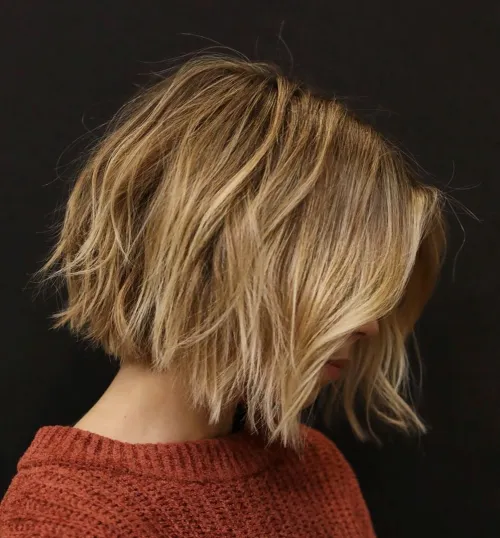 Perfect for those with thin hair, this bob features a deep side part that will give the illusion of a lot of volume! 
12.Face-Framing Waves
The best part about face-framing waves is that they suit almost every face shape whether it's a rectangle or oval. The best way to pull off this look is to embrace your natural texture and work with that. It's that easy!
13.Curls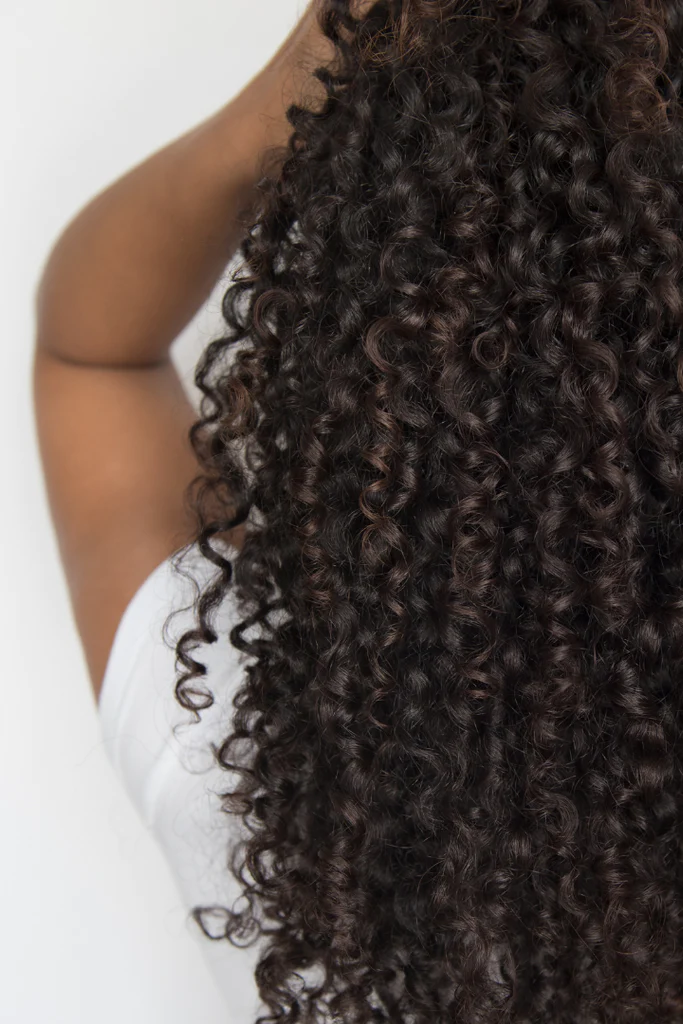 More and more, ladies are choosing to embrace their curls and let their hair go wild! And we absolutely love that because what's better than flaunting your natural hair? Curl girls have not had the right tools and products to switch things up, but that's changed now! If you want to achieve volume, you can ask your hairstylist to cut a lot of layers, This will prevent your hair and curls from being weighed down. 
14.Layers, Layers, Layers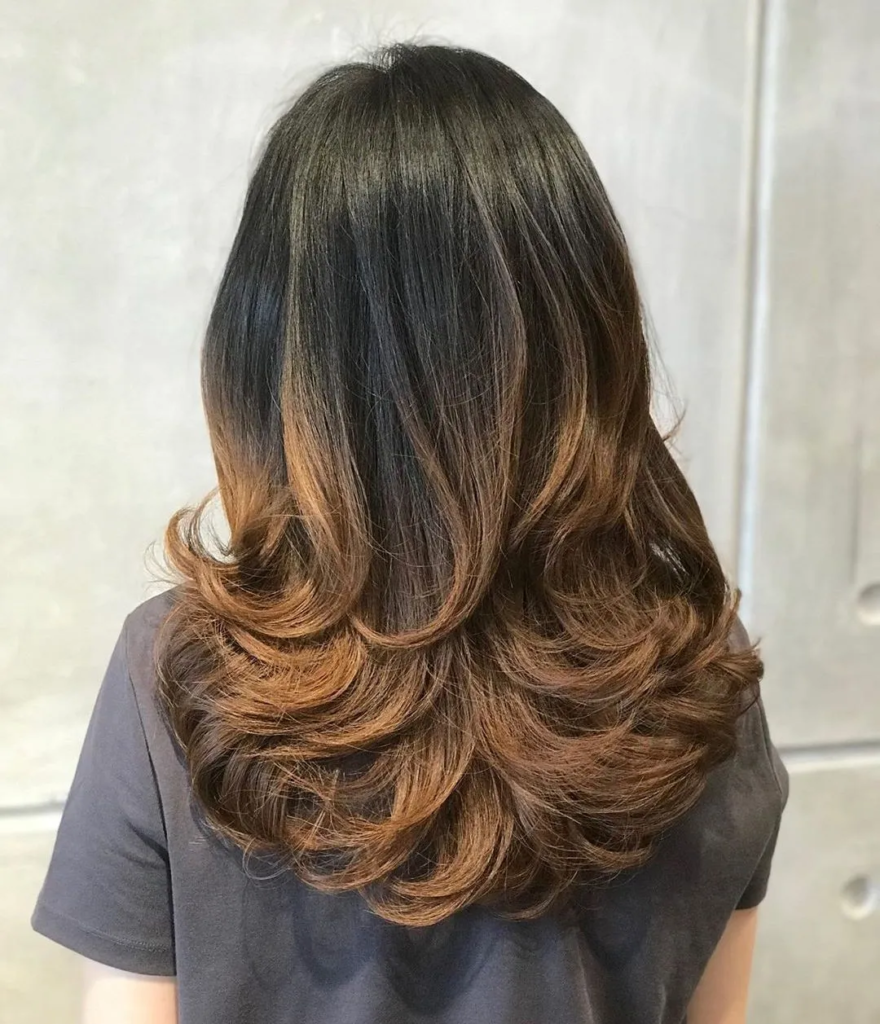 There's a reason why everyone loves layers! Almost everyone who wants some extra volume resorts to layers. The best part is that they will never fail us. And this is the reason why they're timeless and not going anywhere. 
15.Centre-Parted Bangs 
This look is so glamorous! The cut will give you volume all over. But in order to make your bangs blend in seamlessly, ask your stylist to incorporate some layers. 
16.Angled Bob 
Short cuts are hardly boring. Since this cut is angled in the front but stacked at the back, this bob will give you the same effect as layers in how it will frame your face. It's so sleek and will suit almost anyone! If you want to add in some bangs, that's up to you. 
17.Mid-Length Waves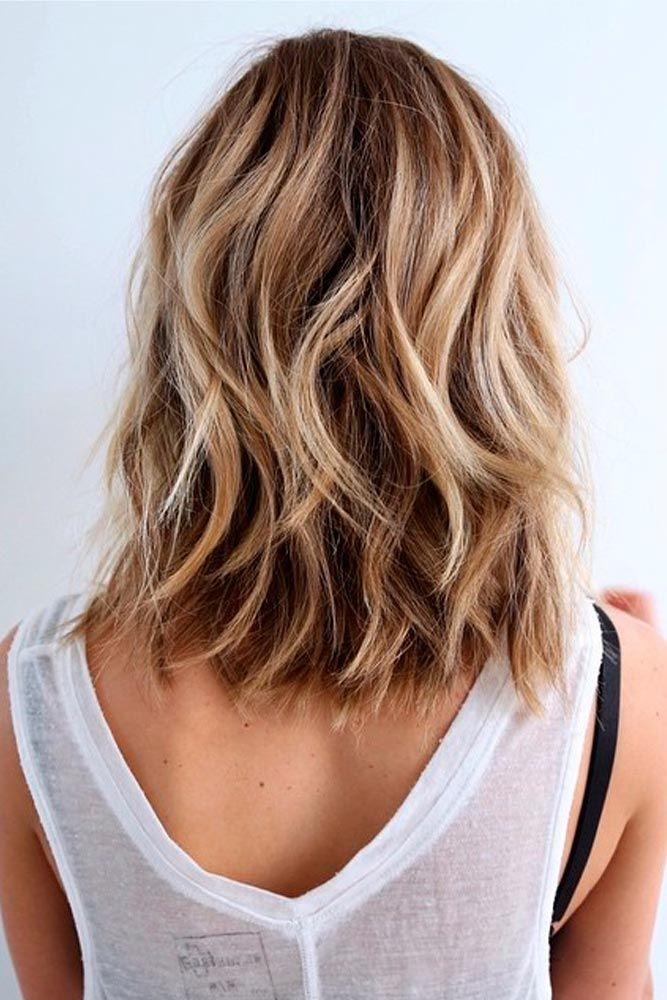 If you're looking at shoulder haircuts for women, check this out! This cut gives off the idea that the person with the haircut is laidback yet super stylish! To get these effortless waves, the cut should be right below the shoulders. Of course, you can throw in some layers too. 
18.Mid-Length Curls
Curls just make any classic, timeless cut just a touch more exciting! To top of the look, you can ask for some wispy bangs if you want. 
19.Undercut Crop 
Try this if you're looking for modern haircuts for women. We think this look is the perfect blend between classic and modern. The undercut detail can be subtle or more noticeable depending on your preference. 
20.Choppy Lob 
A "lived-in" look is something that everyone wants to achieve. This layered long bob does just that! To go for that extra flair, you can pair it with some side-swept bangs. 
21.Curly Bangs 
Keep in mind, when cutting curly bangs, that you're going to want everything to look absolutely seamless. It all has to work together to give a head of gorgeous curls. 
22.Curtained Collarbone Cut 
Now here's a look that will never go out of style! Keep this in mind when searching for your next cut and thank us later. 
23.Undercut Pixie Cut 
Are you bored of the bob? Try this instead! Get a modern pixie cut that isn't too overdone.
24.Subtle Stacked Bob
We stack our hair when it becomes flat. Add stacked layers near the back to instantly convert any short cut into something more voluminous and eye-catching.
25.Long Curly Shag 
Naturally, this curly cut attracts attention. It only needs a large smile, tonnes of layers, and simple bangs to shine.
26.Soft Blunt Bob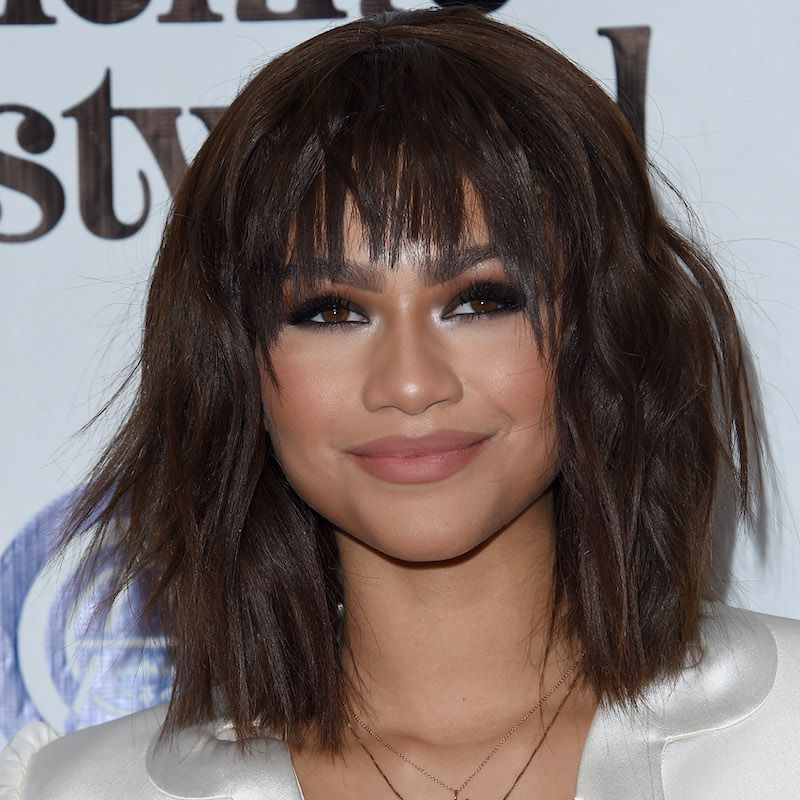 Being direct need not be rude. This cut is significantly more attractive and suitable for everyone when the ends are feathered out.
27.Sleek Shoulder Cut 
This haircut appears to be prepared for a ladies' lunch, and we are here for it. A shoulder cut with layers is difficult to top.
28.Wavy Chop 
Don't forget to give the appearance a unique touch by choosing a hair colour or accessorising with a stylish headband. Own it, claim it, and show it off!
29.Butterfly Haircut 
The butterfly haircut provides the freedom to experiment with shorter hair at your face's front without committing to completely removing all of its length elsewhere (which explains its rising popularity these days).
30.Octopus Haircut
The cut was given its name because it resembles an octopus head and its tentacles in that it is rounder and more bulbous at the top and spreads out at the bottom. Request lots of airy layers from your stylist, or even better, bring in an image that inspires you like the one above.
31.Air Bangs
A standard look in Seoul! Air Bangs!. These see-through bangs are tiny and wispy and purposefully cut on the finer side so that your forehead peeks out.
32.The Power Bob
There seems to be an increase in demand for a sleek, power bob. As with the other cuts on this list, you won't want to add additional layers if you want to recreate the style. Also, keep the length at or just below the chin.
33.The Shullet
This is one of the new trendy hair cuts for women. A shullet is a hybrid of a mullet and a shag. (On TikTok, it is also known as "the wolf cut"). It's an excellent style for folks with naturally finer strands because it adds body and is distinguished by its ample texture throughout.
34.The Italian Bob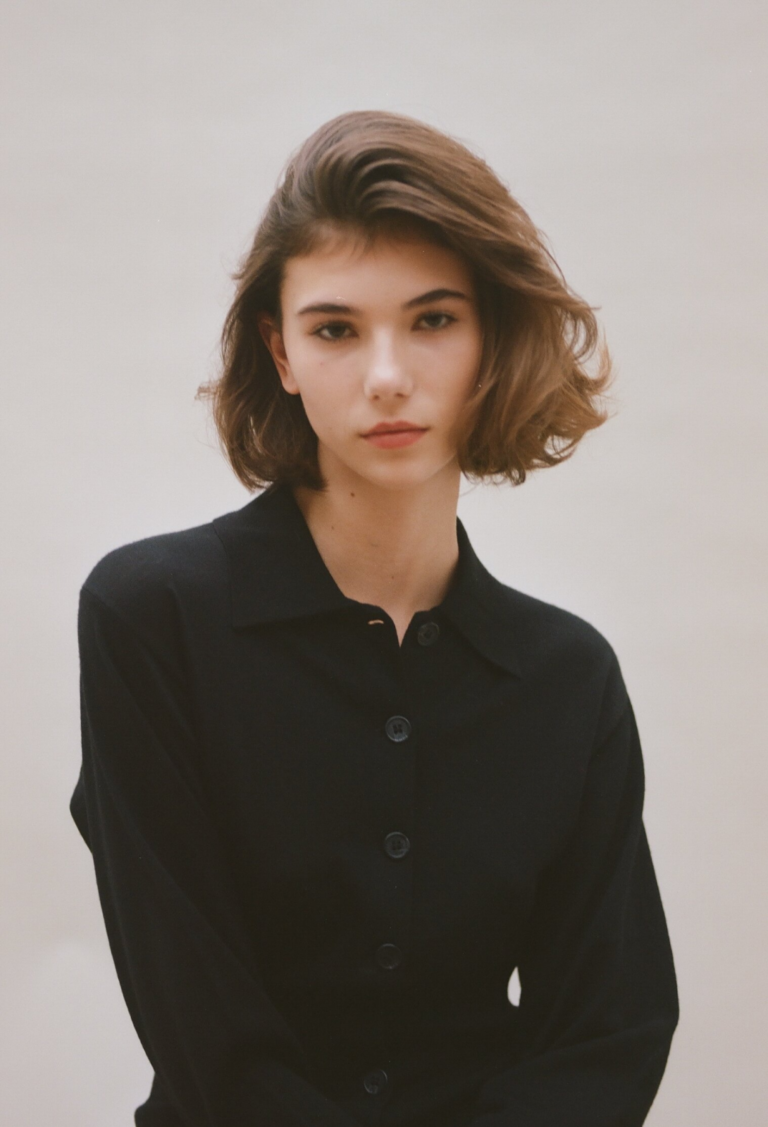 This is the newest bob to generate discussion. In order to add separation and prevent the form from becoming overly rounded, ask your stylist to snip in some inside layers. 
35.Long Pixie
This style, which is in between a bob and a pixie, is more adaptable than you might imagine. For a sleek appearance, side-part it and sweep the ends to one side.
36.Smooth Lob 
A lob is transformed from ordinary to very straight with a deep side part and flat-ironed strands.
37.Sleek and Straight 
This should be your go-to if you're looking at professional haircuts for women. Straighten your hair using a blow dryer, then go over it with a flat iron. For incredibly smooth, frizz-free strands, finish with a smoothing serum.
38.Gelled Edges 
Ladies with natural hair: Pay attention to your edges. When properly arranged, they resemble works of art. Apply some edge control cream, then shape them into waves with a soft-bristled toothbrush
39.A-Line Bob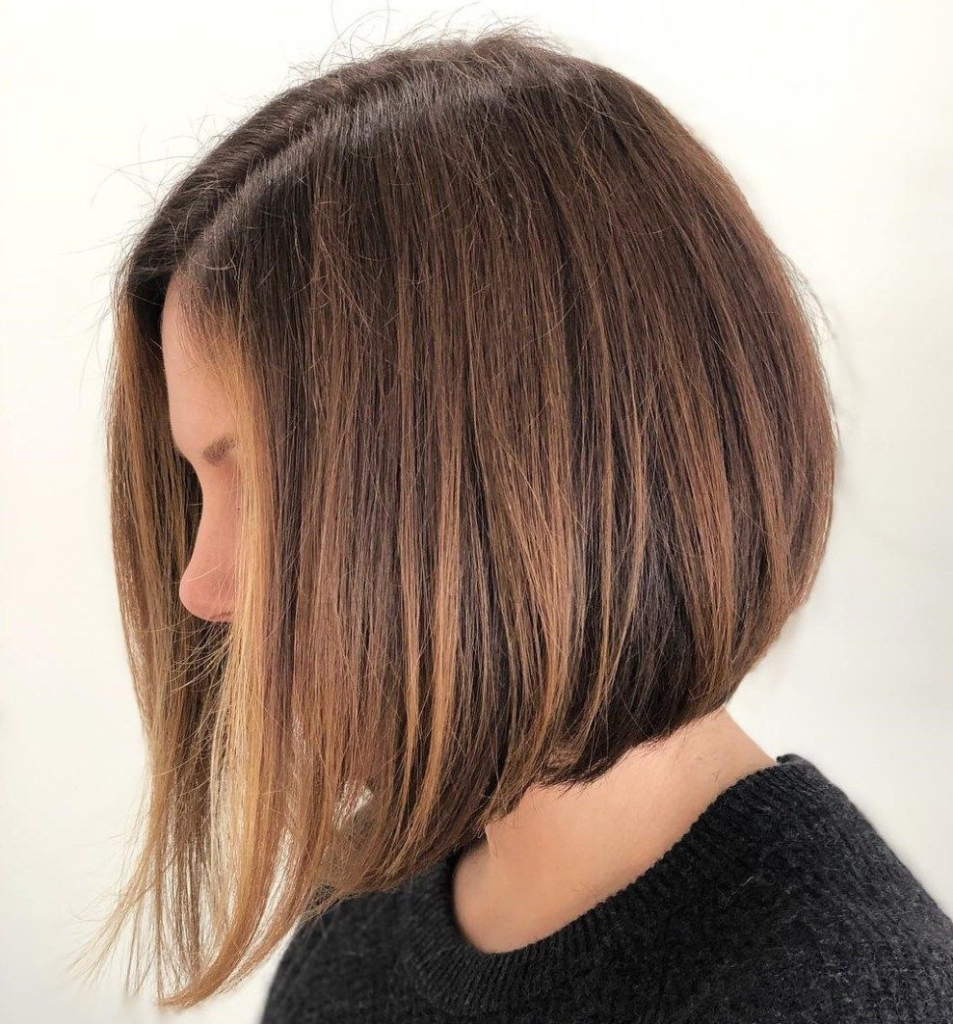 The front parts can be placed more easily when the back of a lob is cut a little higher. No poofy triangle hair, as it says.
40.Baby Bangs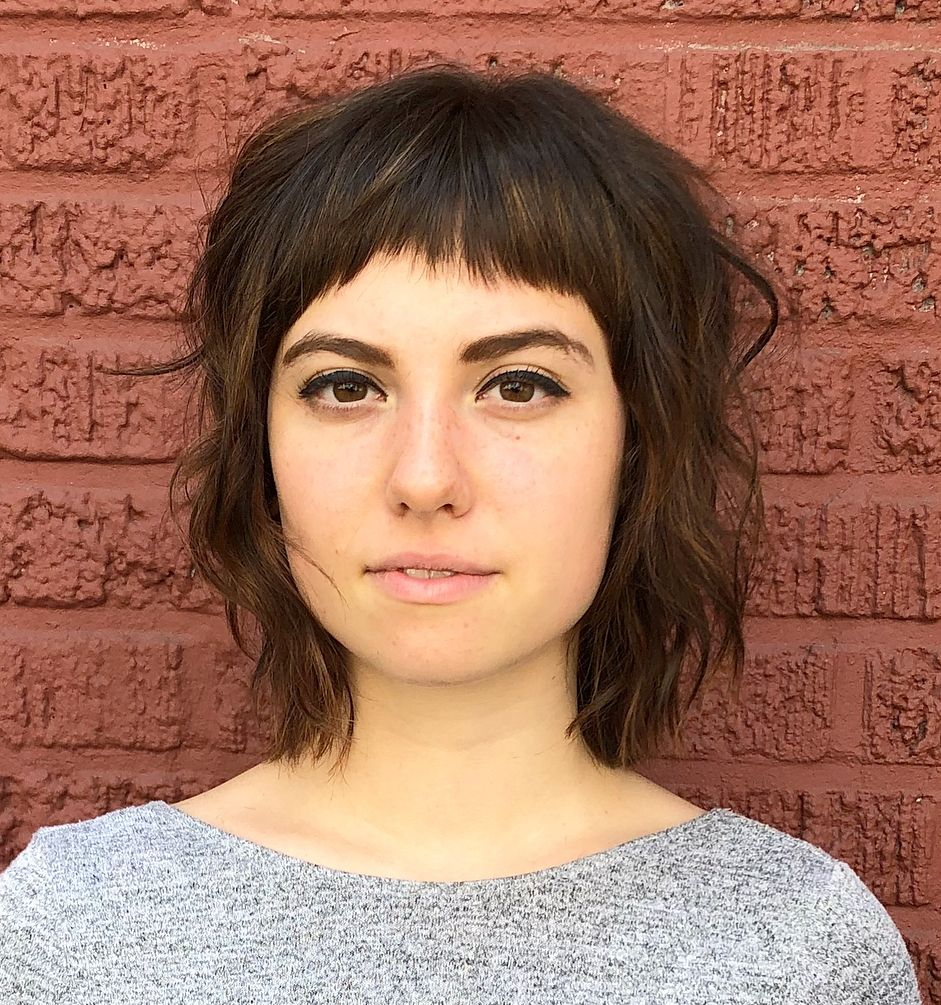 We adore the fact that these bangs are purposefully too short. For a chic look, chop them off a few inches above your brows.
41.Mohawk
Keep some length in the middle of your head and shave the sides. It looked more modern with a few unruly curls.
42.Voluminous Layers 
Ladies with curly hair, this one's for you. Layers all over your head will make things lighter for volume that doesn't feel heavy.
43.Asymmetrical Bob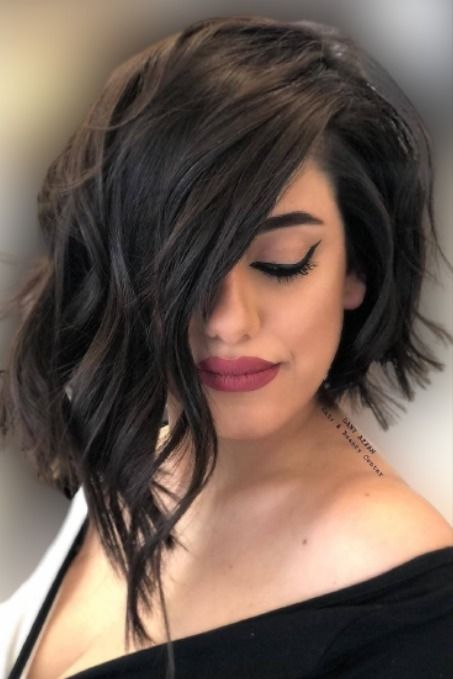 A little bit longer on one side than the other; a deep side portion really brings out the length differences.
44.Rounded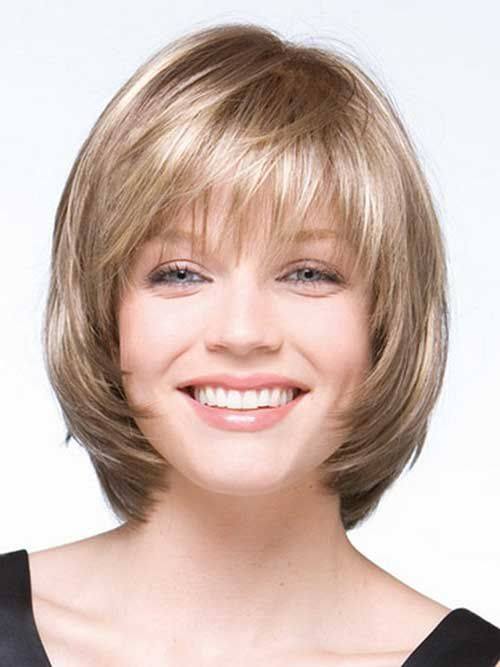 If you're looking for cute haircuts for women, try this! We sometimes prefer it to be perfectly symmetrical. Maintain a core section with the majority of the volume on the sides.
45.Layers with Curtain Bangs 
The goal is to make your layers and bangs merge seamlessly.
46.Tight Crop 
This flawlessly formed look is in between an afro and a pixie and still manages to look effortlessly chic.They make great summer haircuts for women.  
47.Sculpted Pixie 
It's the long pixie with natural hair, which is shorter on the sides than the top. Also known as the ideal approach to display your bone structure.
48.Bouncy Curls 
They are fun, not simply that they sound fun. All the way down, short layers that begin about the temple provide a lot of volume.
49.The Side Shave 
Shave the thinner portion back to behind your ear to take the side part to new heights.
50.Shaved 
This hairdo is the epitome of simplicity—buzzed straight off. You can tint your hair if you choose a number three or four because it will be long enough (if you want to)
51.Bob with Bangs 
The nicer the ends, the more choppy. Note: To maintain the ideal length, this cut will need to be regularly trimmed. It's a super pretty short haircuts for Indian women.
52.Sharp Layers 
They are obvious layers. To lighten thick hair, request sharp, graduated layers or angles in the front.
53.Natural Afro 
Allow your natural hair to behave in any way it wants. Take a cue from this stunning image and let your hair grow out until it is the appropriate length for an afro. Use a pick comb to help things along if you want to produce even more volume, or just leave it alone.
54.Short Messy Spikes 
This is a cool short legth haircut women. If you wear your hair in a pixie cut, short, untidy spikes are a look to consider. They'll significantly increase the volume of your look in addition to giving it a dash of edgy attitude. It's a super cool haircut for women!
55.Side Part With Texture 
Choose a side part with texture if a flat middle part makes your locks appear a touch lifeless.
56.Short Wispy Waves 
If you have a layered crop, think about adding a few wispy waves to your hair to give it some texture.
57.Long Glamour Curls 
Even thin hair can look fantastic with long glamour curls. Simply focus on the middle and ends of your hair while using a wide-barrel curling wand to achieve the look. Once finished, set the hairstyle with a volumizing hairspray. This style makes a gorgeous long length haircut for women.
58.Long Beach Waves 
This is a great long haircut for women. Long beach waves are not only beautiful to look at, but they are also quite simple to make. Simply braid your hair into a loose plait while it's still damp to get the look, then let it air dry naturally. This look is a popular haircut for women with long hair.
59.Buzz Cut
You can try this if your hair is thin. You may buzz it all off and rock this appearance rather than continuously attempting to make it appear thicker! The fact that little to no upkeep is necessary is a perk. It's a cool short haircut for women. 
60.Disconnected Undercut
If your hair is thinner, you can still look stylish while keeping things simple. You may want to consider trying this disconnected undercut as an intriguing choice!
What to Keep in Mind Before Getting a Haircut 
1.Is a change what you want?
You might come across many haircut ideas and get excited to try them out, but the very next day, you might not be as excited about them. For this reason, impulsive haircuts might not always be the best idea, especially if you're going in for a big change! Make sure a cut is really what you want. True, it is hair and it will grow back, but that won't happen instantly! 
2.What's your budget? 
For some of us, price is a factor that will weigh into whether we actually get a haircut or not. The more you're willing to spend, the more likely your haircut will be of better quality. All hope is not lost though! With some research, you'll be able to find a salon that is both affordable and delivers excellent quality. Let us save you the research and let you know that Limelite is one such salon! Get your haircut at an affordable price without having to compromise on the quality. 
3.Your face shape
You can cut your hair in whatever style you choose, but bear in mind that not all cuts suit all facial shapes. For instance, you might like bangs, but the fringe won't lie properly unless your forehead is bigger. Look for celebs online that resemble you and observe the fashions they are sporting. You may also ask your hairdresser.
4.Choose a style that works with your texture
Be ready for a little disappointment if your hair and the chosen style don't match because hair texture is another factor to consider when choosing a design. The hair you were born with might not be suitable for your dream haircut, and a professional stylist won't attempt the impossible, which could lead to a less-than-satisfactory style.
5.Will it fit your lifestyle?
The best option is probably not a lengthy, layered appearance if you don't want to spend the time styling it, even though it might be cute. You must therefore be sincere with yourself while assessing how the cut will affect your life. It's crucial to let your stylist know what you require in terms of your lifestyle. The last thing you want is to walk out of the salon with a very difficult haircut that only looks amazing after an hour-long blowout."
6.What sort of adjectives are you going for? 
When expressing your hair aspirations, it's crucial to "talk hairdresser." Saying you want short hair isn't particularly specific and may result in your head being completely hairless. Say you want the cut up to your shoulders or jawline to avoid this. When you enter risky area like bangs, communication is very important. Avoid pitfalls by describing the degree of fringe you're willing to commit to with terms like "strong" or "soft."
7.How much will you need to style it? 
Whether you like it or not, many haircuts need some style in order to appear as fantastic as they did in the salon. Decide what you're willing to do every day before you cut. Are you okay with an hour of blow-drying in the morning? Will you have to daily flat iron your bangs? You should think about these topics.
8.Hair Issues that you want to address 
Hairstyles might need some upkeep and styling, but they shouldn't be your worst nightmare. Tell your hairdresser if your most recent haircut was subpar. In fact make a note of every difficulty you have ever experienced, such as styling or chemical difficulties. I hope your fresh cut will address and correct all the problems.
9.How much effort will you have to put into maintaining it? 
Think very carefully about any potential maintenance if you choose to maintain your hair as low-maintenance as possible. For instance, pixie cuts are infamously demanding since they need salon appointments about once a month to stay short and stylish. Keeping up with maintenance helps keep your workload manageable.
10.Pick the right stylist
You obviously spent a lot of time and effort choosing your hairstyle. It fits your face shape, skin tone, and lifestyle well. But who will be the fortunate stylist who gets to transform you? Make sure you have confidence in the individual who will be cutting and styling your hair before making a significant modification to it. If you don't already have a preferred hairstylist or salon, do your homework and read up on reviews first or consult a buddy. They'll no doubt be brimming with fantastic recommendations.
11.Get a consultation 
Still completely perplexed? Then take into account scheduling a consultation before making a haircut appointment. Bring your collection of images in, and don't forget to rock your hair's natural texture (and wear it dry). The hairdresser will have a better idea of how your hair falls if you do this. Afterwards, you might be able to judge what will complement your characteristics and your way of life better.
Keep in mind that hair is simply that—hair. Don't worry about the outcome too much because it will grow back. Enjoy yourself and your new look.
Boys, need not worry, we have a separate article on men's trendy hairstyles for you, you can check it out here!
Why Limelite? 
Limelite is a premium hair salon in Chennai, and we hope you found this blog informative and helpful! Do consider dropping by at Limelite Salon and Spa! Limelite aims to give you, the customer, the very best experience! Whether it's any hair salon services like men haircut styles, best hair cut for long hair, hair highlights, feather haircut for women, layer haircut for women or a keratin treatment, olaplex treatment, hair smoothening, manicure and pedicure, foot reflexology or our special Kerastase fusio dose nail art or a simple haircare routine when you are at Limelite, our dedicated team of professionals will ensure that you are well taken care of! To know more about our services or to book an free consultation with us, call us at the number mentioned on our website. We always have offers you wouldn't want to miss, and we would love to have you in our salon. Thank you!